by Paul Lau photos by Brent Pottinger
Cantonese cuisine is one of the four major culinary classics in China and is often characterized by its flavorful and fragrant profile, the fresh- ness of ingredients as well as diversified cooking styles.
Five elements are essential in creating a balanced dish, which are methods of cookery, slicing technique, cooking utensils, presentation, and temperature. Understanding these five elements can help you easily master Cantonese cuisine!
My passion for Chinese cuisine developed from very early on. Originally from Guangzhou, my family moved to Hong Kong when I was fourteen. I was given the opportunity to work in the kitchen of a Cantonese restaurant at that time, and it was then I developed a taste for fine cuisine and determined to become a chef.
As the Chef de Cuisine at Tin Lung Heen, the dishes that I created for this two-Michelin-starred restaurant are of my personal liking so that I am confident in creating a refined version of them. My cooking philosophy is simple; I respect the traditional cooking methods yet I am fond of injecting elements of creativity and modernity.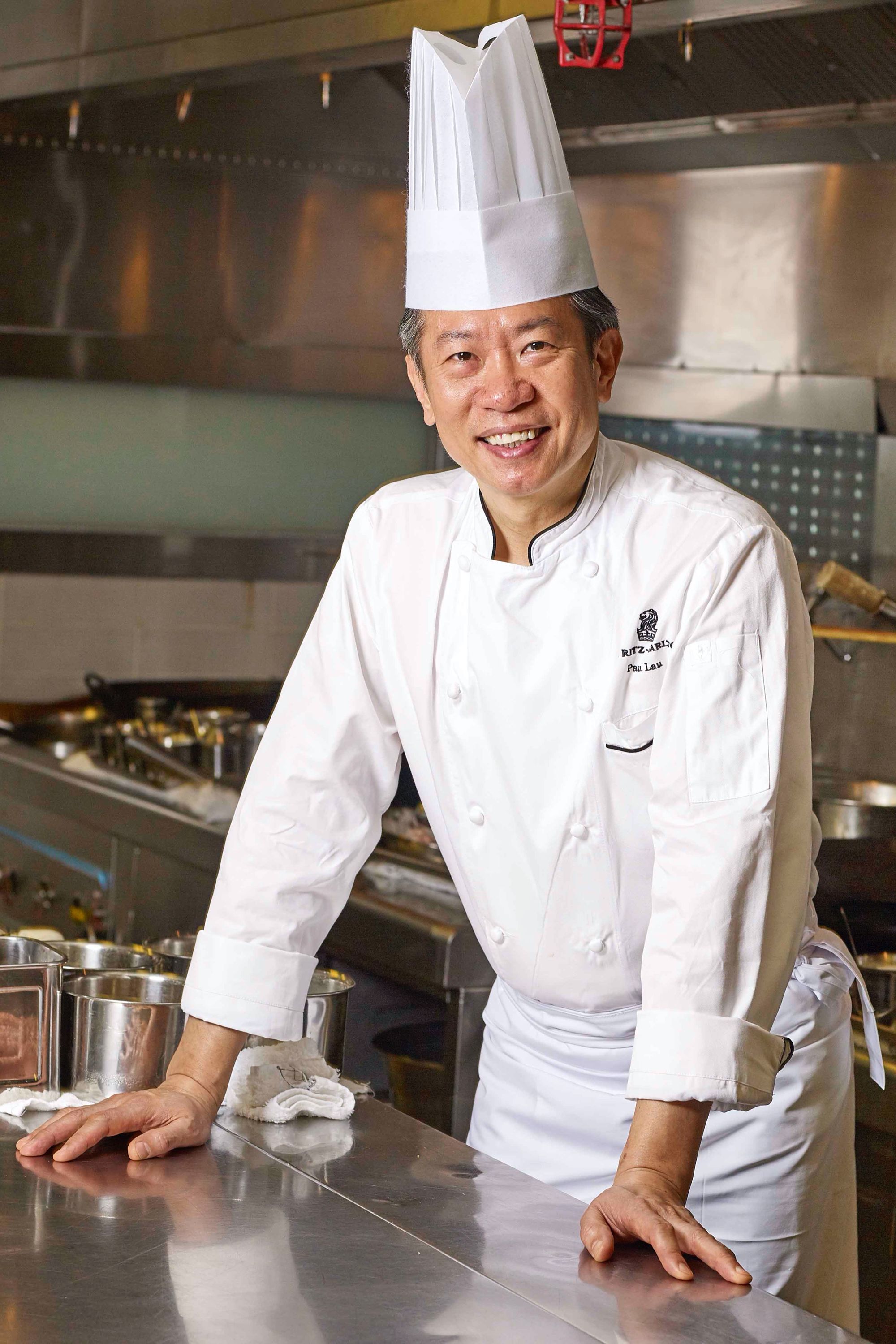 In this issue, I present you a special dish "Pan-fried scallop with crispy dough and minced spring onion". Both minced spring onion and crispy dough are classic Cantonese ingredients. The savoury minced scallions combining with the crispy dough, which we usually pair with congee, will become much more aromatic and delectable. As for the scallops, some Cantonese chefs prefer to them into the boiling water to remove the smell and dirt. Nevertheless, blanching the scallops in the boiling water will deprive them of the true texture; thus I would just pan-fry the scallops directly to stay true to their original flavor profile. In Chinese cuisine, we emphasis on "Wok Hei", meaning that when the ingredients are cooked over intense heat on a wok, the textual flavor and taste will further develop. To achieve this at home, you can heat the wok or pan gradually and refrain from adding oil until the wok is boiling hot. To pair this dish, Jean-Charles, our Asia Editor, suggests the Joh. Jos. Prüm Wehlener Sonnenuhr Spätlese Riesling 2010 its refreshing acidity and delicate yet intricate perfume. I hope enjoy this delicate Chinese delight at home!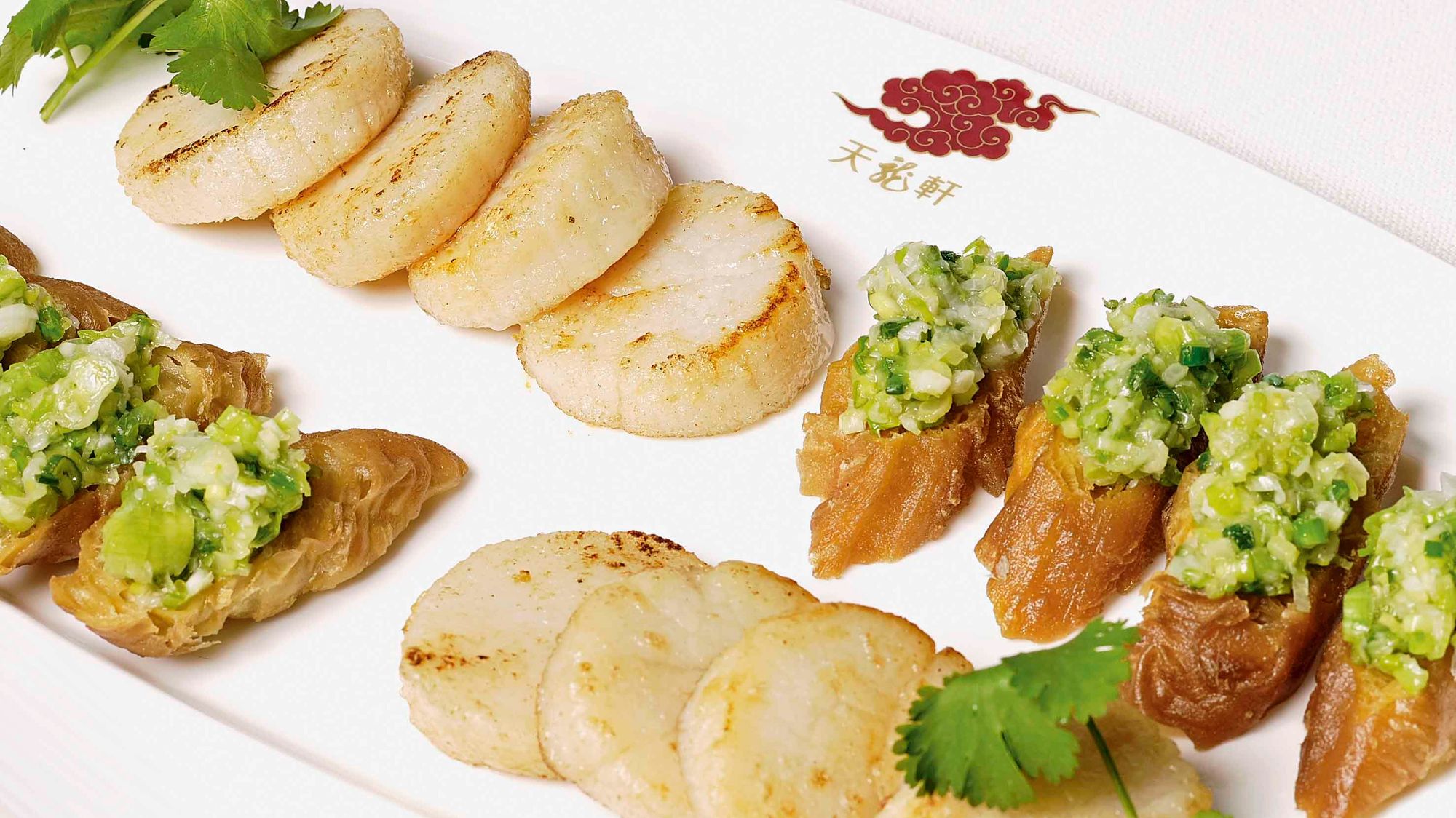 Ingredients:
Scallop 230g
Salt 1g
Sugar 2g
Corn Starch 40g
Onion 200g
Salt 2g
Sugar 2g
Fried dough stick 1 piece
Coriander 2 pieces
Method:
Cut scallops in half.
Season the scallops with the 1g of salt and 2g of sugar in a bowl.
Add the corn starch into the bowl and stir them gently.
Slice the fried dough stick into eight pieces and fry them with oil at 70°C until they appear golden and crispy brown.
Put the minced green onion into the heated "wok", and put 2g of sugar and 2g of sugar into it to slowly cook them with mild fire.
Plate the crispy dough nicely when ready.
Grease the wok lightly with oil.
Put the seasoned scallops into the wok and pan-fry them until both sides turn golden brown.
Plate the scallops and minced spring onion on top of the crispy dough and add the final touch of coriander.
---
Tin Lung Heen
ICC, 1 Austin Road West, Tsim Sha Tsui, Kowloon
tel. +852 2263 2263