by Luca Turner
As with wine, you must know the vintage to grasp its characteristics. And a laboratory of thrice-starred chefs exalts its special features. It is Joselito, a unique ham that is produced like no other. Starting with the lifestyle of the pigs.
Uniqueness captivates. In every product. In both the human intellect and in nature, which in this case is animal nature, and the product is not just edible; it is delicious. This preamble is necessary, because we are about to recount the tale of ham, and not just any ham; in all probability, if you listen to a great many experts, critics and chefs, with noted and extremely demanding palates, we are speaking about the best ham in the world: Joselito. With the appropriate reverential awe and respect, we approach a ham laid down in 2011: as with the best wines, it is fitting that its year - its vintage - should relate its characteristics and features. The tasting notes for Joselito 2011 refer to a rich, fatty season, which brought plenty of rain that turned the pastures apple-green, which stimulates the piglets to move around and root the earth. Clean, bright green acorns. Sensations of ripe fruit in the bouquet with aromas of oil and hazelnut on a distinctive and balanced vegetable base.
A serious, powerful and decisive impact on the palate, with notes of iodine and spices united with a homogeneous fatty vein. Every season speaks for itself with Joselito ham, each one with specific organoleptic properties that make every ham unique. The history of Cárnicas Joselito began in 1868 in Guijuelo, a small urban sprawl of 6,000 inhabitants a few kilometres south of the celebrated and historic city of Salamanca, a UNESCO World Heritage Site. The mild climate is ideal for permitting the meat of the pure-bred Iberian pigs to age perfectly, after minimal processing and treatments.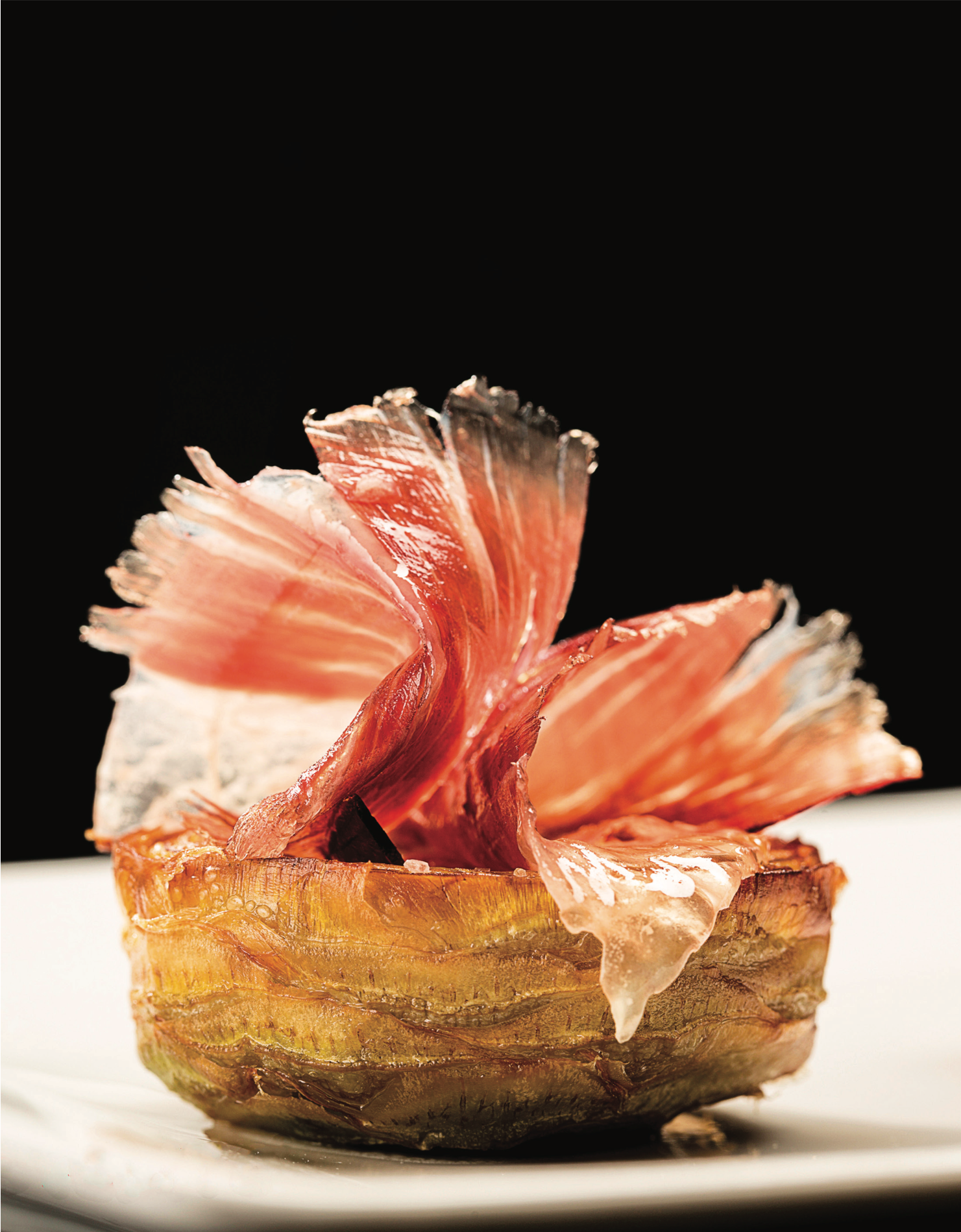 After nearly 150 years, the company philosophy has remained almost identical, passed down from father to son to the sixth generation, the current, which cherishes and upholds the tradition of breeding happy pigs. Yes, happy, because they are free to roam around hectare upon hectare of pasture, of oak trees, and of waterways, while lush unspoilt nature provides the Iberian piglet with the only nourishment it needs: acorns. No artificial feed or nutriments specifically for growing the animal, and no additives for producing the ham afterwards.
Everything as nature created it, human intervention is kept to a minimum in compliance with the most genuine natural- ness: this is Joselito ham. José Gómez, CEO of the company says: "In Joselito we take great care to observe the entire life cycle of our pigs, so that we know every single detail: how they are born, how, when, and how often they move, what they eat, and how much milk they consume before they are weaned. No livestock farm in the world can aspire to reach such a detailed and in-depth knowledge of its animal, especially considering that in Joselito the pig does not live and grow in a livestock ranch but literally in the wild, completely free, a true wild animal. An Iberian pig in Joselito can travel more than ten kilometres a day, rooting a vast area of up to three hectares: its body, its muscles, nerve fibres and fat are enriched by its nutritious diet and by its spontaneous and unconditioned movement."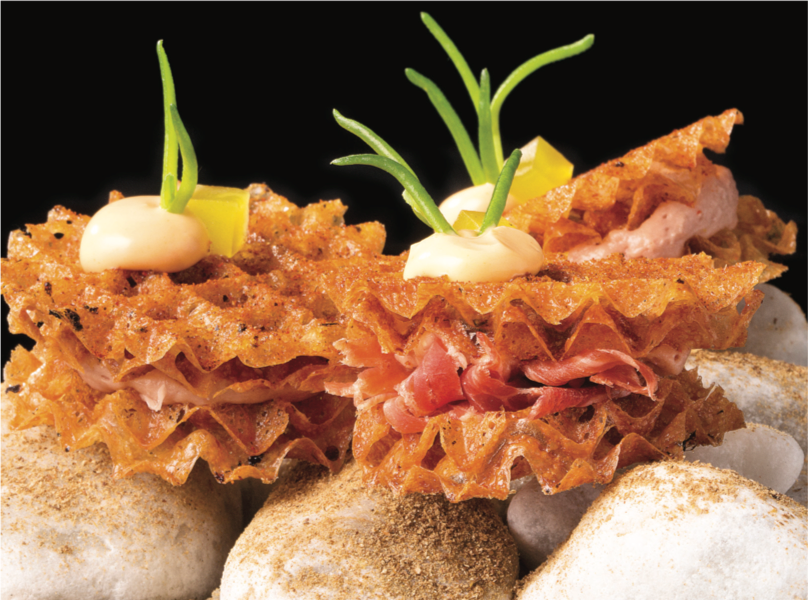 The meat that results is as pure and natural as the water in the streams from which the Iberian pig drinks. Man's intervention is the 'sacrifice'. The moment is only that which is most opportune, the best, no market demands command or dictate the choice. And the same goes for the processing and subsequent preservation so that Joselito becomes the finest ham in the world: no chemical additives, no preservatives, colouring or gluten, only pure sea salt united with all-natural curing.
This is followed by the curing and the ageing of the ham, which means up to ten years of lavishing care and attention, during which the meat has all the time necessary to express its characteristics and properties to the full.
The Gomez family is guided and driven by a visceral passion for producing the finest sliced meat in the world: without compromise, renouncing nothing, and without making any concessions to the market. Respect for nature, respect for the animal, and respect for the consumer. They love their work and they love making customers fall in love with their exquisite Joselito ham. "Look at the eyes of anybody tasting Joselito," concludes José Gomez. "You will see satisfaction and contentment, the awareness of having tasted a unique product that springs from our passion for our work. The Joselito company is happy to see satisfied customers: I want to export this joy worldwide, have it known and relished as the best ham the most discriminating and expert palate could wish for. I'd like to see Joselito in all the world's top restaurants." This led to Joselito Lab, a genuine laboratory of ideas and creations from the chefs most able to bring out Joselito's countless nuances.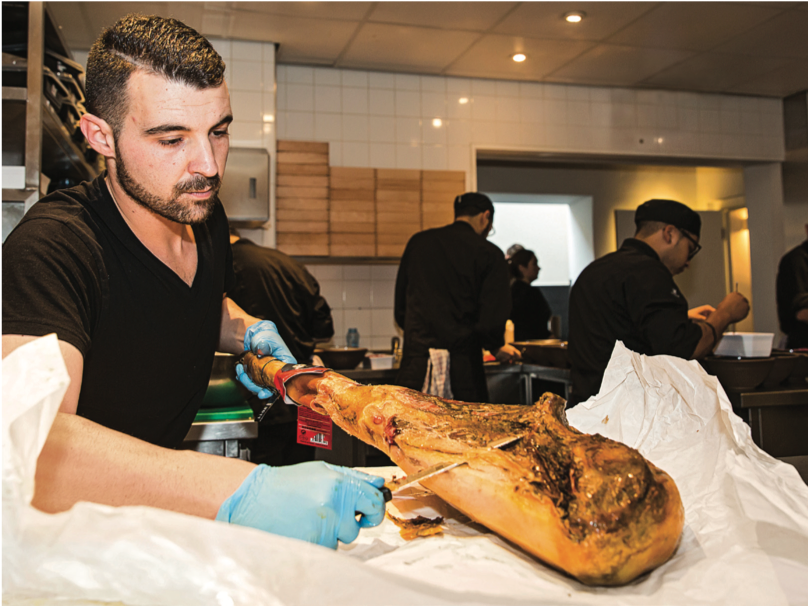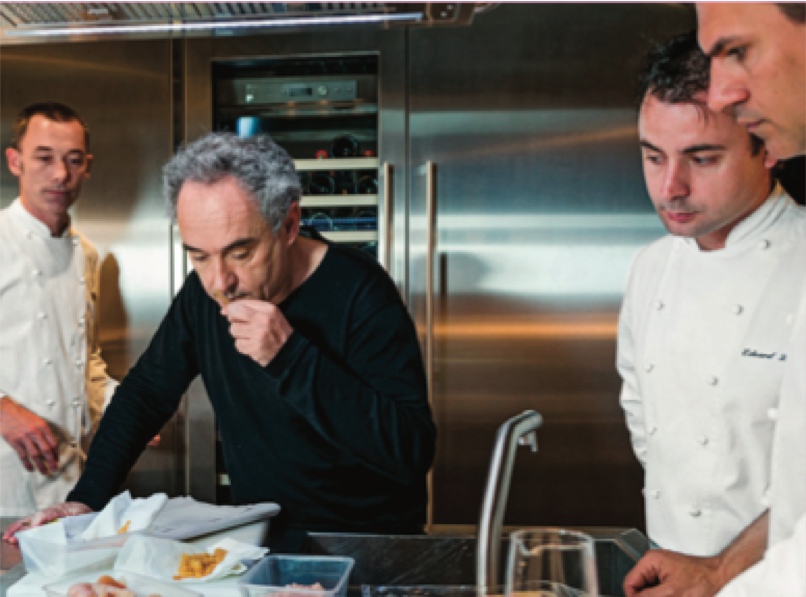 Spaniard Ferran Adrià started the dances in the kitchen, followed by Massimiliano Alajmo, an Italian chef with three Michelin stars from Le Calandre in Rubano (Padua), and now, the Dutch Jonnie Boer, also with three Michelin stars, from De Librije in Zwolle. Nine stars and three countries showcase the exclusive Joselito Iberian jamón: imagination and creativity, respect for the basic ingredient, which must be valorized, honoured and exalted. Spain, Italy, Holland, three mature and skilled gourmet cuisines, in which the 'meat' product plays as important a role on the everyday table as it does when gracing the boards for fine dining. Joselito ham stands out as something rather different, some- thing that can transform the ordinary, a slice of ham, into a moment that is extraordinary, a slice of Joselito, the ham that goes beyond conventional flavour. The ham of happiness, like the happiness of the piglets that grow in the most luxuriant woods. This has also been ably and thoroughly demonstrated by Jonnie Boer and his three Michelin stars, which he was awarded in 2004 for his De Librije restaurant, a delightful old bookseller's shop that has been converted into a temple of good taste. Jonnie Boer has proven himself to be well able for the task of putting the precious Joselito ham to its most exalted use. And not only Iberian ham; there is also lard, which enhances a delicate dish of river trout, tomatoes and shrimp, chorizo, the classic sausage eaten throughout the Iberian peninsula and all the former Spanish colonies, which comes together in a masterful preparation featuring North Sea lobster, Kombucha tea and beans, as well as bacon that bestows texture and fragrance to a colourful recipe with a base of smallmouth bass flavoured with green apples and fennel, and concluding with a scrumptious monkfish served with pork loin, bilberries and cabbage juice fermented together with delicious cooked pork shoulder, accompanied by mushrooms marinated in brine and seaweed. The planning and research are meticulously and expertly carried out so that nothing is left to chance. As is exactly the case with all the delicacies produced by the Joselito company. All it takes is the gourmet cuisine of maestro Boer placed at the service of 'el mejor jamón del mundo' to make the most of it.