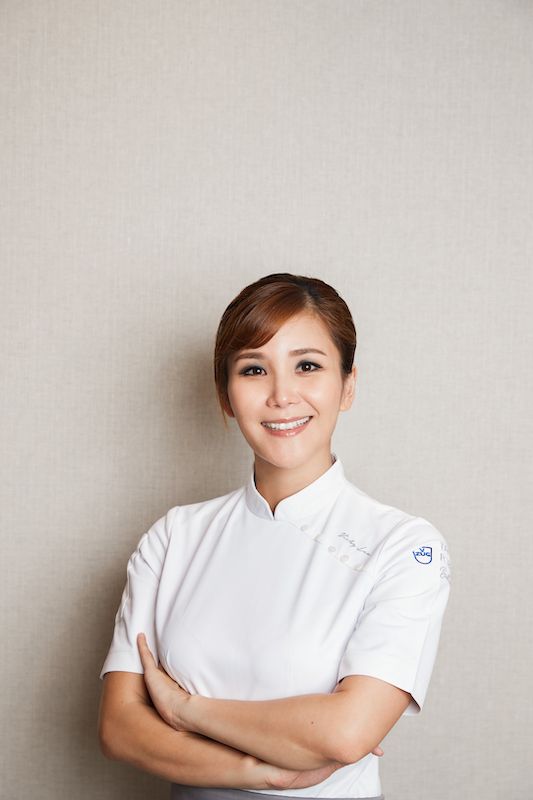 1-Michelin-starred TATE Dining Room presents a refined single-ingredient lunch menu with an innovative French Chinese twist. Following a successful series of An Ode to Eggs, An Ode to Rice, An Ode to Tofu, and the most recent An Ode to Tea, Chef-patron Vicky Lau now shines the spotlight on Asia's favorite soybean-based condiment and preservative – SOY SAUCE. The limited 6-course lunch menu with optional wine pairing is available now until 27th March 2021 at TATE Dining Room, serving on Fridays and Saturdays only.
"Soy sauce is a staple condiment in all Chinese households, and a necessary flavoring for so many dishes I loved growing up. It seems only natural that the next lunch menu was dedicated to this simple yet versatile seasoning that is so emblematic of Asian cuisines," says Chef Vicky Lau.
LATEST 6-COURSE SINGLE-INGREDIENT TASTING MENU SERVING FROM NOW UNTIL 27th MARCH, 2021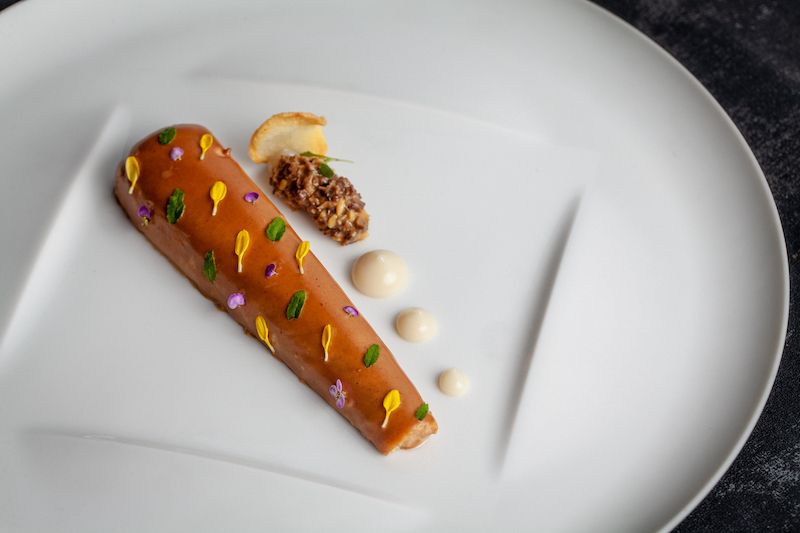 Introduction of Ode To Soy Sauce Tasting Menu
An Ode to Soy Sauce (HK$880+10%) pays tribute to the trusty seasoning that has prevailed through history as a mainstay of Chinese cooking. The sauce is created by boiling and fermented soybeans, which are covered with salted water for many weeks. The result is a thin, brown liquid that we have come to know as the versatile sauce whose main flavors are salt and umami. With a history dating as far back as the Han Dynasty (206 BCE-220 CE), soy sauce began as a savory paste called douchi, made from salted, semi-fermented soybeans. This eventually evolved into soy sauce, known by its modern Chinese name jiangyou during the Song Dynasty (960-1279).
The menu begins with an amuse-bouche trio of Red Mullet Tart with Dijon mustard, cream and marinated soy sauce, Japanese Sweet Shrimp with umami Japanese tomato soy sauce, and TATE's signature homemade Sourdough served with fermented soybean paste butter and shio-koji, aged for 2 years in-house.
The first course of Umami Tomato Soy Sauce is a flavor-rich introduction to the menu, featuring razor clam, sabayon, and Ossetra caviar, drizzled with a rich umami tomato soy sauce.
The second course, Steamed Fish Soy Sauce, is Chef Vicky's take on the traditional Chinese steamed fish with soy sauce, re-created with chicken oil soy sauce, local mandarin fish stuffed with shrimp mousse, and flavored further with ginger, bacon, and coriander.
Sauce of Foie Gras & Soy highlights the traditional Chinese master stock aka "lo shui", which refers to a special sauce that is re-used over and over again for braising to produce a supreme master-sauce. This foie gras soy sauce is added to homemade tagliolini, shiitake mushroom, and Chinese scallions.
Cream of Morel & Soy brings together the highly compatible ingredients of dry morel mushrooms with fresh, Guangdong poached chicken. The morel cream is infused with Po Ling soybean, a yellow bean that is used for soy sauce and often for poaching chicken.
Made to enjoy like Japanese sukiyaki, the Broth of Beef & Soy features the highly coveted Mayura wagyu beef in an umami-rich soya broth, paired with deep-fried pigeon egg.
The final dish of the 6-course lunch menu is a dessert of Caramelized Soy Sauce with Coffee, inspired by the process whereby caramel is used to create dark soy sauce. Based on this, Chef Vicky's dessert features konbu, coffee, soy sauce, apple caramel, and chocolate ice cream in a crispy puff pastry. Finish the meal with a sweet and boozy digestif of Dark Soy Sauce Martini, a cocktail created specially to enjoy with the menu, made with gin, vermouth, figs, Japanese soy sauce and dark soy sauce.
The single-ingredient lunch series at TATE Dining Room is served on Fridays and Saturdays from 12pm-2:30pm. Priced at HK$880+10% per guest, the six-course lunch menu will feature refined innovative French-Chinese interpretations of winter delicacies. Depending on the seasonality and availability of ingredients, every 2 -3 months, Chef-patron Vicky Lau will choose a different single ingredient focus.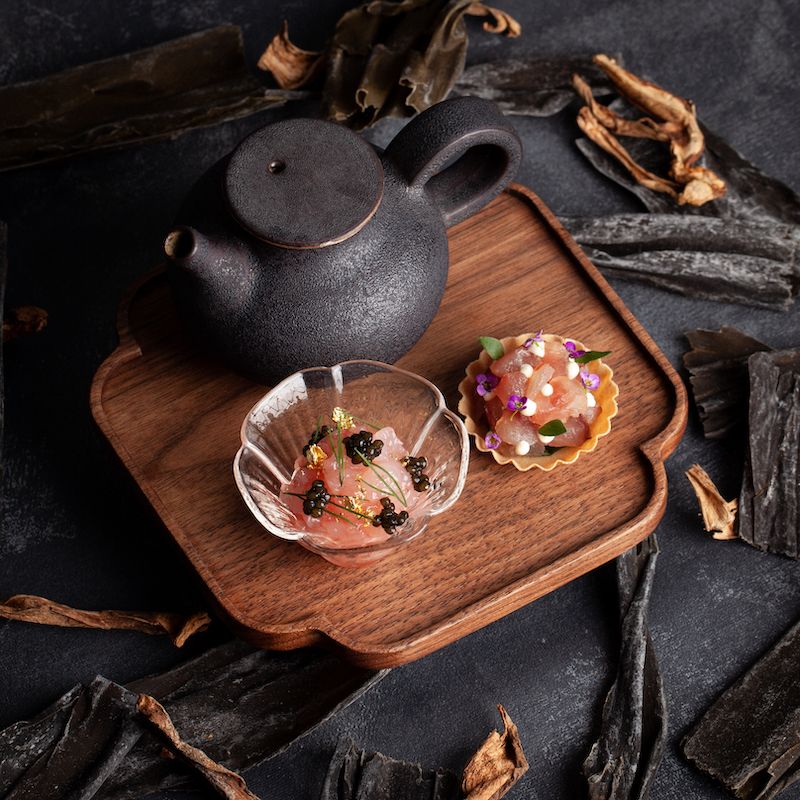 Lunch at TATE Dining Room is also served on Tuesday – Thursday with a special "All The Odes" menu priced at HK$1,180 + 10% per guest. For more details, please visit here.
ODE TO SOY SAUCE
HK$880+10% per guest
+HK$480 (3 glass optional wine pairing)
+HK$680 (5 glass optional wine pairing)
AMUSE BOUCHE
Soy Sauce cured Grey Mullet Tartlet
Sweet Shrimp with Umami Tomato Soy Sauce
HOMEMADE SOURDOUGH WITH FERMENTED BEAN BUTTER AND 2 YEARS HOUSE AGED SOY SAUCE SHIO KOJI
UMAMI TOMATO SOY SAUCE
Razor clam, sabayon, Ossetra caviar
STEAMED FISH SOY SAUCE
Mandarin fish with shrimp mousse, pickled young ginger
SAUCE OF FOIE GRAS AND SOY
Fresh pasta, shiitake mushroom
CREAM OF MOREL AND SOY
Poached Zhanjiang chicken with Po Ling soybean
BROTH OF BEEF AND SOY
Sliced wagyu, egg confit
CARAMELIZED SOY SAUCE WITH COFFEE
Puff pastry, apple caramel
MIGNARDISES
---
About TATE Dining Room
Established in 2012, TATE Dining Room is a fine dining restaurant serving an eclectic mix of French and Chinese cuisine presented in what they call, Edible Stories – an exploration into culinary expressionism. The talented individuals of TATE's team create dishes with not only the freshest and the most vibrant ingredients possible, but also the utmost attention on quality, flavor and every intricate detail; serving up wholesome yet tantalizing dishes. Founded by Vicky Lau, chef and owner of TATE who has always been a creative spirit. Having been a creative director for a number of years, she was inspired to tap into an extra dimension to her creative vision – and her lifelong passion for food – and enrolled at Le Cordon Bleu to obtain her Grand Diplome.
Following her stint at Le Cordon Bleu, Chef Lau officially made her maverick move from design to embark on her culinary career and was working at one of the most acclaimed Michelin-starred restaurant in Hong Kong. Having gained invaluable firsthand experience, Chef Lau realized her vision by combining the best of her instincts and talents in design and food into a space where guests are invited to share and experience her passion -- at TATE Dining Room & Bar. In 2015, Chef Lau has been named Veuve Clicquot Asia's Best Female Chef and the restaurant has also been consecutively awarded 1 Michelin star since 2013.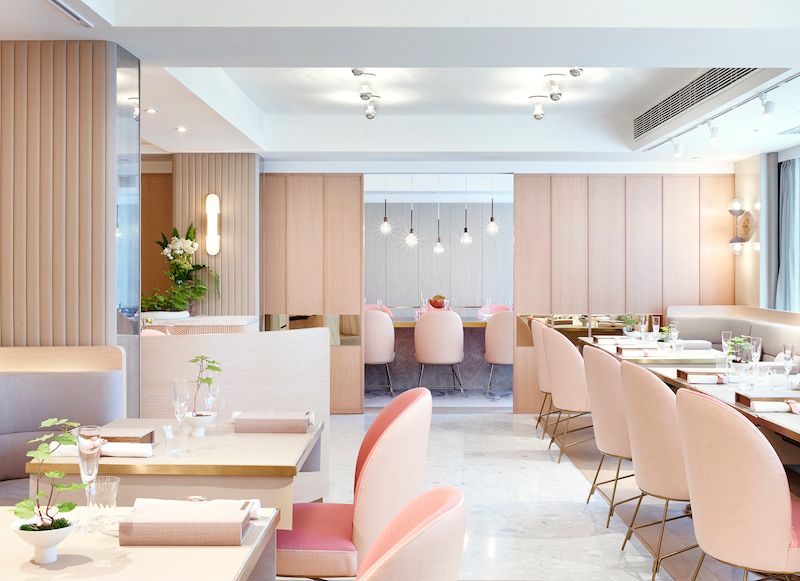 For more information, please visit
Restaurant Information
Address: 210 Hollywood Road, Sheung Wan, Hong Kong
Opening hours: Lunch – Tuesday - Saturday – 1200pm – 600pm
Social Media - @TateDiningRoom @ChefVickyLau
For bookings please call: (852) 2555 2172 or email info@tate.com.hk