by Pino Lavarra photos by Brent Pottinger
Food is a big part of Italian way of life. As you may already know, Risotto is an Italian specialty that is a prevailing staple in some northern regions of Italy. A versatile and hearty dish, it is based on Italy's short-grain Arborio rice and it is an integral and beloved fare of every Italian kitchens.
I have heard from a many of people saying that cooking risotto is difficult and it often does not turn out well. In this issue, as the guest contributor of "Secret de Chef" , I share my secrets to making a sumptuous risotto so that you can prepare this Michelin-starred dish at home.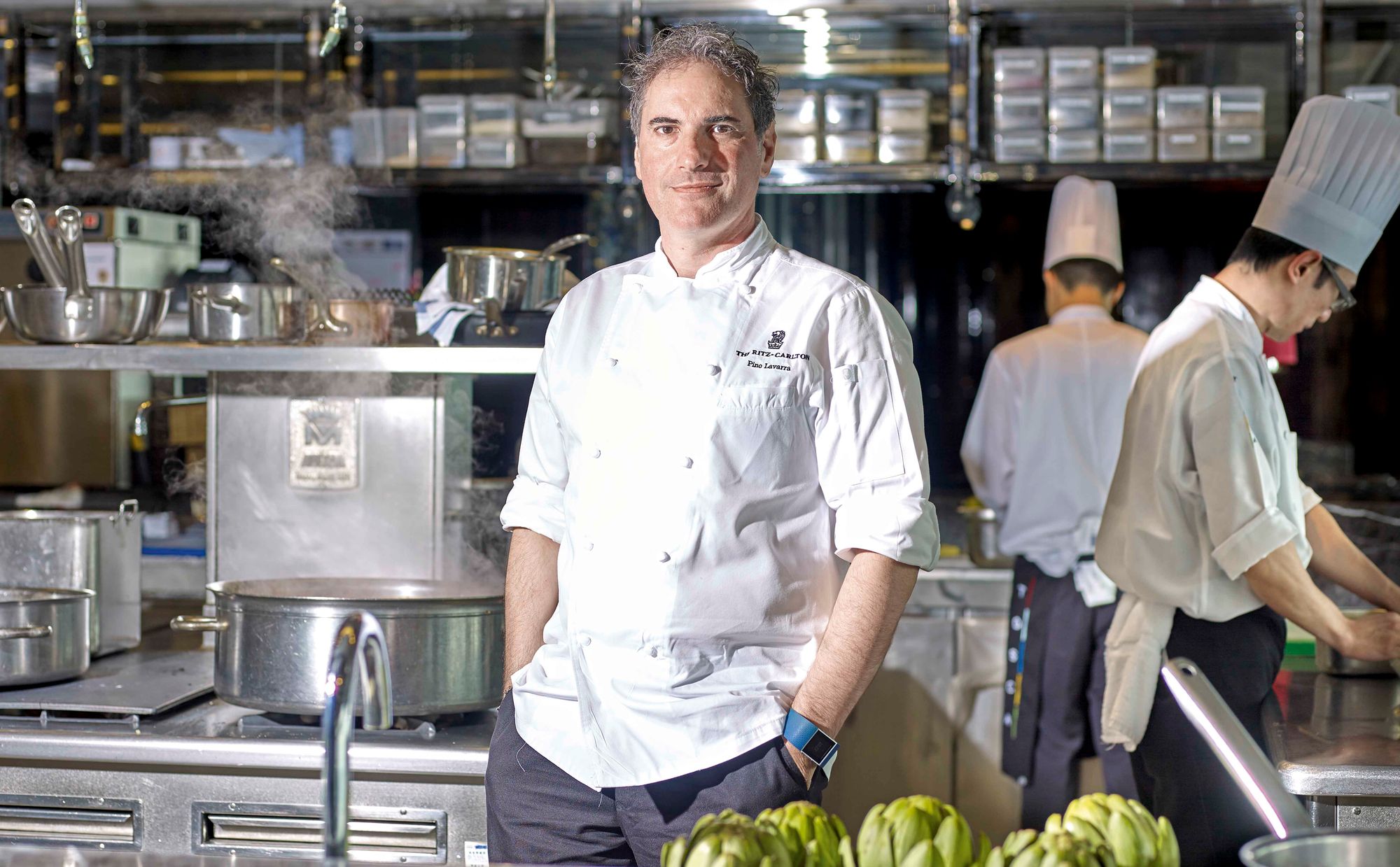 Growing up in Putignano, one of the oldest villages in Puglia in southern Italy, was a privilege because I was surrounded by a multitude of fresh ingredients and a vigorous culinary ambiance. My inspiration and passion for cooking originated in my childhood during which my mother was an fantastic school cook. When I was fourteen, I decided to become a chef and started my training in Castelana Grotte. Later on, I embarked my culinary career in Germany and England for a few years before returning to Amalfi Coast in 2001 as the Executive Chef of Rosellinis at the Palazzo Sasso Hotel where I was awarded my first Michelin star in 2004. After a ten-year tenure at the hotel, I was excited to begin a new chapter in Asia.
Moving to Hong Kong and joining Tosca in 2013 was a dream come true for me because the dining scene here has a great gastronomic energy and people are always eager to discover new cuisines. For this issue, I propose the Riso al Latte di Mozzarella, Veal Sausages e Cime di Rapa which combines culinary elements from the north and the south of Italy. Puglia is known for Riso, Patate e Cozze, a dish of baked mussels and potato risotto. In this dish, I replace the mussels with veal sausage and cime di rapa, a type of long stem brocoli, and use Mozzarella from Campania together with gently smoked rice. The result is re- freshing and contemporary as well as creamy and sumptuous. To pair with this Italian specialty, Jean-Charles, our Asia Ed- itor, selected the Prager Grüner Veltliner Wachstum Boden- stein featured in the column "From My Cellar". Made with the signature variety of Austria, Grüner Veltliner, the wine's crisp acidity gives a lift to the palate after each forkful. Its lightness complements the ethereal quality of the Risotto delightfully. The herbal notes of the Grüner Veltliner marries beautifully to the cime di rapa and the smokiness of the rice.
I hope that you will find it delicious as you embark on this delightful Italian journey at home!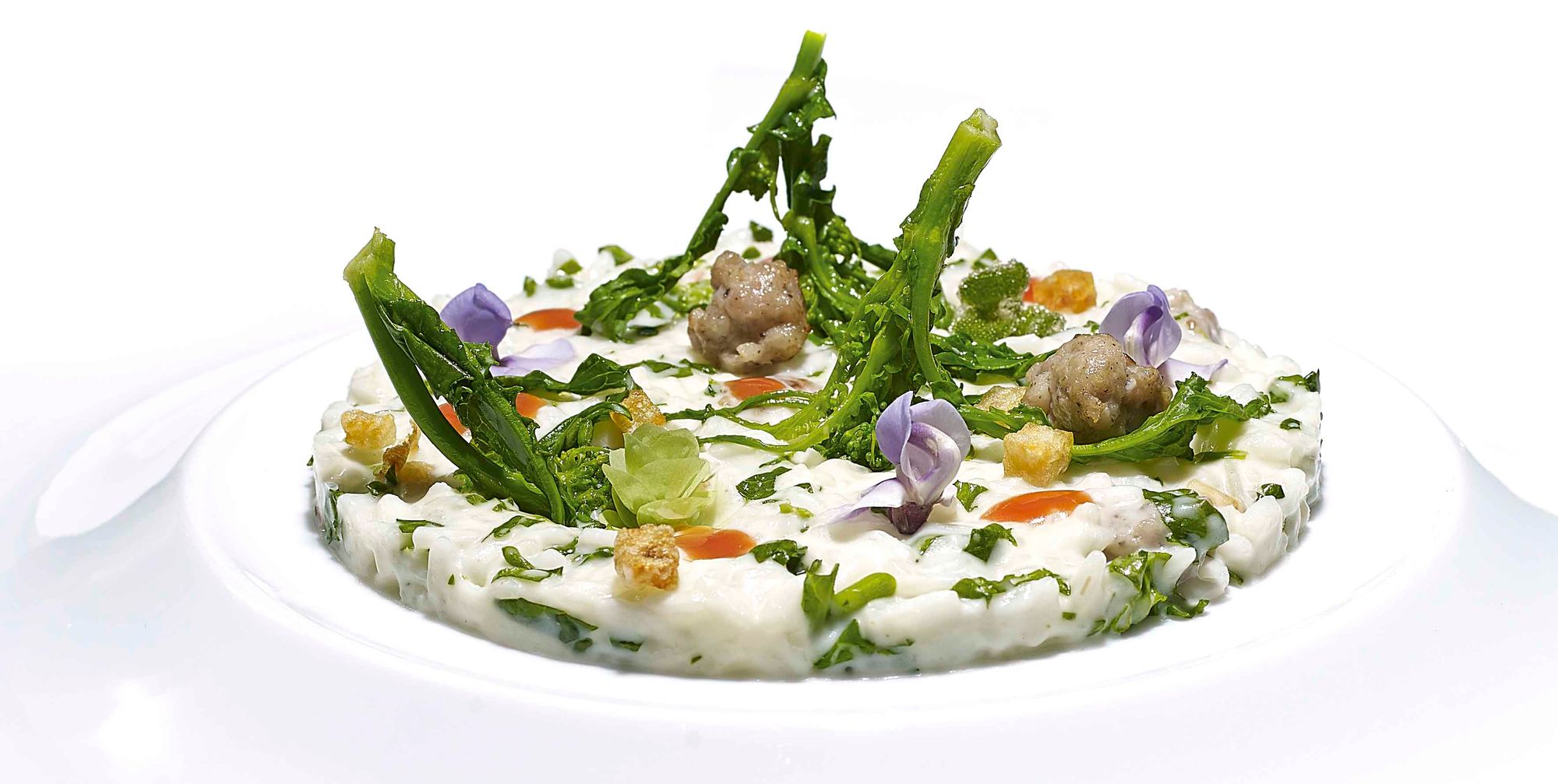 RISO AL LATTE OF MOZZARELLA, VEAL SAUSAGES AND CIME DI RAPA
Smoked Rice
Dehydrated 100 g of mixed herbs, "basil, parsley, tarragon, chervil, dill"
To smoke the rice, place the herbs directly at the bottom of a pot and on a steaming tray, place the rice. Heat at low temperature until the herbs start to smoke. Cover, turn off the heat and leave for six hours to smoke.
Mozzarella Latte
Mozzarella 100 g
Cream 100 g
Mozzarella water 50 g
White pepper 1 g
Lemon juice ½ fruit
This "latte": will be used to cook the rice as below.Blend all ingredients and pass through a strainer to obtain a milky solution. Keep separate.
Tomato sauce
Red ripe tomatoes 7 pcs
Olive oil 30 g
Butter 40 g
Basil 5 leaves
Garlic 1 clove
To prepare the tomatoes, remove the seeds and white vein inside. Blend in the mixer for five minutes and filter with a fine strainer. Reduce at low heat in a pan with oil and butter, garlic and basil until it reaches a syrupy consistency. Remove the garlic clove and basil, and let it cool down.
Riso
Smoked Rice 50 g
Mozzarella latte 250 g
Mozzarella cheese 40 g
Sausages 20 g
Roasted potatoes 10 g
Fennel seeds ½ g
Cime di rapa 20 g
Parmigiano 10 g
Dry white wine 2 tablespoon
In a pan over low heat, sauté finely chopped shallots in butter until golden. Add the rice. Stir for one minute. Splash with dry white wine, and cover with the mozzarella latte. Cook for 16 minutes, and allow the stock to be absorbed almost completely. When ready, the risotto should be "al dente" and slightly runny. Turn off the heat and add the Parmigiano and Mozzarella cheese, roasted potato chopped finely and gently stir together. Separately, blanch and sauté the cime di rapa with garlic and olive oil. The cime di rapa can be replaced by long stem broccoli.
Presentation
On a plate, place one or two spoons of tomato sauce. Over it, with a large spoon, place the risotto "all'Onda", meaning the rice will be rich and creamy but also "al dente", with a bite. On top, add a few drops of tomato sauce, sausages, potato and cime di rapa florets.
Complete with extra virgin olive oil and serve.
Chef's Secret: I smoke the rice to give the flavour a semblance of baked rice. After adding the final ingredients, always keep the risotto for an extra few minutes to relax before serving. This will allow the starches and the creaminess of the rice to reintegrate.
---
Tosca
Level 102, International, Commerce Ctr. 1 Austin Road West, Kowloon
tel. +852 2263 2270