by Eric Räty
"Innovation is an endless process, and challenges make us stronger. I am always inspired by my surrounding environment; it is what drives me to push my limits and create something that is everlasting."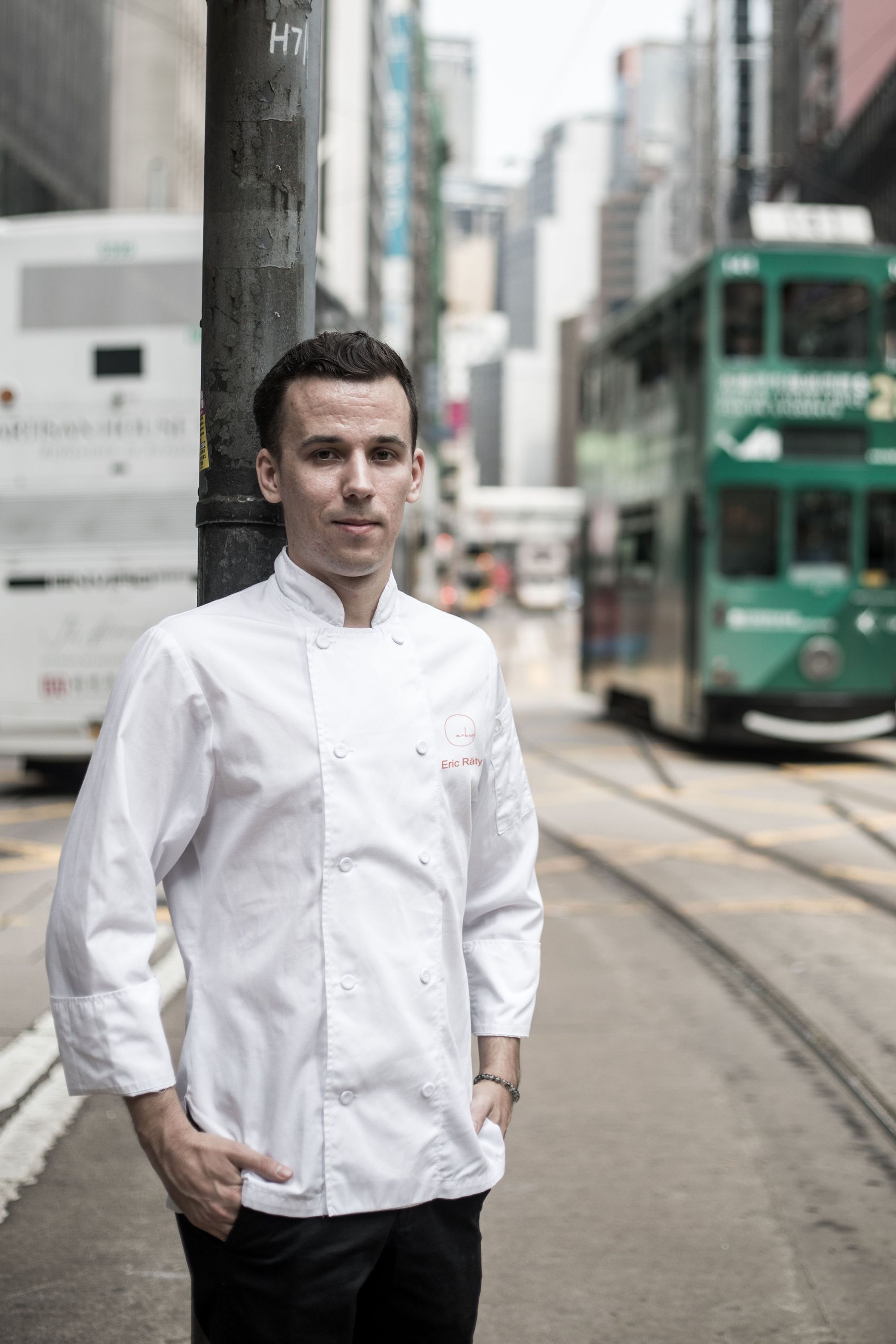 Hailing from the pristine natural environment of Finland, Chef de Cuisine Eric Räty represents refined simplicity, purity of craft and vibrant innovation that matches perfectly with Arbor's enchanting, nature-rich concept.
A rising star in fine dining, Eric's gastronomic journey officially began in 2005 at Perho Culinary School in Helsinki, Finland. Displaying genuine passion for his craft, he balanced his daytime lectures with demanding nights as a kitchen helper at Restaurant Chez Dominique (2 MICHELIN stars). Receiving a world-class fine dining education from acclaimed chef Hans Välimäki and his star-studded team, Eric honed his skills and eventually joined as a full-time Commis Cook after graduation, working his way up from the bottom of the team. After four years at Chez Dominique, which Eric credits as the most influential years of his career, he departed as the restaurant's Chef de Partie in 2010 and accepted a Pastry Cook position at the 3 MICHELIN-starred Restaurant Aqua in Ritz Carlton Wolfsburg.
During a spectacular two-and-a-half years, Eric earned the title of Pastry Chef at Restaurant Aqua before accepting a golden opportunity to return to Chez Dominique as the restaurant's Head Chef. Craving new challenges, he then went on to create and lead the exciting new pop-up restaurant Sandlådan, before embarking on an adventure to Asia in 2014, where he became an understudy to Chef Gray Kunz at Café Gray Deluxe in The Upper House and has been eagerly incorporating Asian sensations, ingredients and flavours into his culinary craft ever since. Now as Chef de Cuisine at Arbor, Eric brings measured skills, seasonal flair, sharp refinement and tasteful creativity to Hong Kong's spectacular dining scene.  He earned his first MICHELIN star in 2018, and the second star in 2019.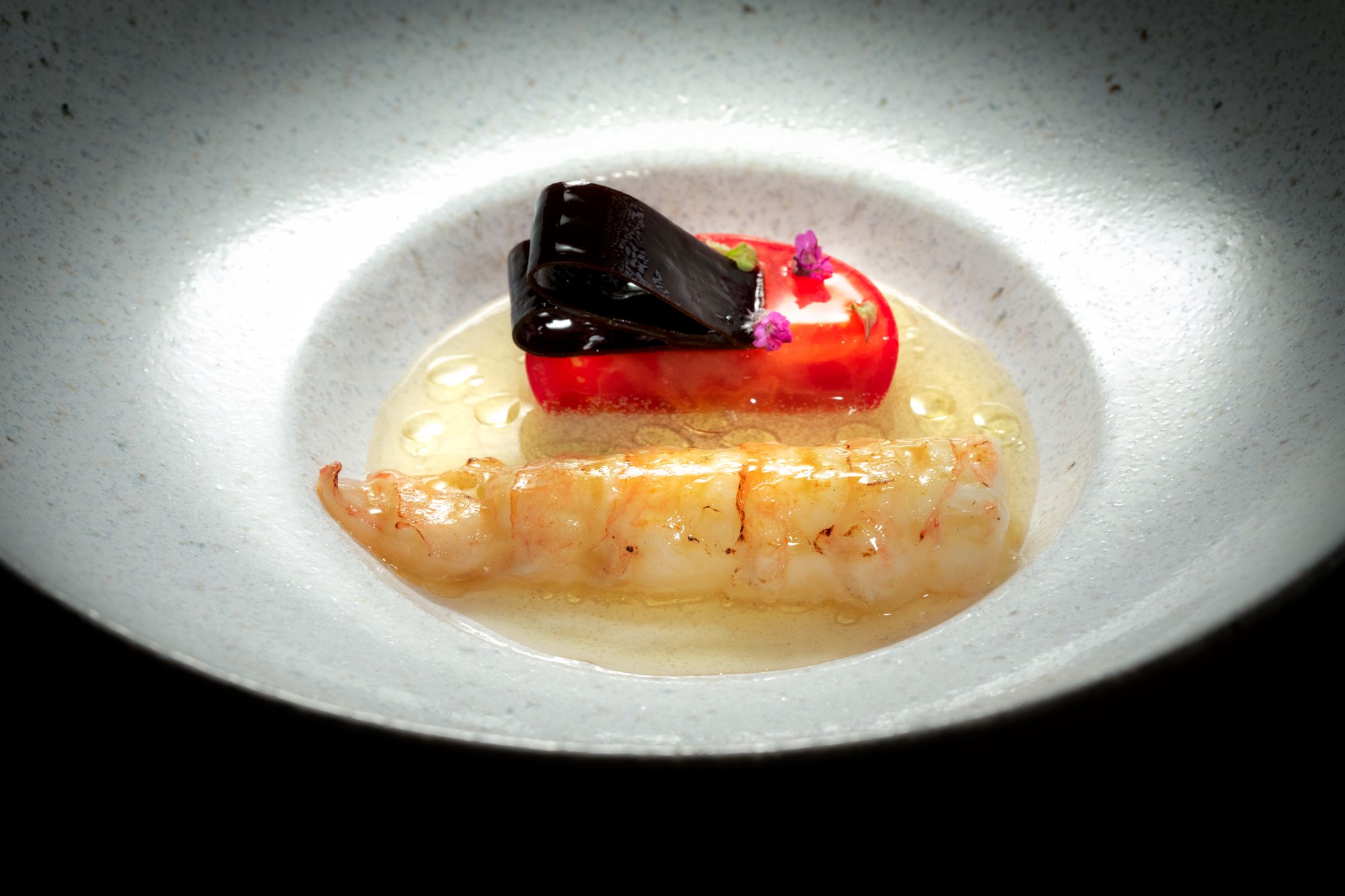 Langoustine:
- 5 pcs langoustine XL 2-4pcs/kg
- 20g soft butter
- 10g langoustine reduction
- 10g kombu oil
- To taste seaweed salt
1. Peel langoustine tail and reserve head and tails for later use (langoustine oil, sauce etc.)
2. Brush tail with soft butter.
3. Grill quickly over charcoal while keep brushing with butter. Ensure enough smoke until it turns just into a nice browning on the surface without being overcooked.
4. Brush with langoustine reduction and more melted butter. Season with seaweed salt. Trim top end with sharp knife.
Langoustine mayo:
- 50g bonito vinegar
- 75g egg yolk
- 5g mirin
- 5g bonito vinegar
- 150 g langoustine oil
- 50g bonito vinegar
- To taste seaweed salt
1. Reduce to thick
2. Emulsify all ingredients together until becomes thick creamy consistency. Store in a small squeeze bottle for later use
Langoustine reduction:
- 1 kg langoustine shells
- 1 kg prawns, whole
->Roast, crush
- 200g tomato trimmings
- 100g shallots, sliced
- 100g butter
-> Sweat
- 50g brandy
-> Flame
- 2L dashi
-> Reduce ½-> Sieve-> Keep reducing until sticky glaze
Candied kombu:
- 105g makombu, thick, flat
- 230g Guinness beer
- 160g Okinawa brown sugar
- 500g cassis, frozen
- 10g licorice root
- 75g champignon mushroom
- 1.5kg water
- 25g dry shitake mushroom
- To taste Perdo Ximenes vinegar
1. Set all ingredients into large pot(important to keep kombu as big pieces as possible to ensure all the liquids can cover them)
2. Cook slowly around 6-8h until kombu beomes really soft but can still lift up from the sauce.
3. Set kombu on trays. Sieve remaining liquid from pot and reduce until thick glaze consistency. Season with Pedro Ximenes vinegar.
4. Brush both sides of kombu sheets with seasoned reduction and leave it in a dry and clean place for 24h. After that kombu should be dried into semi hard. If not, keep drying for 12h more.
5. Start rehydrate semi-dried kombu sheets by brushing reduction 3 times per day for 3 days on both sides.
6. After that the consistensy should be sticky and chewy but still easy to bite. For the flavour, it should have an explosion of umami with balanced acidity.
Kombu oil:
- 20g toasted kombu, crushed
- 75g grapeseed oil
1. Vacuum tightly and keep 12h in 65c water bath/steam
2. Leave it to infuse at least for 1 day
3. Sieve
4. Store in small squeeze bottle for later use
Tomato-dashi:
- 250g tomato water
- 3 g kombu
- 10g katsuobushi, freshly shaved
- 125g bonito vinegar
- To taste white soy
-> Cold infused kombu and freshly shaved katsuobushi into tomato water for 12h. Season with bonito vinegar and white soy
Garnish:
- 1pack hanaho, shiso flower
- 3 pcs mochida tomato, Fukuoka
Plating:
1. Cut kombu into pieces and glaze with kombu oil
2. Peel tomatoes and cut into shape
3. Check seasonings of tomato dashi and langoustine mayo
4. Grill langoustine tails and glaze with langoustine reduction and kombu oil
5. Plate quickly and serve quickly to ensure right temperature for langoustine.
---
Arbor
Address: 25/F, H Queen's, 80 Queen's Road Central, Central, Hong Kong
Tel: (852) 3185 8388