by Yosuke Suga photos byBrent Pottinger
I am a Japanese chef but I spent most of my youth in French kitchens. My aspiration of becoming a chef was nurtured very early on, as I grew up in the restaurant business.
My grandfather was a chef on a cruise ship and later opened a Western restaurant in Nagoya in the 40's. My father took over the restaurant and revamped it into Chez Kobe, specializing in quality French cuisine and pastry.  I was grateful to have Mr. Joël Robuchon as my mentor in my 20's. During the last decade, I worked beside Mr. Robuchon in Paris. In 2003, I opened the Tokyo outpost of at L'Atelier de Joël Robuchon as Executive Chef, and in 2006 Robuchon brought me to New York's Four Seasons Hotel to open L'Atelier. Following my grand run of 16 years at L'Atelier de Joël Robuchon, I decided to go back to my hometown to strike out on my own. I opened "Sugalabo Inc" in Tokyo in 2015, an exclusive diner that only opens for limited customers from around the world.
Ever since I relocated, I travel intensively in Japan to scout for seasonal products because I prefer not to simply buy ingredients straight from the local market. While I take great pride in my Japanese cultural heritage, my dishes are a mixture of contemporary French cuisines and the Japanese philosophy of simplicity. Top-notch ingredients are my priority. And I like to let those ingredients speak for themselves. As the guest chef of the Mandarin Grill at the Mandarin Oriental, in this issue of "Spirito diVino", I offer you a unique French-Japanese dish Abashiri Kinki Fish with Red Paprika and Raw Ginger Sauce. Kinki fish, an upscale ingredient from Hokkaido, is currently in season. It is one of the finest varieties of seafood, and is closely identified with Japanese culture. Since it is not easy to find Kinki fish in local markets across Asia, any common fish used for steaming in Chinese cooking can be an acceptable substitute. But bear in mind, the freshness of the fish is the ultimate key.
When cooking the fish, keep a close watch and remember to steam it slowly. Bathing it in a lobster sauce, or a red paprika and ginger sauce makes it a more subtly luscious dish. I also like to garnish it with Kamo eggplant and green peppers, to add an extra touch of luxury and flavor. Jean-Charles, our Asia Editor, suggests pairing this dish with Krug Clos du Mesnil 1996 featured in our column "From My Cellar".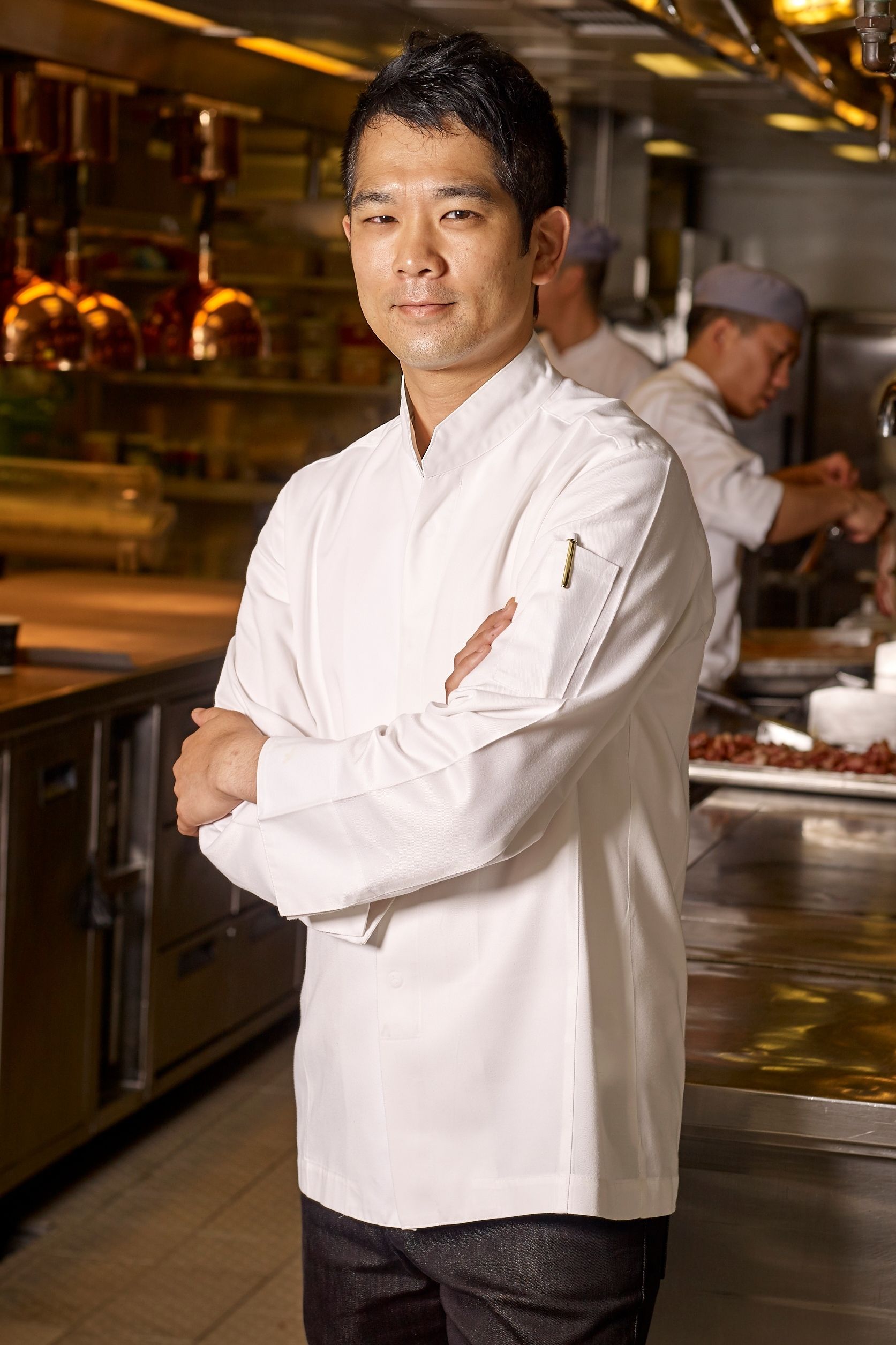 ---
SUGALABO INC
Nisso 22nd bldg, 1F, 1-11-10 Azabudai, Minato-ku, Tokyo 106-0041, Japan
tel. +81.90.6768.7993