By Alvin Leung
People call me "Demon Chef" mainly because I like to challenge people's expectations and excite their palates. I believe every ingredient can be broken down to create new taste sensations, and I want to give my guests an astoundingly unique dining experience every time they visit Bo Innovation.
Although I was born in London, I spent most of my formative years in Toronto, Canada. I am trained as an engineer and had exercised this discipline for many years before making my foray into cooking. In fact, I only started cooking professionally at a private kitchen restaurant that eventually led to Bo Innovation in 2003. I would say any background is beneficial for making a good chef because people with different kinds of credentials can see things through a different lens and discover a whole new way of cooking. My engineering background laid the foundation for my high-tech cookery today, and every one of my dishes reflects this methodical approach and precision.
In my kitchen, I stay true to my Chinese roots and I like to explore different Chinese ingredients and flavours to create ground-breaking and unexpected dishes. I tend to showcase what I have seen and known of Hong Kong from when I arrived as a kid up to now, for instance the décor of a Saipan boat embodies a big part of my childhood memory of going to the floating seafood restaurant in Aberdeen.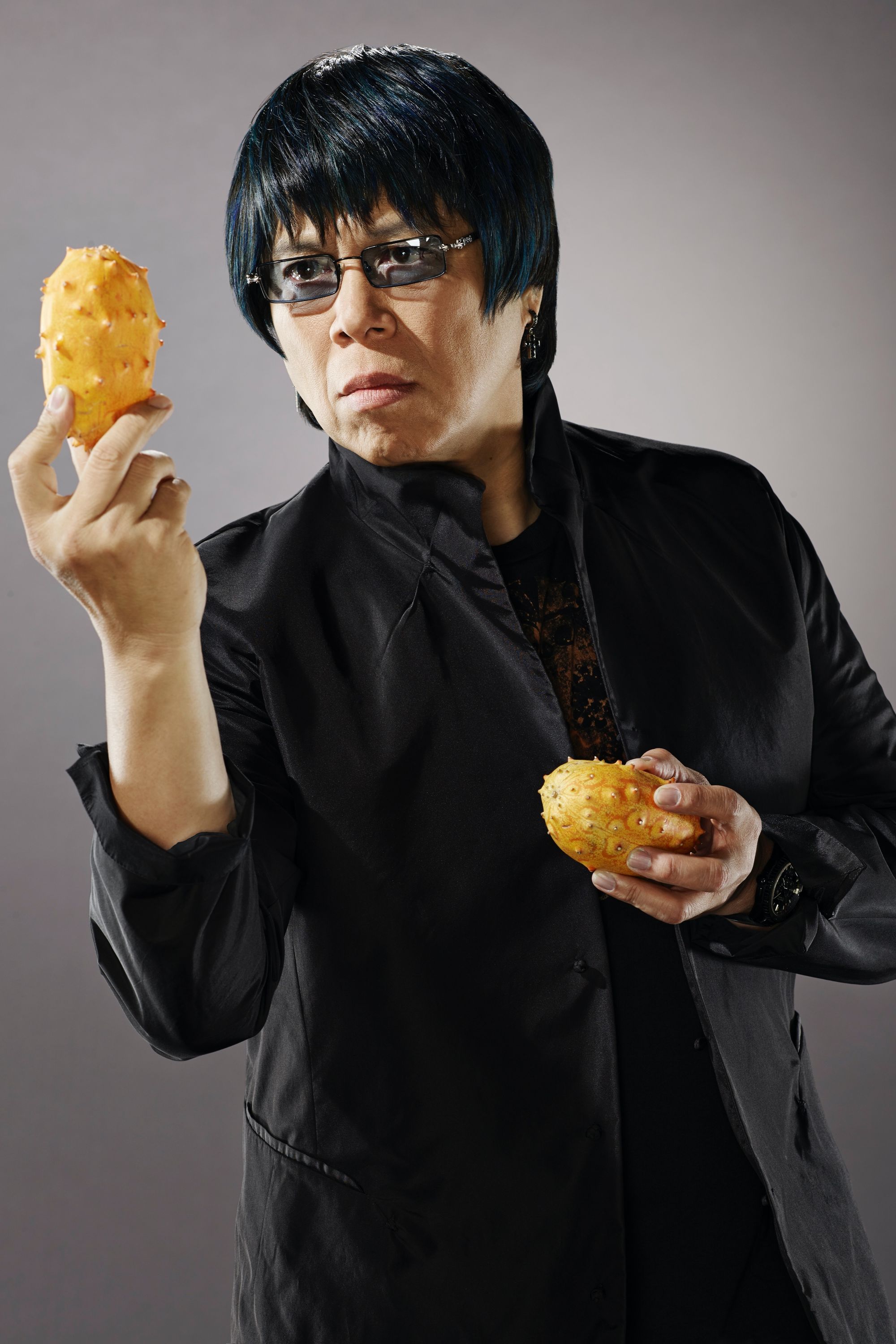 Thus my cooking philosophy is to break down traditional food to its bare essence and to reinvent it in contemporary forms. "Sweet and Sour Lobster" that I present you in this issue is an iconic and easy-to-make Chinese dish. It goes without saying that sweet and sour sauce is an authentic Cantonese-style seasoning, and both flavors intertwining each other along with the umami of the lobster. The hawthorn butter and dried fruit add multiple layers of complexity without stripping away the Chinese character of the dish. I picked this dish because I was raised in Canada, which is an abundant source of seafood, and the sweet and sour sauce can reflect where I'm truly from. So this dish is able to represent both of my origins.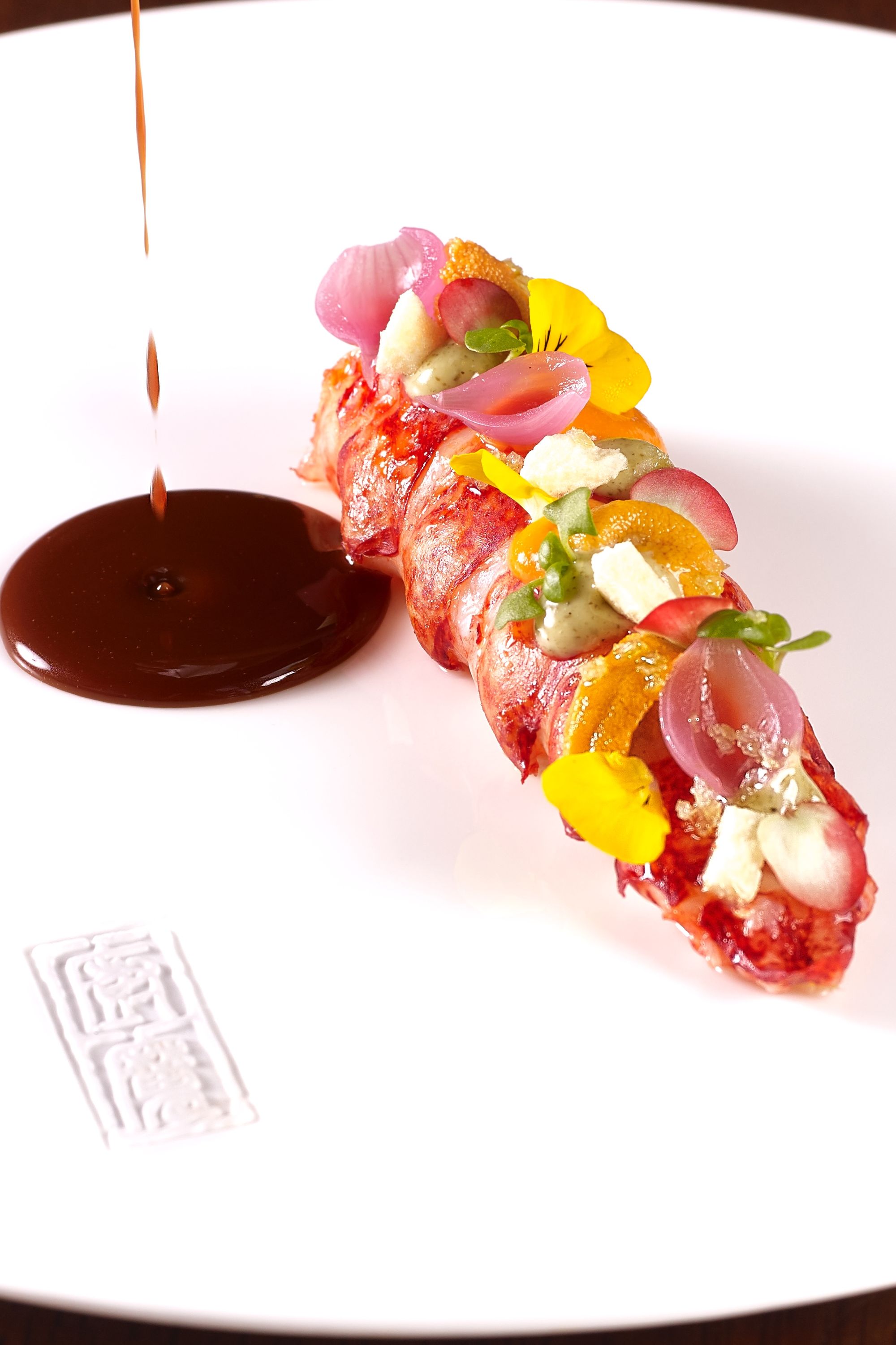 SWEET AND SOUR LOBSTER, HAWTHORN BUTTER, DRIED FRUIT
Ingredients (for 2):
2 blue lobster tail
15g freeze-dried pineapple
several apple blossom
Green peppercorn mayonnaise:
250ml rapeseed oil
85g green peppercorn (pickled)
2 egg yolk
pinch of sugar
splash of water
Hawthorn butter sauce:
150g dry hawthorn
300g water
200g butter (cold and diced)
80g sugar
Red bell pepper sauce:
350g red bell pepper
25g pine nuts
2g xanthan gum
salt
sugar
Maldon sea salt
Green onion oil:
500g spring onion (chopped)
500ml rapeseed oil
Method:
Blue lobsters:
Place lobsters in clarified butter bath at 46°C for 15 minutes.
Move to a tray and place in salamander for 20 seconds.
Red pepper sauce:
Toast pine nuts to golden colour
Burn red pepper to black, peel skin and seed.
Blend to puree, pass through chinois.
Hawthorn butter sauce:
Combine hawthorn and water in a bowl and steam for 6 hours. Strain.
Place the hawthorn water in a small sauce pot, bring it to a boil.
Add sugar and slowly add the butter while whisking to emulsify.
Green onion oil and salt:
Put ingredients into Thermomix at 80°C for 45 minutes to an hour on speed 4.
Pour into a container and let infuse in fridge overnight. Strain.
To make green onion salt, add green onion oil to Maldon salt, little at a time, mix until the salt is green but not too wet.
Green peppercorn mayonnaise:
Blend oil and green peppercorn. Strain.
Whisk egg yolk at medium speed on a Kitchen aid.
Slowly add infused oil in.
Add sugar for seasoning.
Add splash of water to adjust the mayonnaise consistency.
Assembly:
Place lobster tail on plate, sprinkle some green onion salt on top.
Arrange drops of green peppercorn mayo and red pepper sauce along the tail.
Garnish with freeze-dried pineapple and apple blossom between the dots.
Add hawthorn butter sauce on side.