Single Malt Scotch Whisky Brand HIGHLAND PARK and LUBUDS F&B Group Proudly present a Japanese-inspired Cocktail Experience
The iconic single malt Scotch whisky brand, Highland Park is collaborating with Lubuds F&B Group to present a Japanese-inspired Cocktail Experience "Unlocking the Secrets of the Fifth Taste". Highlighting the unique flavour profile of Highland Park whisky, the collaboration will launch a series of bespoke Japanese-inspired cocktails, to pair with some extraordinary Japanese delicacies. From August to October, a distinct journey of sensory exploration will begin.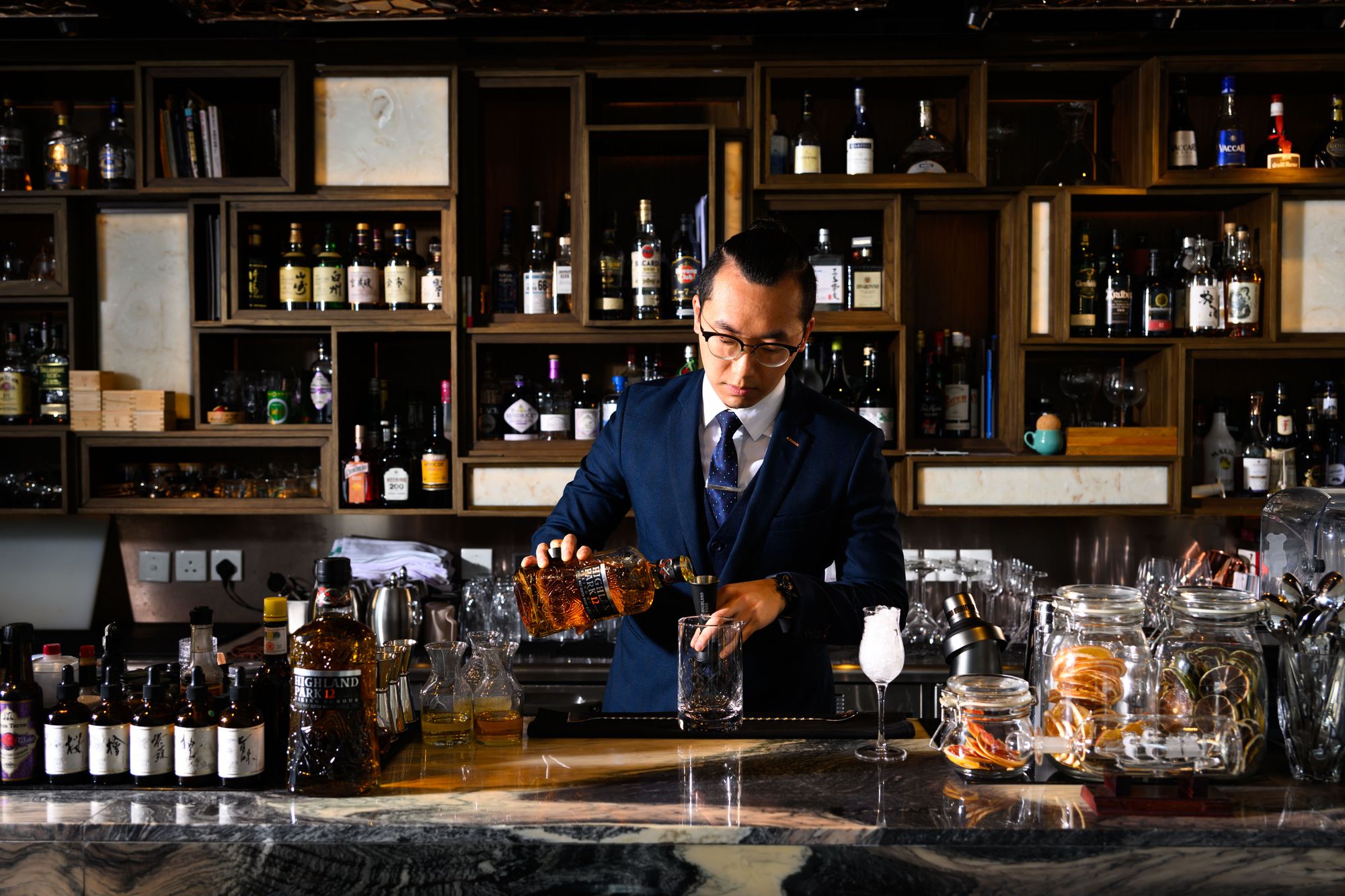 Based on Orkney Islands, Highland Park distillery has the unique oceanic climate condition from the cold North Sea and heathery peat from Orkney Islands, bringing a dynamic balance of unexpected contrast – A Wild Harmony of smoky and sweet flavours. Lubuds F&B Group aims to excel and tantalize the senses
Highland Park and Lubuds are launching a two-month collaboration   , showcasing a range of Highland Park whisky-based cocktails with a Japanese twist, exploring the discernible umami behind the
bar.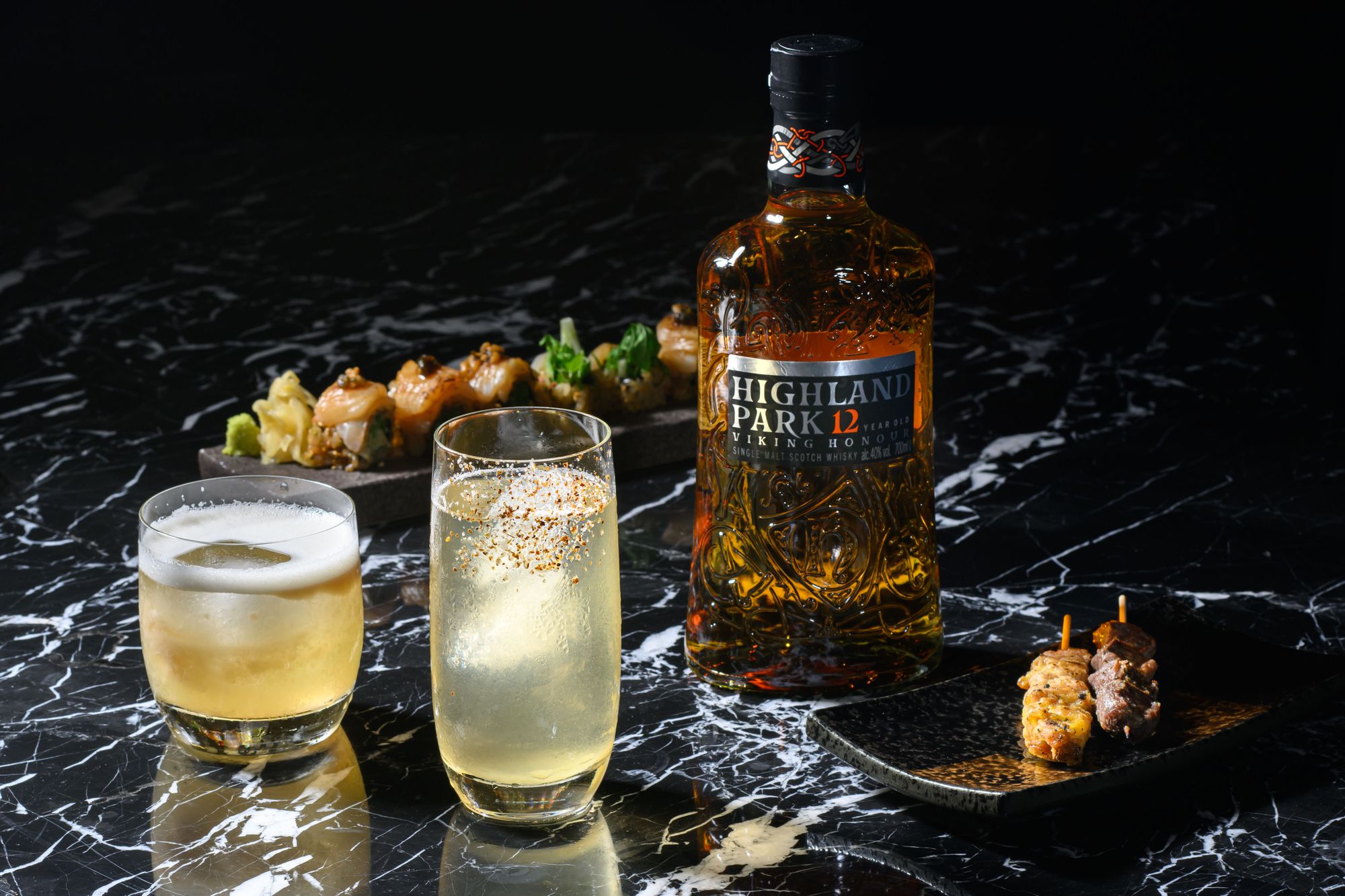 GUEST MIXOLOGIST – LORENZO COPPOLA
Lorenzo Coppola will be invited as guest mixologist, alongside his extensive experience and accolades, he is excited to bring his creative flair for this unique collaboration. Previously helmed Zuma Rome's bar team, Lorenzo is one of the of brains of mixology movement in the celebrated contemporary Japanese restaurant in iconic locations, such as Miami, Las Vegas and Mykonos. He is ready to showcase two well-designed Highland Park whisky specials at ODDS and ANA TEN, on 4th August and 11th August respectively, from 7:00pm to 10:00pm.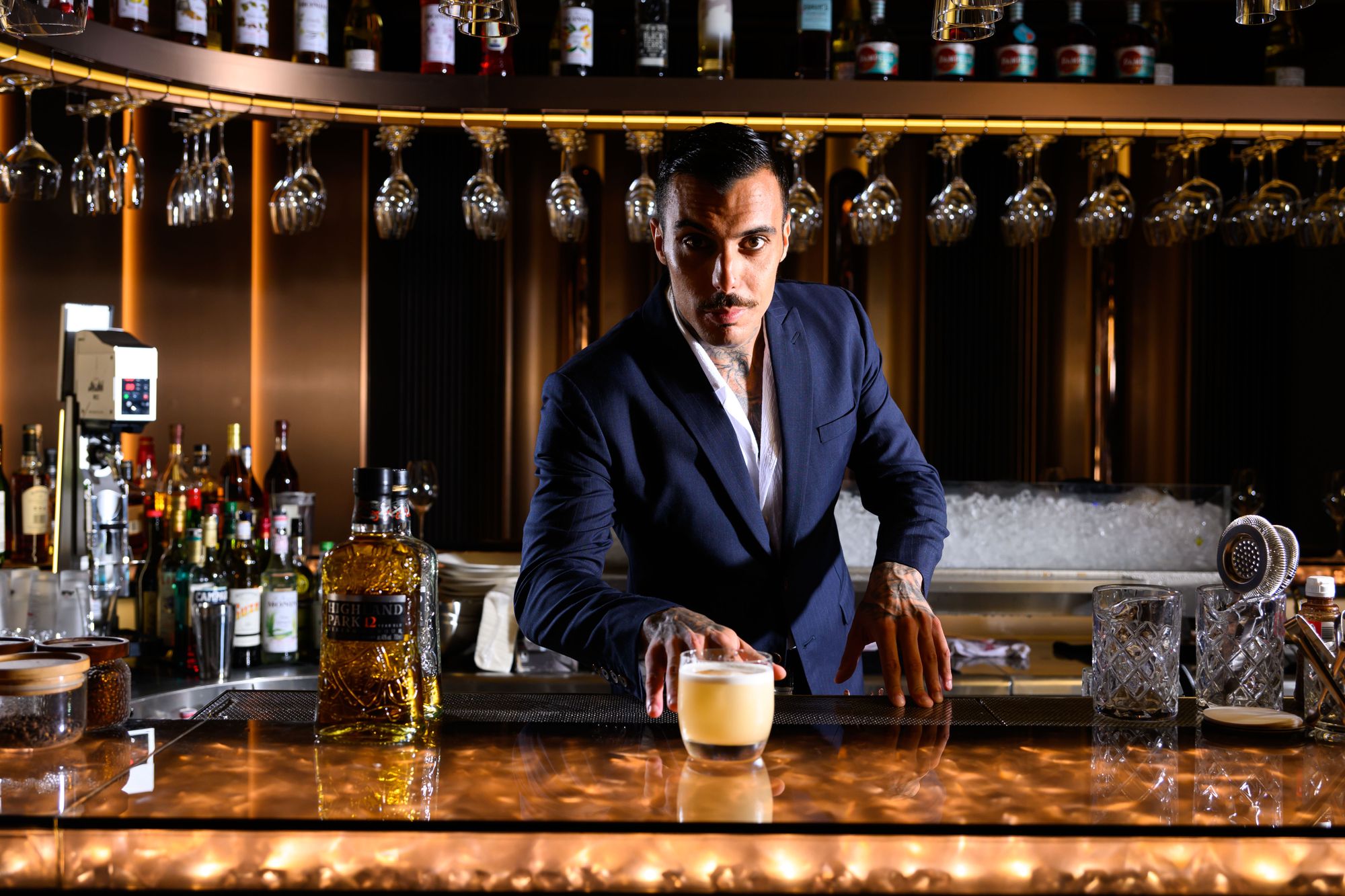 Reinventing a classic, HIGHLAND PARK YUZU SOUR is created in a Japanese twist, adding clarified yuzu juice, egg white and plum sake. The perfect balance of sweet and sour taste brings a relief from the heat with this fruit- laden cocktail.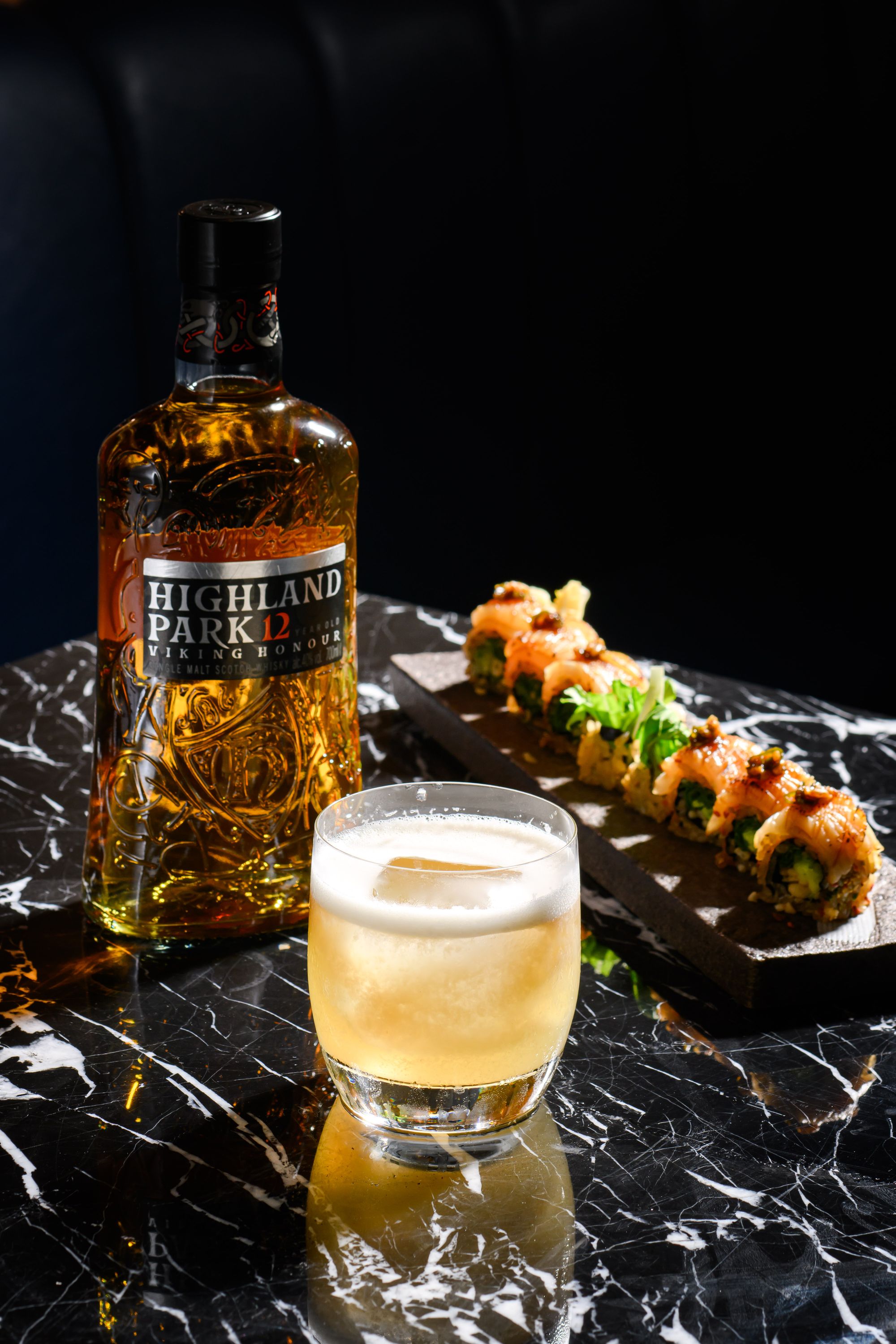 The second cocktail BARBECUE HIGHBALL, a thirst-quenching cocktail with Highland Park 12 Year Old, grilled pineapple cordial, soda, dusted BBQ salt on the glass, highlighting the subtle smokiness and heathery honey character of the whisky.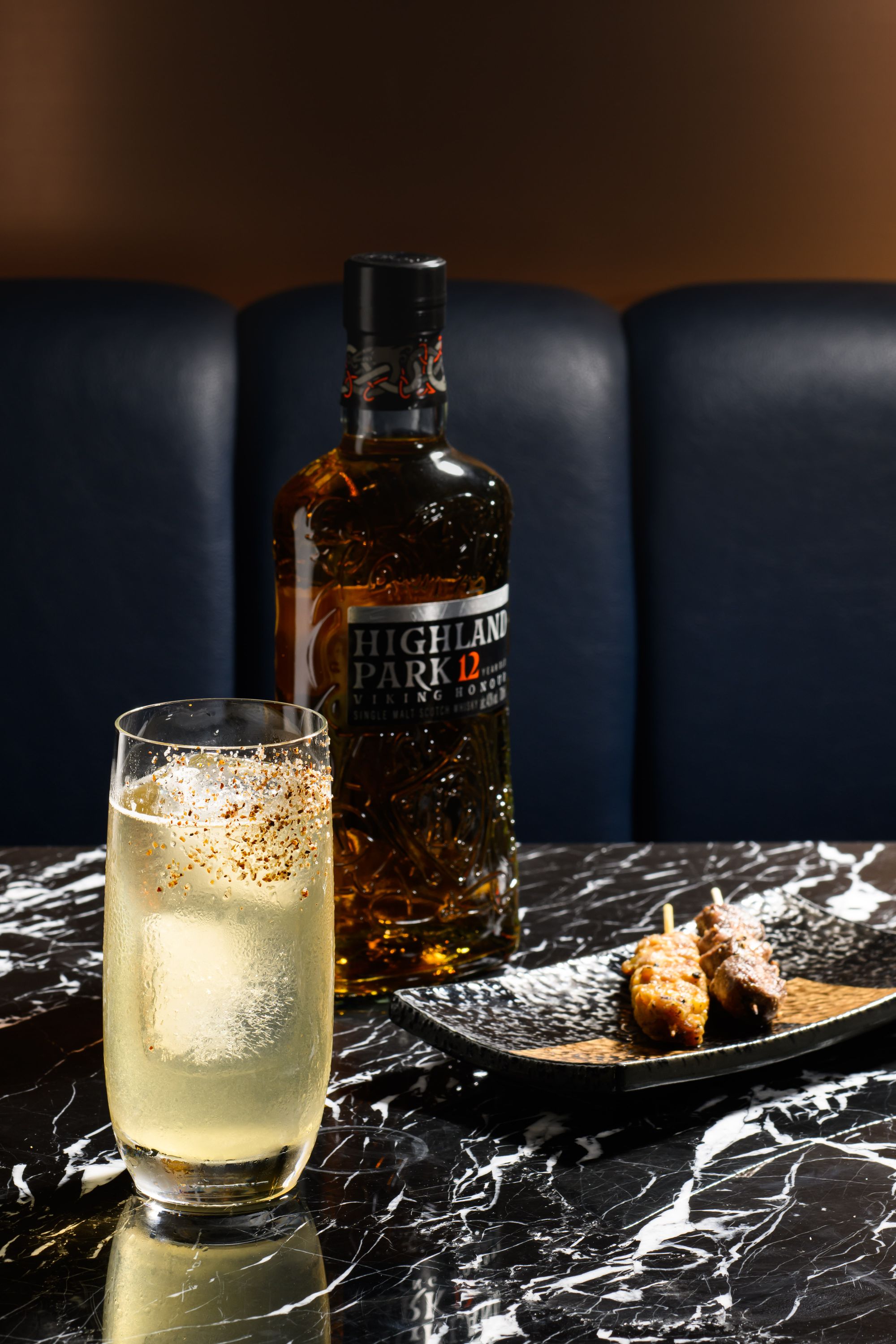 Turning occasions into celebrations, the two bespoke cocktails are carefully paired with Japanese grilled items, Flamed Hokkaido Scallop Sushi Rolls, Yakitori combo – Chicken Gizzard & Chicken Neck.
Bespoke Cocktails by Lorenzo Coppola & Special Pairings (4th August to 3rd October)
per glass (available at ODDS & ANA TEN) Flamed Hokkaido Scallop Sushi Rolls HK$188 (available at ODDS only)
Combo Price HK$298 (available at ODDS only)
Barbecue Highball HK$168 per glass (available at ODDS & ANA TEN)
Yakitori combo (Chicken Gizzard & Chicken Neck) HK$136 (available at ODDS only) Combo Price HK$258 (available at ODDS only)
FIRST TOUR – ODDS
Located in the heart of Central, ODDS is an extraordinary Japanese fine-dining concept combining Teppanyaki, sushi, yakitori, bar and coffee. Using the freshest and seasonal ingredients, together with the most elite chefs, ODDS present high-end Japanese cuisine that surprises diners with innovative techniques. To celebrate the collaboration, mixologist of ODDS, David has created two intriguing yet elegant cocktails with Highland Park whisky.
The first concoction is SALTED TANGLE FASHION, with Highland Park 12 year old as the base, an audacious combination of homemade tangle infused lillet, Frangelico and garnished with dry salted tangle. The masterful cocktail matches perfectly with Dooriel Oyster with Caviar, bringing the umami taste to the next level.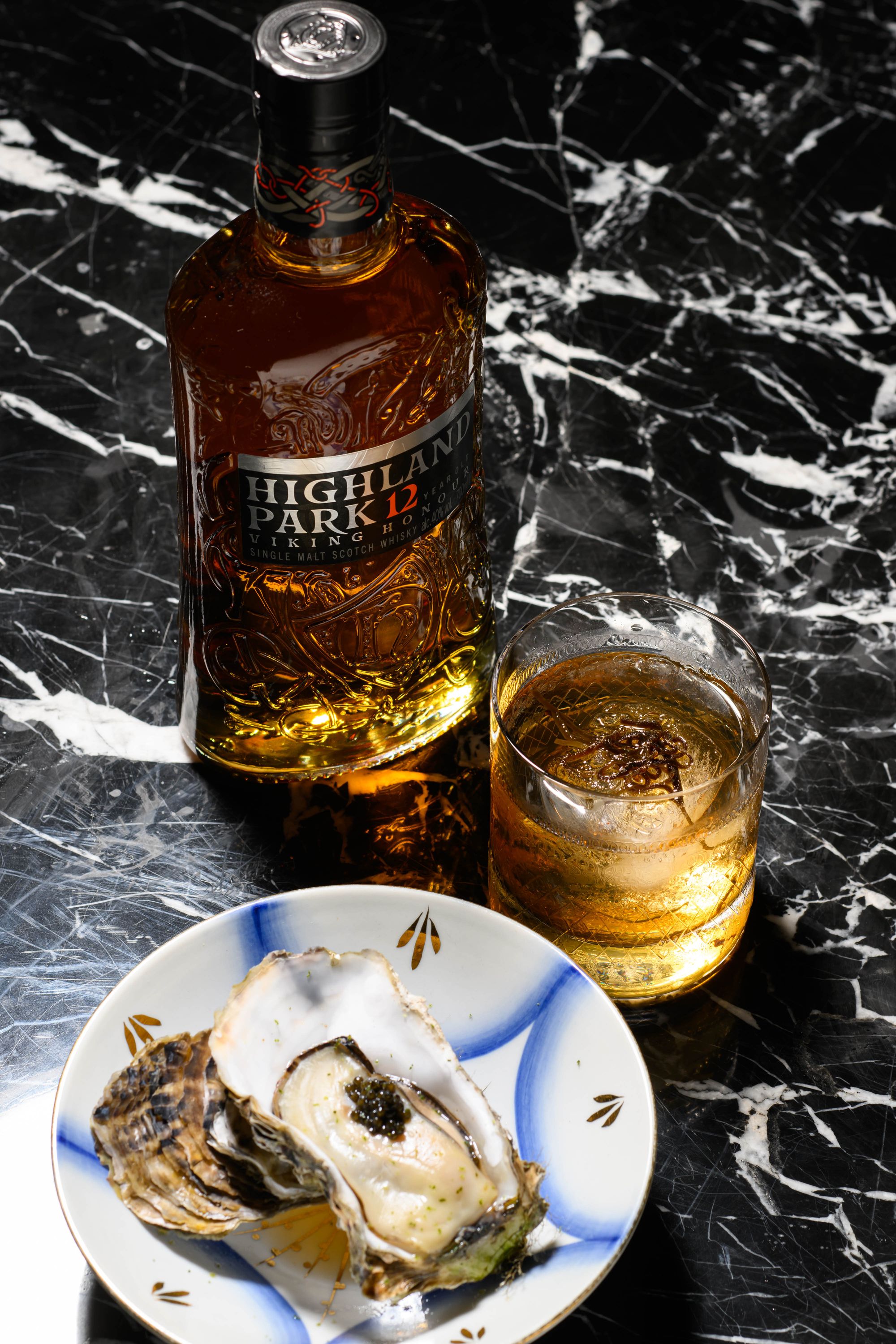 The second exclusive creation is HARMONY HIGHBALL. A fragrant house- made apple cordial paired with Highland Park 12 year old whisky, soda water and Genmaicha. The apple freshness and the roasted rice aroma of this cocktail pairs particularly well with Pan-Fried Foie Gras, balancing the greasy taste.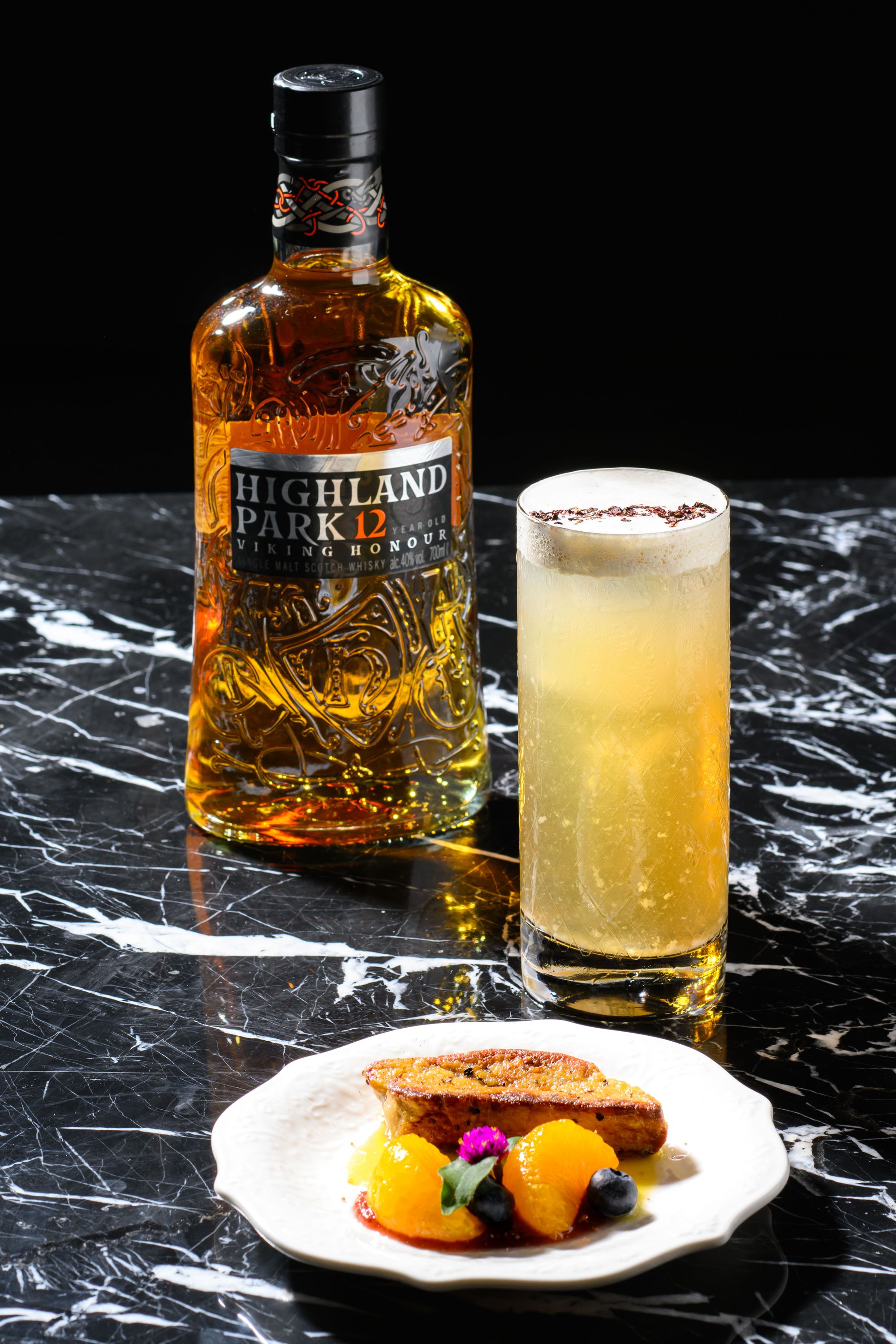 Salted Tangle Fashion , Dooriel Oyster with Caviar (4g) HK$185 Combo Price HK$300
Highland High Ball HK$178 per glass, Pan-Fried Foie Gras HK$238 Combo Price HK$350
ODDS
Address: Shop G2, G/F, Standard Chartered Bank Building, 4-4A Des Voeux Road, Central Phone: 2891 3988
SECOND TOUR – ANA TEN
ANA TEN provides the modern art of Japanese cuisine with a list of innovative dishes including Sashimi, Tempura and Washoku entrée. Creative cocktails with the essence of Japanese are exclusively designed and served at the fantastic wine bar, where you can enjoy the magnificent views of the iconic Victoria Harbour. Innovative and creative cuisine captured countless diners in the town.
Created by Ana Ten's bartender, Matthew, TOPAZ combines Highland Park 12 Year Old with yuzu wine, blanco vermouth, shiso liqueur and orange bitters, the pairing with Nagoya Style Deep-fried Chicken is irresistible.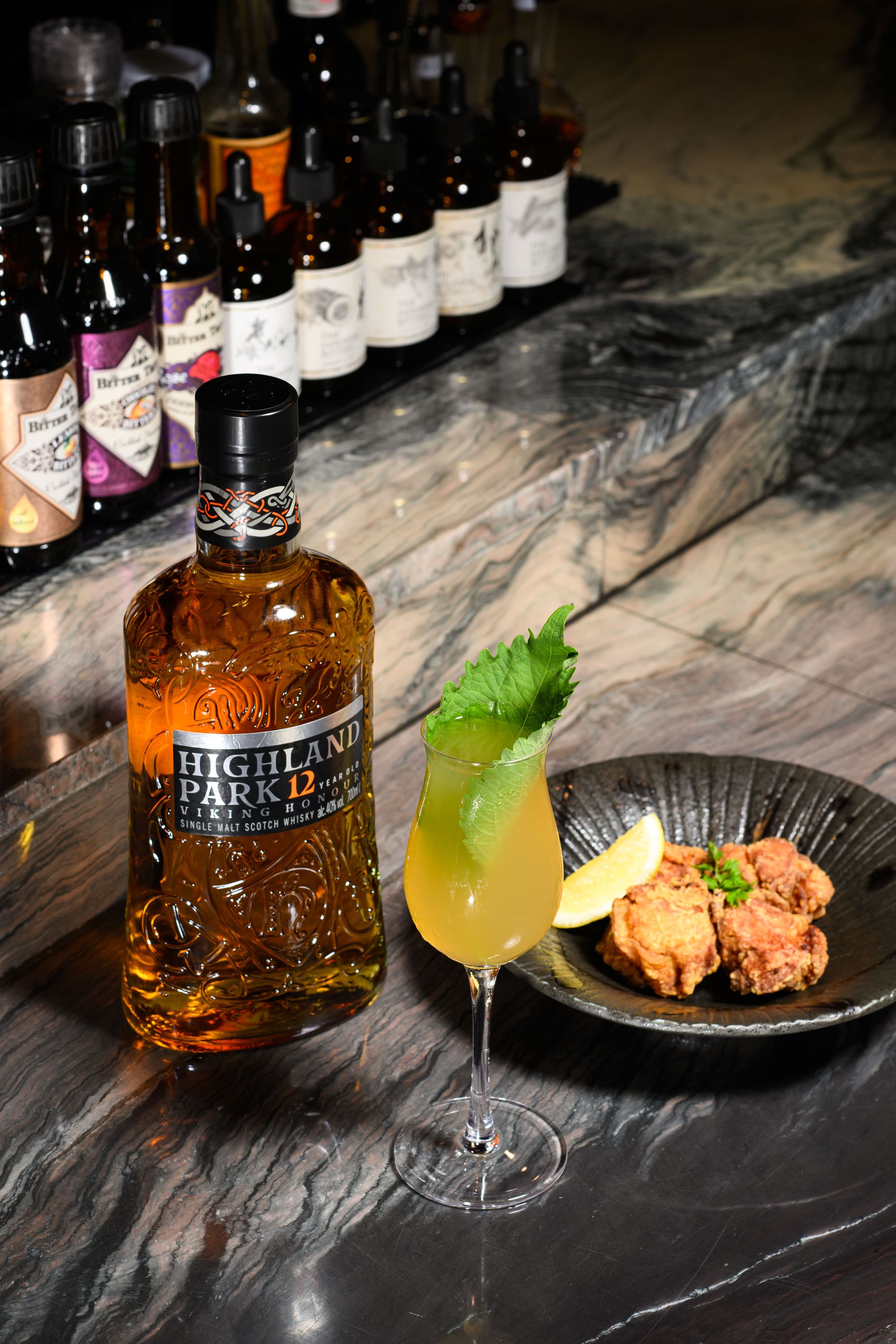 The second curation of Matthew is KINGSMAN. With Highland Park 12 Year Old, coffee infused campari, dry vermouth, honey, black walnut bitters. The roasty flavours from the coffee pairs well with Smoked Radish with Cream Cheese, the complex layering tickles your taste buds and stimulates your senses.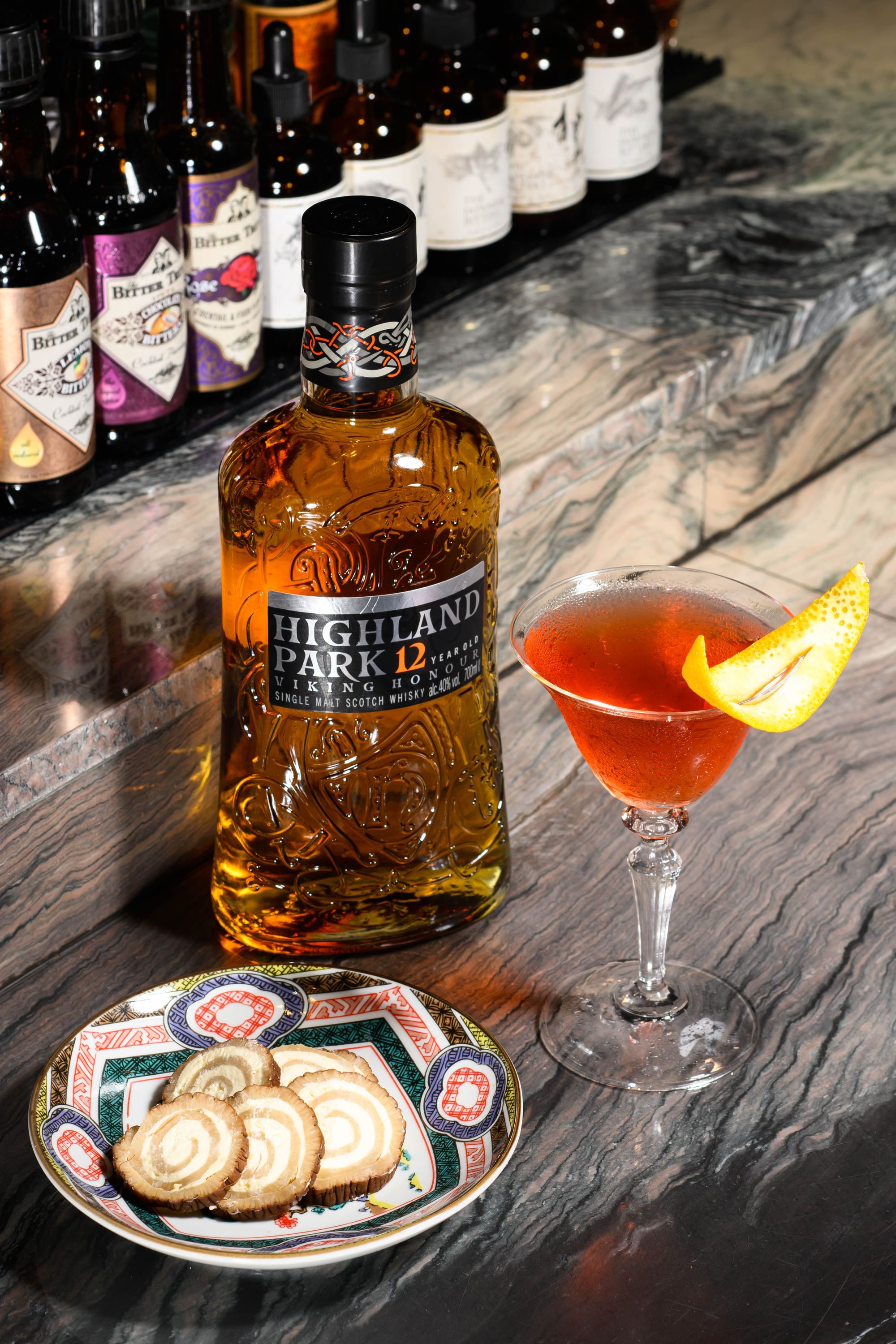 Special Cocktail Pairings at ANA TEN (11th August to 3rd October)
Topaz HK$138 per glass, Nagoya Style Deep-fried Chicken HK$100 Kingsman HK$138 per glass, Smoked Radish with Cream Cheese HK$100
ANA TEN
Address: Shop OTE 304, Level 3, Ocean Terminal, Harbour City, Tsim Sha Tsui Phone: 2701 9881
THIRD TOUR: TORITEN, ZUSHI ANA, ANA GURA, YAKI ANA (Kornhill)
The four Japanese restaurants under Lubuds F&B Group have conquered the hearts of diners with high-level and diversified Japanese cuisine. From 4th August to 3rd October, diners can enjoy a refreshing summer's favourite at these four selected outlets, the Highland Park 12 year old Highball – HIGHLAND PARK SUMMER CRISP (HK$118 per glass), to keep you cool through the heat.
Toriten
Address: Shop G25, Festival Walk, 80 Tat Chee Avenue, Kowloon Tong Phone: 2337 8223
Zushi ANA
Address: Shop 1202, Times Square, 1 Matheson Street, Causeway Bay Phone: 2506 1232
ANA Gura
Address: Shop UG-35, Festival Walk, 80 Tat Chee Avenue, Kowloon Tong Phone: 2840 1401
Yaki ANA (Kornhill)
Address: Shop G9-G10, G/F, Kornhill Plaza, Quarry Bay Phone: 2338 0313
---
ABOUT HIGHLAND PARK
Whisky has been distilled at Highland Park in Kirkwall, Orkney Islands since 1798. Founder Magnus Eunson, was a descendant of Vikings who settled in Orkney over 1,000 years ago. A butcher and church officer by day and a bootlegger and smuggler by night, he set up an illegal whisky-making operation at a little bothy (a stone hut) at High Park, overlooking Kirkwall. It is still the site of the distillery today and although we say Highland Park was founded in 1798, that's actually the year the authorities finally caught up with Magnus.
Few trees survive the gale-force winds on Orkney Islands. This makes the island peat woodless and rich in heather. This then helps create the trademark Highland Park flavour profile of aromatic smoky peat and sweet heather honey.
ABOUT LUBUDS F&B GROUP
LUBUDS® F&B Group was established in 2006 with the launch of its first Japanese outlet. The group has since introduced Japanese, European, Vietnamese, Modern Japanese, Portugese, and Sichuanese concepts across Hong Kong, including Tsim Sha Tsui, Causeway Bay, Kowloon Tong, Olympian City, Shatin, Yuen Long, Tuen Mun, Tseung Kwan O, West Kowloon Cultural District, Nam Cheong and Mongkok. LUBUDS has a growing footprint in Hong Kong and Macau, honing a team of over 800 staff and 30 outlets as it continues to establish its presence in the food scene.