Renowned worldwide as a pioneering brand in fine food products, Royal Caviar Club offers exclusive access to the world of fine things and rare pleasure – from premium caviar and champagne to luxury accessories. Royal Caviar Club unveils a new collection of festive Chinese New Year hampers on www.royalcaviarclub.com/collections/all, tastefully curated to add a touch of luxury to the New Year celebrations, or as a perfect gift for fine food enthusiasts. On 12th – 13th February, Royal Caviar Club will release a decadently unique and highly limited heart-shaped caviar cake to celebrate Valentine's Day.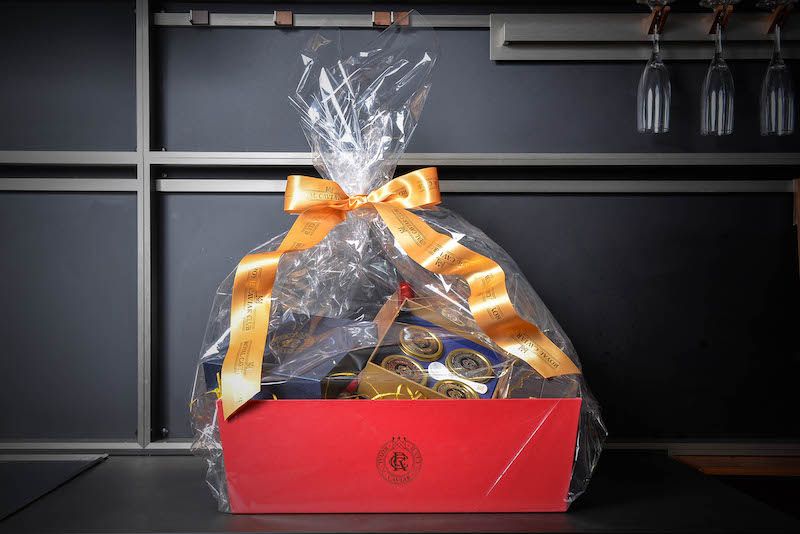 Royal Caviar Club's first ever Chinese New Year Hampers
This Chinese New Year of the Ox, Royal Caviar Club presents three different choices of premium gift hampers for the modern epicurean. Ring in a truly auspicious new year with caviar, champagne, and the world's finest luxury food products.
The Caviar and Champagne Dreams (HK$2,980) package includes a bottle of Nicolas Deneux Champagne (750ml), 50g Imperial Ossetra Rare Dutch, Mother of Pearl spoon, caviar tin opener, luxury scented candle and a gift thermo box.
For the true Caviar Enthusiast (HK$4,800), the caviar-focused hamper features 30g Royal Cristal Caviar, 30g Imperial Ossetra Caviar, 30g Premium Baerii Rare, and 30g Royal Beluga Caviar, in addition to Nicolas Deneux Champagne (750ml), mother of pearl spoon, caviar tin opener, luxury scented candle, and gift thermo box.
For the ultimate luxurious Chinese New Year celebration, Lucky Red Royal Hamper (HK$5,380) is the finest hamper of the festive range, with items 100g Imperial Ossetra Rare Caviar, Baccarat Zodiaque Ox 2021 decoration piece, Page 2015 Castillon Cotes de Bordeaux red wine, AURUM 23.75k edible gold flakes gift box, deluxe chocolate set, and velvet bag set including mother of pearl spoon and caviar tin opener. This exclusive hamper is available by pre-order only and is limited to 20 sets only. Upon checkout, guests will be able to choose a delivery date between 8th till 10th February.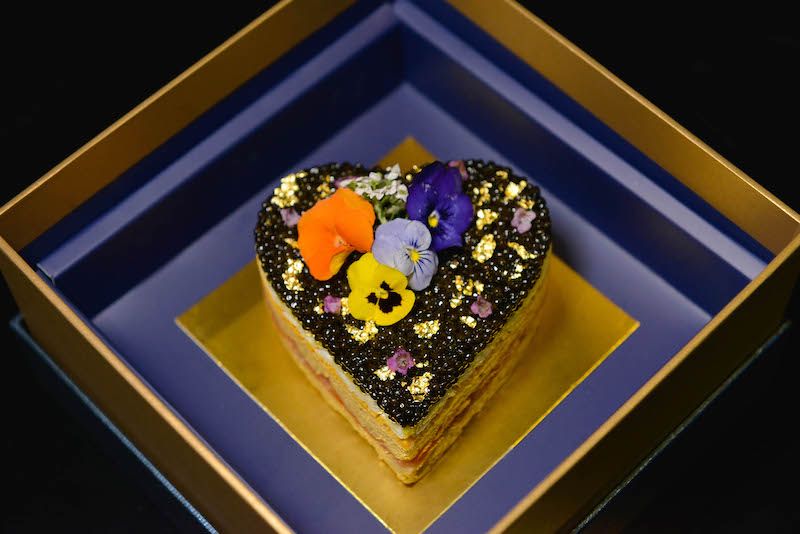 Royal Caviar Club's Valentine's Day Caviar Cake
Surprise your significant other with the ultimate romantic gesture they deserve – a heart-shaped caviar cake topped with 50 grams of luscious Imperial Ossetra Caviar grains. Priced at HK$1,800 per cake, each 3.7-inch cake features layers of potato salad, smoked salmon, and eggs to complement the savory caviar, and is part of a limited stock of only 50 cakes. The Valentine's Day Caviar Cake is available only by pre-order on 12th and 13th February, just in time for the special day.
As a valued partner of Royal Caviar Club, 2-Michelin-starred French restaurant Ecriture by Chef Maxime Gilbert will also curate a special heart-shaped signature Caviar Tart that is perfect for 2 guests, available for orders on 13th and 14th February on Royal Caviar Club's website.
For order placements or more information on Royal Caviar Club's Valentine's Day Caviar Cake, Ecriture's Caviar Tart or Chinese New Year Hampers, please email info@royalcaviarclub.com or WhatsApp +852 9447 8565. Gift hampers can also be purchased directly online at www.royalcaviarclub.com.
---
About Royal Caviar Club
Hong Kong is a delicious paradise, where the sea meets the land and every type of delicacy can be found. If you find yourself in Hong Kong craving some of the finest Caviar look no further than the Royal Caviar Club. The Royal Caviar HK Club specializes in providing caviar along with the luxury accessories needed to fully enjoy the experience. Even better, The Royal Caviar Club will deliver the caviar to you within the bounds of Hong Kong. The Royal Caviar Club prides itself on the finest selection of caviars it is able to provide.
Contact Royal Caviar Club
Website: https://www.royalcaviarclub.com/
Phone: + 852 9447 8565
Email: info@royalcaviarclub.com
Opening Hours: Monday - Sunday: 10am - 7pm
Instagram: @RoyalCaviarClub