Aulis, Roganic and Roganic's home delivery service,Simon Rogan at Home, is gearing up for the biggest annual celebration on the Chinese calendar year – The Chinese New Year of the Ox. While both Roganic and Aulis will be closed for dine-in meals on 11th-12th February, guests will be able to purchase a Chinese New Year Chocolate Box crafted by the talented Roganic pastry team. Immediately following Chinese New Year, Aulis and Roganic will celebrate Valentine's Day on 13th and 14th February with special menu promotions in addition to an exclusive Valentine's Day Takeaway Package from Simon Rogan at home.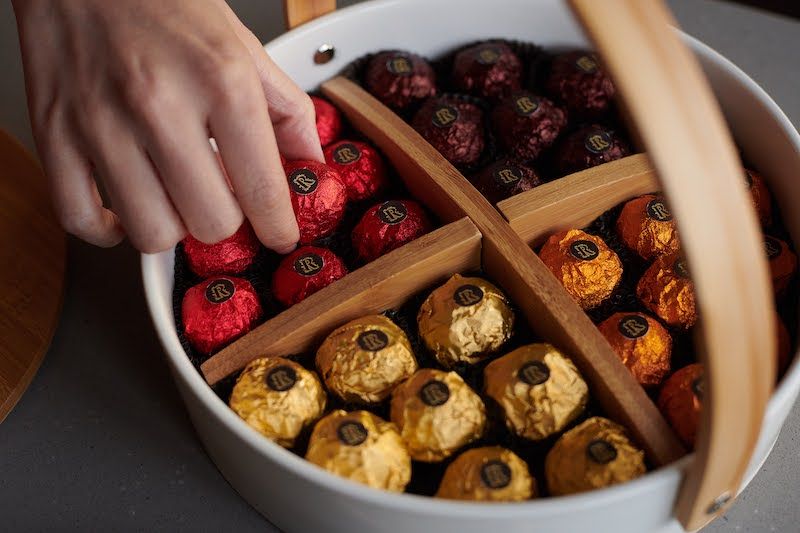 Chinese New Year Chocolate Box Sets from Simon Rogan at home
Available from 19th January onwards, Simon Rogan at Home's Chinese New Year Chocolate Box is priced at HK$680 per box for early birds until 31st January, after which regular pricing of HK$780 per box will commence. Each Chinese New Year Fortune Box contains 32 pieces of the finest handcrafted chocolate truffles, filled with four types of original ganache centers by Roganic's talented pastry chefs. Flavors include winter truffle, woodruff from Cartmel, pecan praline, and miso caramel with hazelnut. Purchases can be made online at HERE, the boxes are available for in-restaurant collection on 9th & 10th February.
Valentine's Day Celebration at Roganic and Aulis
At Roganic, guests and couples dining in on the 13th and 14th February (Sunday) will get to enjoy a complimentary Valentine's Day drink per guest, homemade chocolates, and a special oyster & caviar dish. The menu, available for lunch or for dinner pending updates on COVID-19 restrictions, will be priced at HK$1,280+10% per guest on 14th February and regular price on 13th February.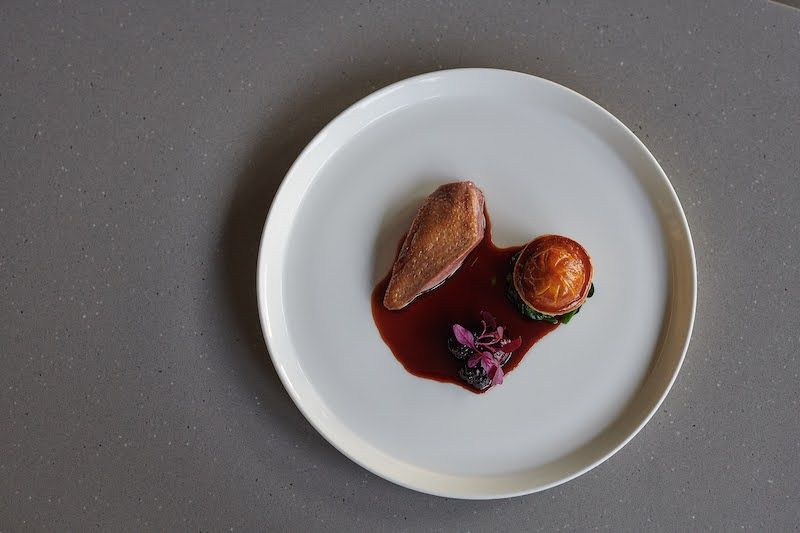 Roganic Valentine's Day Menu
HK$1,280+10% per guest

Valentine's Day cocktail
Citrus cured salmon, pike perch, seaweed tartlet
New Territories pork, tapioca, shrimp
Truffle pudding, birch sap, Lincolnshire poacher, winter truffle
Aged beef tartare, onion
Oyster, pickled cucumber dill, caviar
Soda bread, cultured brown butter
Dill brined cabbage, soy and miso glazed shimeji, wasabi
Charred salt baked celeriac, black garlic, whey
Poached grouper, cod roe, n.a.o.f, tomato, kale
14 days aged duck, turnip, shiso
Caramelised yogurt, fig leaf cornet
Roganic
Whipped pecan praline, brownie fudge, cocoa nib
Valentine's Day petit fours
At Aulis Hong Kong's Chef's table, guests will also be treated to a romantic Valentine's Day tasting menu for lunch and dinner for HK$1280+10% per guest. Aulis' intimate counter seating with front-row seats to the chefs at work provides a unique setting for this special day.
Aulis Valentine's Day Lunch and Dinner Menu
HK$1280+10% per guest
Salmon roe tart
Fermented dill kombucha
Lobster, caviar, waffle, tomato
Truffle pudding
Rye sourdough, cultured brown butter
Kohlrabi, apple, smoked eel
Celeriac, cep, Lincolnshire poacher
Bream, maitake, caviar
Pigeon, blackberry, pithivier
Rose, yogurt, strawberry
Coffee custard tart
Aulis
Peanut, miso

(menu subject to changes)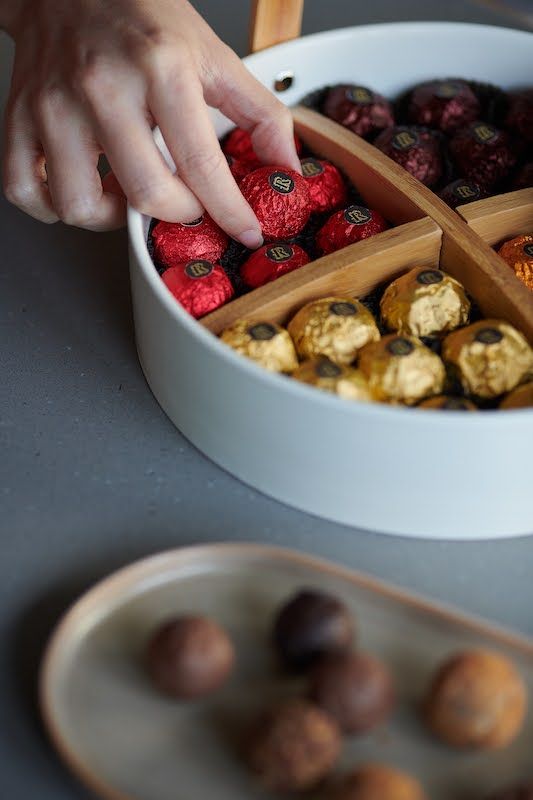 Valentine's Day with Simon Rogan at home
The latest home meal initiative by British chef-owner Simon Rogan in Hong Kong, "Simon Rogan at home" was named the UK's best-value Michelin-starred takeaway meal. For Valentine's Day, Roganic has prepared a romantic meal designed for enjoyment by couples who plan on celebrating at home. Each set is priced at HK$1,800 per couple, available for in-restaurant collection on 13th and 14th of February,  and features exclusive dishes such as celeriac soup with parsley oil and cheese sauce, salmon pot topped with caviar, and braised beef short rib with mushroom duxelles, creamed potato, pickled celery, and caper jus, finished with exquisite homemade chocolate truffles.
The full menu is as below:
Valentine's Day Takeaway Package (for two)
Celeriac soup and toasted hazelnut
--
Citrus cured salmon, pike perch
--
Uni custard, our caviar
--
Braised beef short rib, truffle creamed potato, king oyster mushroom
--
Apple tarts, compressed blackberry, toffee sauce
--
Chocolate truffles
---
About Aulis Hong Kong
Aulis provides a truly unique 'behind the scenes' experience of the fine dining institutions, L'Enclume and Roganic. Aulis is a multi-functional hi-tech space and creative hub that acts as a development kitchen utilised by chefs to explore new dishes and cooking techniques, but also an exclusive, intimate and interactive private dining room for guests. In Aulis, guests can have the first try of dishes before they arrive onto the menus in a unique preview to the chef's innovative work. The Aulis experience is completely personalised, depending on the group size and involves a complete surrender to the creativity of the chefs. A surprise many of different plates is created using ingredients from Our Farm, and are dishes not previously served at the individual restaurants. The Aulis experience aims to expand the culinary horizons of guests, with sometimes challenging or out of the box dishes for certain palates, but it remains a truly uncompromising foodie experience.The space is named Aulis as a tribute to Aulis Lehtimaki, a Finnish chef and artist who was a key collaborator in the early days of Simon's Michelin star restaurant L'Enclume, and the concept also exists in that restaurant.
Aulis Hong Kong is Simon's first overseas stand-alone dining destination in Asia with just 12 seats, acting as the creative hub for his Hong Kong team of chefs and offering diners the opportunity to immerse themselves in Rogan's culinary vision first hand and be challenged to taste original and innovative dishes.
Restaurant Information
Address: Shop 8, UG/F, Sino Plaza, 255 Gloucester Road, Causeway Bay, Hong Kong
Email: reservations@aulis.com.hk
Website: www.roganic.com.hk/aulis
Tel: +852-2817-8383
Facebook Page - www.facebook.com/AulisHongKong
Instagram: @AulisSimonRogan & @AulisHongKong
Capacity: 12 pax only
About Roganic Hong Kong:
Roganic first opened in 2011 in Marylebone as a two-year pop-up, a sister restaurant to L'Enclume. Five years later, Roganic returned to London, bringing elements of L'Enclume, Simon Rogan's two Michelin star restaurant in the Lake District. The team is comprised of the original Roganic line up, amongst other past and present employees of UMBEL Restaurant Group. Roganic runs alongside Aulis London, a development kitchen and eight-seat chef's table which opened in Soho on 14th October 2017. Now, Roganic Hong Kong will continue on its success in London and have opened alongside AULIS Hong Kong since mid-February, 2019.
Restaurant Information
Address: Roganic, UG/F 08, Sino Plaza, 255 Gloucester road, Causeway Bay, Hong Kong.
Email: reservations@roganic.com.hk
Tel: +852-2817-8383
Facebook Page - www.facebook.com/RoganicHongKong
Instagram: @RoganicHongKong
Capacity: 50 pax main dining room / 34 pax private dining rooms / 8 kitchen counter seats
Restaurant Accolades & Awards
Best New Restaurant – Foodie
Best New Foreign Restaurant – Time Out Hong Kong
Best New Restaurant of 2019 – Lifestyle Asia Hong Kong
Best Service – T Dining by Hong Kong Tatler 2019
Top 20 Restaurants of Hong Kong & Macau – T Dining by Hong Kong Tatler 2019
Best New Restaurant - T Dining by Hong Kong Tatler 2019
1 Michelin Star – MICHELIN Guide Hong Kong Macau 2020
Best Service – SCMP Top 100 Tables 2020