Grace Your Teacup this Mother's Day with the Limited Edition Sakura! Sakura! Tea and Tea-infused Patisseries
The most precious gift for all mothers is the gift of your love and time. This Mother's Day, pamper the Queen of Your Heart with a curated selection of Tea WG tea blends including the limited edition 2022 blend of Sakura! Sakura! Tea and exquisite tea-infused patisseries.
Embrace the Fleeting Beauty of Spring with Tea WG Sakura! Sakura! Tea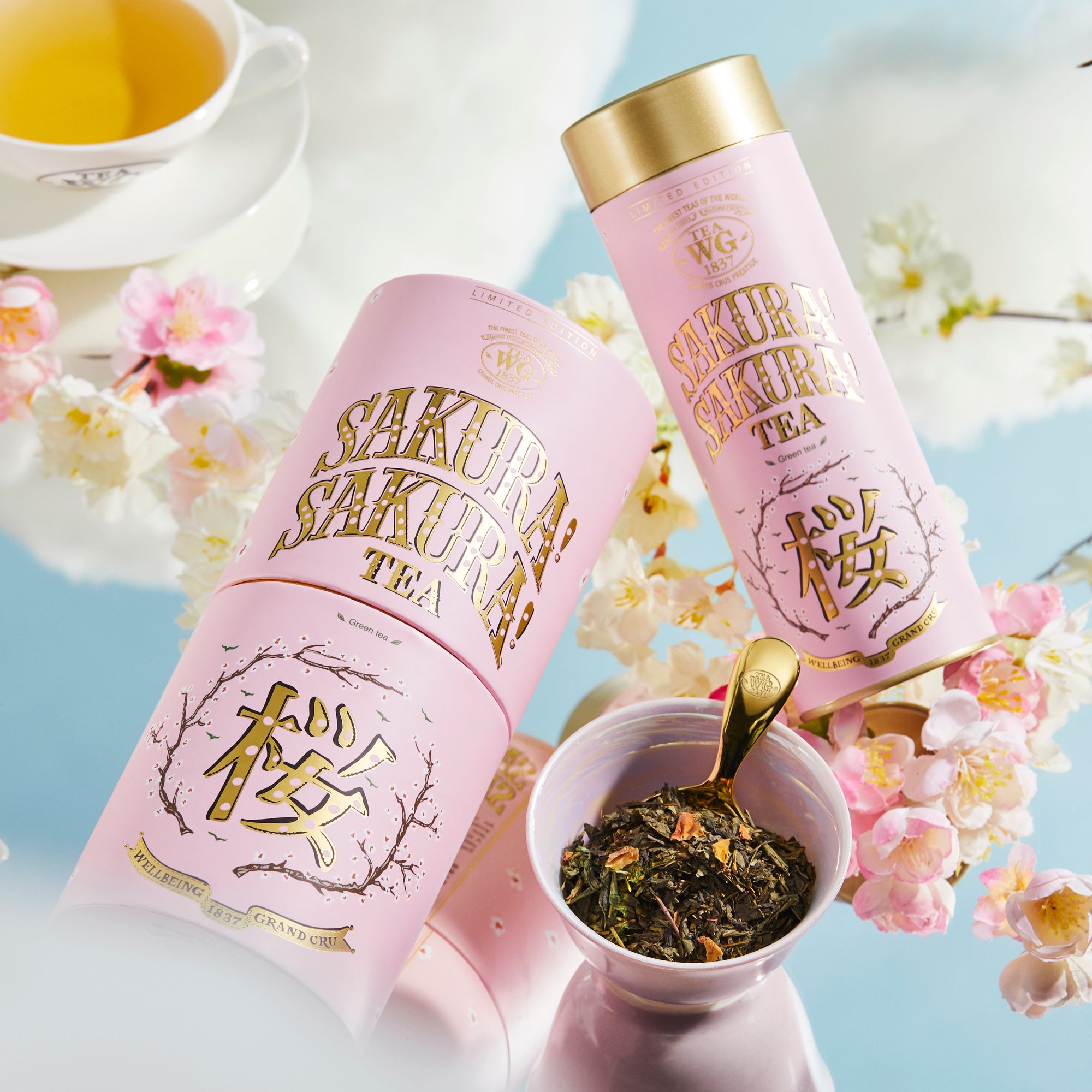 Follow the fragrance with a kaleidoscope eye, over a bridge of mirror, by a fountain where diamond droplets sparkle. Clouds drift by in a sky blue as glass, and the smiles of passer-by's lead you on down an avenue of cherry trees laden with flowers abloom.
Beautifully handcrafted with notes of wild Rainier cherry and sweet rose petals, this green tea yields a most aromatic and elegant infusion enveloped by soft lingering hints of floral sweetness. Encased in the soft, luxuriant hues of pink and gold in a collectable tea tin adorned with delicate florals, this marvellous blend rejuvenates and refreshes your mind and body with vitamin C, and anti-inflammatory and antioxidant properties.
Limited Edition 2022 blend of Sakura! Sakura! Tea, HK$378. Available from 19 April 2022 at all Tea WG Salons & Boutiques in Hong Kong as well as Tea WG eBoutique on HKTVmall.
Floral Tea Blends for Her Royal Highness
With over 1000 varieties of single estate harvests and exclusive tea blends, choose from a selection of Tea WG floral tea blends to pair with sweet and savoury dishes this Mother's Day – an exceptional gifting option for the Queen of your heart.
Show your love and affection to the greatest woman in your life with the Place Vendôme Tea from the Haute Couture Tea Collection®.
The emblem of perfection and purity, this tea symbolises the harmony between the taste of the Orient and Europe - a magical paradox uniting floral notes and pineapple, zesty citrus fruits, berries into a wonderfully blended, fine Tea WG green tea.
Place Vendôme Tea, HK$278.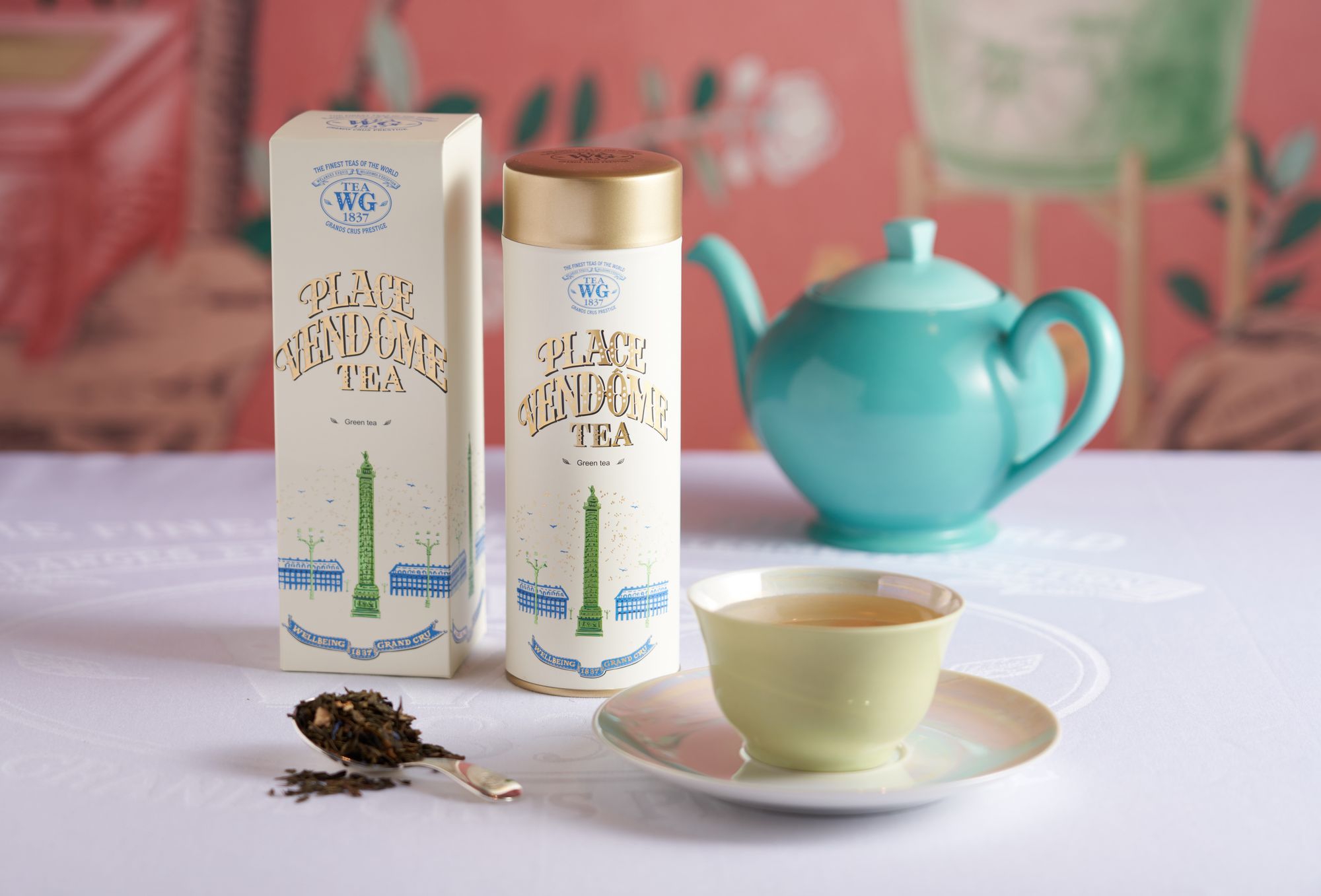 An effortless yet enthralling tea to brighten her morning with, transport her into a garden of sweet roses with Bain de Roses Tea from the Cotton Teabag Collection.
In the month of May, the roses of Grasse come into bloom, enveloping Provence with an incomparable and luxurious perfume. Masterfully blended by Tea WG, this sensual blend of Darjeeling is a magical union of extraordinary roses and hints of vanilla. Truly an outstanding tea.
Bain De Roses Tea Cotton Teabag, HK$178 / 15 teabags.
Express your gratitude with an exclusive Mother's Day Gift Set.
A black tea blended with sweet notes of caramel and rose, the Haute Couture Tea is a perfect expression of an eternity love. Complete her tea table with exquisite tea accessories including a Design Orchid Teapot in Pink (500ml), a Glamour Tea Bowl in Pale Rose or Lavender and a reusable cotton tea filter (small).
Mother's Day Gift Set, HK$1,538 (U.P. HK$1,842). Available from 23 April to 8 May 2022 at all Tea WG Salons & Boutiques in Hong Kong.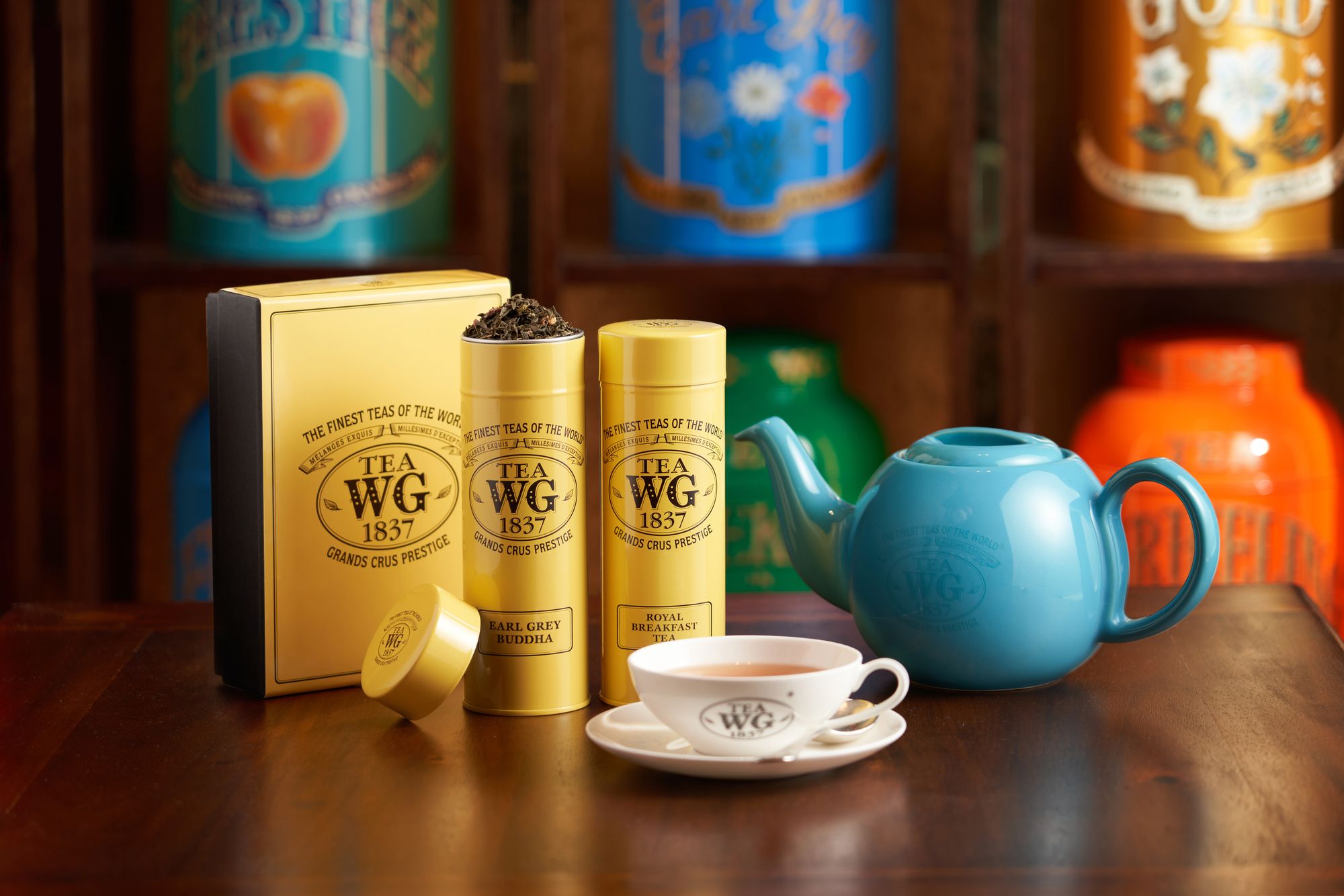 Mother's Day Exclusives at Tea WG eBoutique on HKTVmall
There is no better way to spend quality time than with a leisurely conversation, sharing memories over a cup of tea. Tea WG has specially curated gift sets to celebrate and enjoy precious moments with your noble lady.
Perfect for pampering mothers who appreciate the finer things in life, the Breakfast Queen and King Gift Set is a loving duo of the Haute Couture Tea Collection® featuring Breakfast Queen Tea, a vivacious blend of precious green teas brilliantly balanced with notes of sweet lemon and a fragrant hint of rose, paired with Breakfast King Tea, a vigorous blend of broken and whole leaf black teas will embolden the palate with an invigorating intensity
Breakfast Queen and King Gift Set, HK$498 (U.P. HK$556). Exclusively available from 20 April to 8 May 2022, at Tea WG eBoutique on HKTVmall.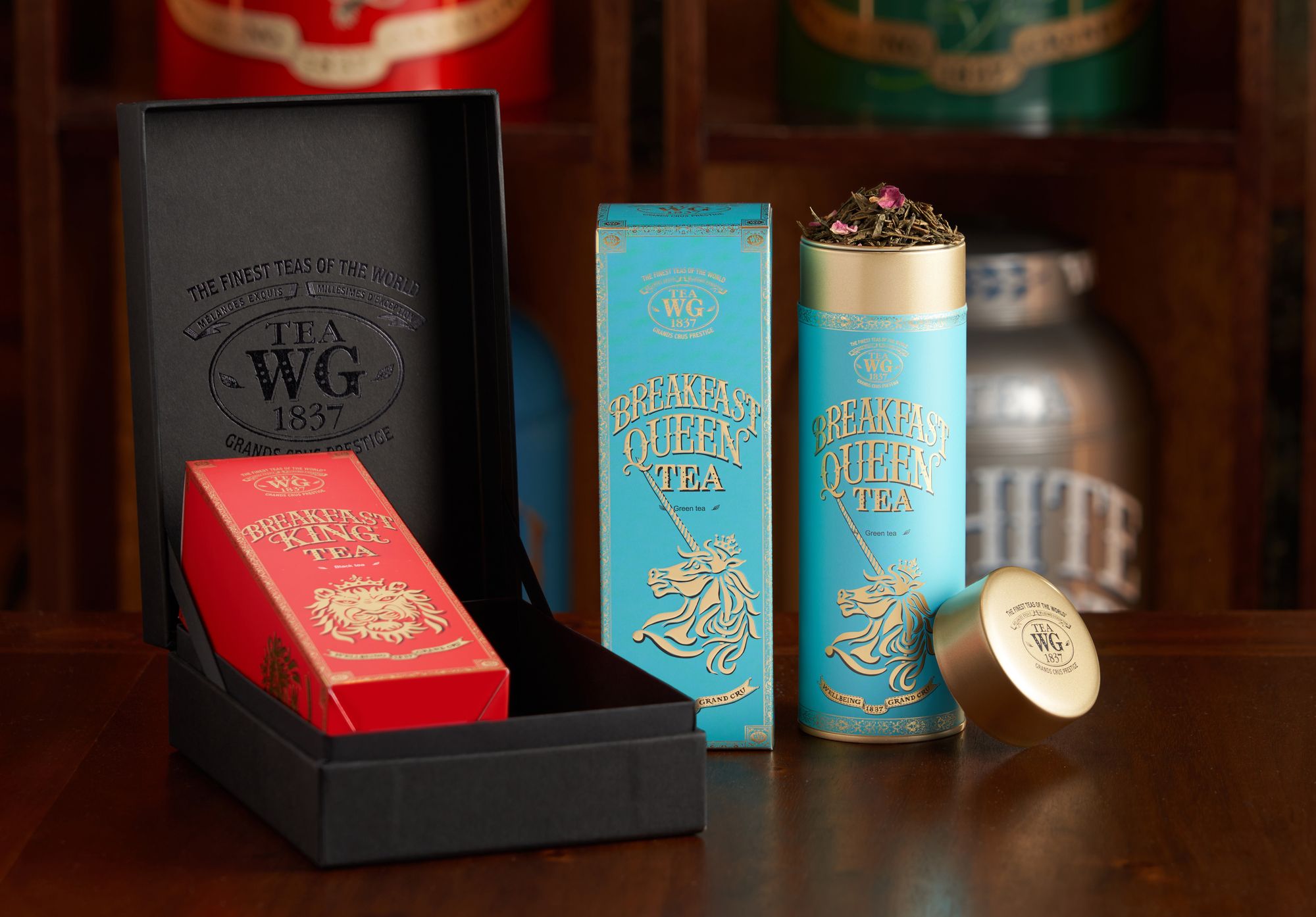 Accompany her morning tea service with a chic Design Orchid Teapot Gift Set.
Morning Tea Set includes: a pairing of Royal Breakfast Tea, the finest high-grown Ceylon blended with brisk and rich Kenya black tea, the golden-tipped leaves yield a warm and balanced cup, both earthy and sparkling; and Earl Grey Buddha, a masterpiece inspired by the legendary Earl Grey blend, composed of exquisite green teas and rare bergamot from remote lands. Serve these delightful teas in style with an elegant Tea WG collection of Design Orchid Teapot (900ml) – perfect for elevating her afternoon tea table.
Design Orchid Teapot Gift Set, HK$1,288 (U.P. HK$1,506).Exclusively available from 20 April to 8 May 2022 at Tea WG eBoutique on HKTVmall.
Indulgent Sweet Treats for The Queen
Embracing the fleeting beauty of the season, pair this fragrant tea with Sakura! Sakura! Tea-infused macaronselegantly filled with exquisite white chocolate and vanilla ganache, accentuated with natural flavours of green tea and sweet bouquet of cherry blossoms.
Sakura! Sakura! Tea infused macarons in beautiful gift boxes, HK$120, HK$240 and HK$480 for box of 6, 12 or 24 respectively.Available from now until 8 May 2022 at all Tea WG Salons & Boutiques in Hong Kong and online at e-boutique (https://teawghk.oddle.me/en_HK/).
Set her heart aflutter with a Raspberry Rose infused with Bain de Roses Tea (HK$360, Whole Cake), a streusel-based sponge cake layered with a Bain de Roses Tea infused mousse, topped with raspberry confit.
Available to order at all Tea WG Salons & Boutiques in Hong Kong and online at e-boutique (https://teawghk.oddle.me/en_HK/).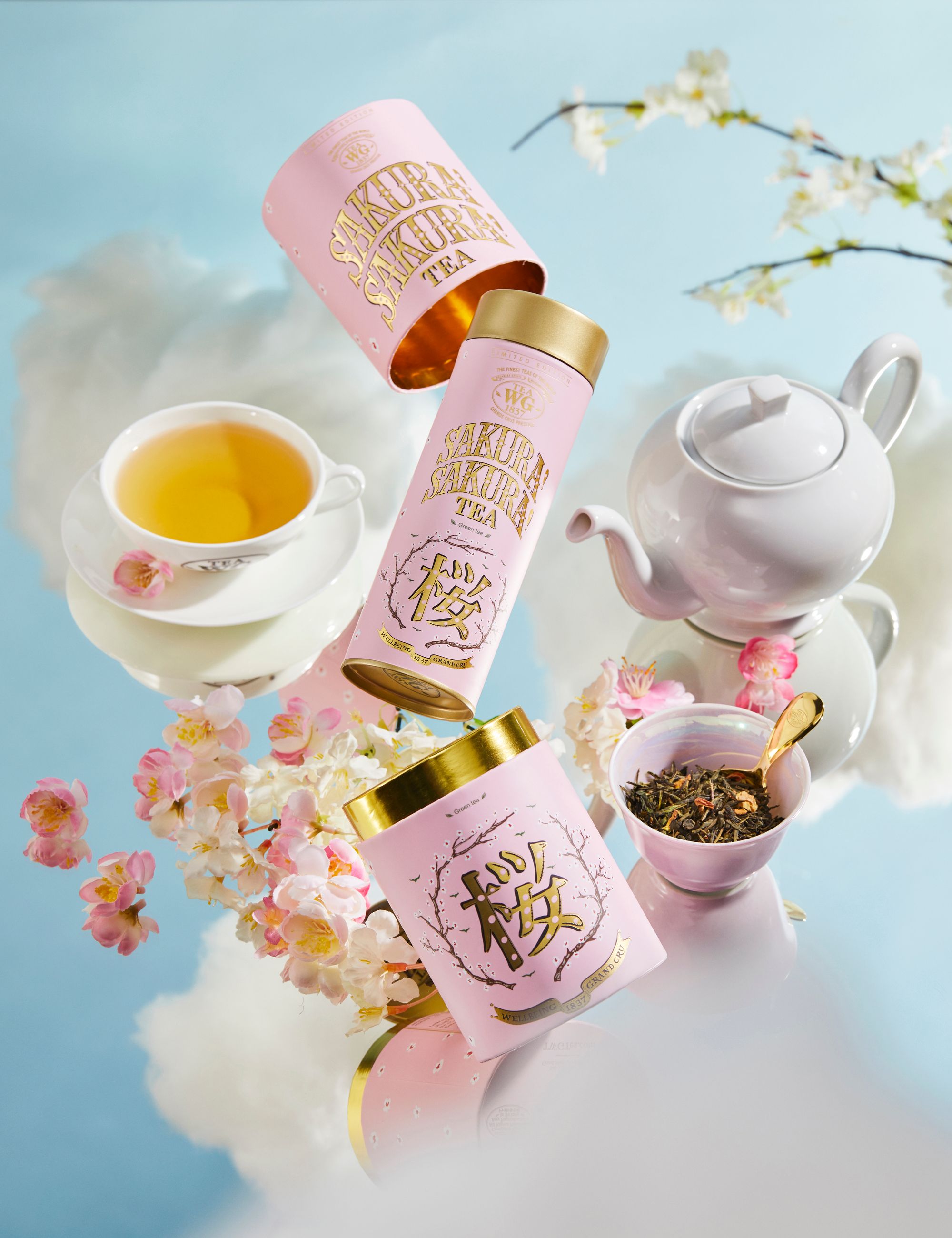 ---
About Tea WG
Tea WG, the finest luxury tea brand in the world, was established in Singapore and celebrates the year 1837 when the island became a trading post for teas, spices and fine epicurean products. Tea WG, which stands for The Wellbeing Group, was founded by Taha Bouqdib, Maranda Barnes and Rith Aum-Stievenard in 2008 as a luxury concept that incorporates unique and original retail outlets, exquisite tea rooms and an international distribution network to professionals. Committed to offering teas directly from source gardens, Tea WG's collection is the largest in the world, with fine harvests from every tea producing country and exclusive handcrafted tea blends. Internationally recognised as a true innovator with the creation of new varieties of tea every season in collaboration with the world's most renowned estates, Tea WG also offers exquisite signature modern tea accessories and delicate tea-infused sweets and savouries.
After launching its first Tea Salon & Boutique in Singapore in 2008, Tea WG has opened across the island in iconic destinations such as ION Orchard, Marina Bay Sands and Takashimaya Singapore. Expanding its global footprint, Tea WG has opened over 70 locations around the world, including London, Shanghai, Paris, Tokyo, Dubai, Hong Kong, Seoul, Bangkok, Jakarta, Kuala Lumpur, Taipei, and Manila, to name a few. Tea WG is retailed in gourmet épiceries including Harrods in the UK, El Corte Ingles in Portugal, Feinkost Kaefer in Germany, David Jones in Australia, and GUM in Moscow, Russia. The premier supplier to the finest hotels, restaurants and international airlines, Tea WG is served in Singapore Airlines and Qatar Airways as well as Seabourn Cruise Line, Marriott International, AccorHotels, Hilton Worldwide Holdings, Hyatt Hotels & Resorts, Rosewood Hotel Group and InterContinental Hotels Group. In addition, Tea WG has a wide distribution network across 40 territories, including Australia, Azerbaijan, Belgium, the Czech Republic, Denmark, Estonia, Germany, Kuwait, Maldives, Mauritius, Mexico, Morocco, New Caledonia, New Zealand, Pakistan, Portugal, Qatar, Russia, Saudi Arabia, Seychelles, South Africa, Spain, Turkey and Ukraine. Worldwide orders can be made online at TeaWG.com or through the Tea WG mobile app.
Tea WG Salon and Boutique Festival Walk
Unit LG2-11, Level LG2, Festival Walk, 80 Tat Chee Avenue, Kowloon Tong Tel : (852) 2725 6930
Tea WG Salon and Boutique IFC
Shop 1022-3, Podium Level 1, IFC Mall, 1 Harbour View Street, Central Tel : (852) 2796 2828
Tea WG Boutique Elements
Shop 1095, Level 1, Wood Zone, Elements, 1 Austin Road West, Kowloon Tel : (852) 2363 9683
Tea WG Boutique New Town Plaza
Shop 204A, Level 2, New Town Plaza, Phase I, Shatin Tel : (852) 2619 9603
Tea WG Boutique Times Square
Shop No. B240, Basement 2, Times Square, 1 Matheson Street, Causeway Bay Tel : (852) 3591 1255