Now serving until end February 2021
Opened in collaboration with Chef Marco Sacco who holds a total of 2 Michelin Stars in Italy, CASTELLANA HONG KONG sources its produce directly from Italy's resource-rich Piedmont region to reproduce traditional cuisine with a modern twist. Led by Italian native Chef Fabiano Palombini, Castellana goes further to combine authentic Piedmont cuisine with some of the best ingredients around the world to surprise and delight guests with an exquisite new gastronomic experience.
Serving now until the end of February 2021, Castellana introduces a new Périgord Black Truffle menu that highlights the prized species of truffle native to southern Europe. The fruiting bodies of the legendary black truffle exude a strong aroma that is reminiscent of undergrowth, strawberries, wet earth, or dried fruit with a hint of cocoa. Their taste, which fully develops after the truffles are heated, is slightly peppery and bitter.
The highly coveted black truffle will feature in 5g portions in every dish of the new 4 or 7 course winter menu, which also comes with an exceptional selection of Piedmont wine pairings. Additional Périgord black truffle shavings will be priced at HK$58 per extra gram.
New Périgord Black Truffle Menu at Castellana Hong Kong
The newly launched Périgord Black Truffle Menu (from HK$1,480 for 4-courses) at Castellana features the revered culinary delicacy of "black diamonds". The limited-time menu is available from Mondays – Saturdays for dine-in lunch exclusively at Castellana.
The menu begins with Tonno Rosso, a flambe of Japanese tuna marinated with fennel seeds and beetroot juice, accompanied by herbs sauce and bottarga-style beetroot. This is followed by the sumptuous appetizer of Uovo di Montagna, an organic Italian Dolomite mountain egg white meringue steam-cooked at 90 degrees Celsius, and served with its raw egg yolk.
A soothing traditional Piedmontese dish that is typically enjoyed during colder months, Brodo "Au Plin" features winter cabbage broth, small agnolotti pasta stuffed with wagyu beef, Grana Padano cheese, and Piedmont's famous hazelnuts. Tagliarin al Tartufo Bianco d'Alba is the ultimate pasta dish to appreciate the heady aromas of fresh white truffle, created with homemade tagliolini pasta noodles tossed with organic mountain butter sauce.
Astice blu Mare highlights Brittany's beautiful blue lobster, vacuum-cooked with aromatic butter, and served with purple cabbage, leek cream and smoked potatoes. From the world's most respected premium marbled beef producers, Manzo "Rangers Valley" features tender and delicious Australian wagyu M7 from Rangers Valley, which specializes in long-fed pure Black Angus and Wagyu cross breeds. Giarattana onion is best known for its unusual size, which can range from 500g to 2kg, and is native to the area surrounding Giarattana on the Monti Iblei mountains in Sicily.
To conclude the seasonal Périgord black truffle menu, guests may choose a dessert of either Formaggio Autunnale, a daily selection of classic cow, sheep, and goat milk Piedmont cheeses for a supplemental charge of HK$100, or Tartufo: "al gelato", a traditional Tuscan 75% dark chocolate ice cream infused with Périgord black truffles.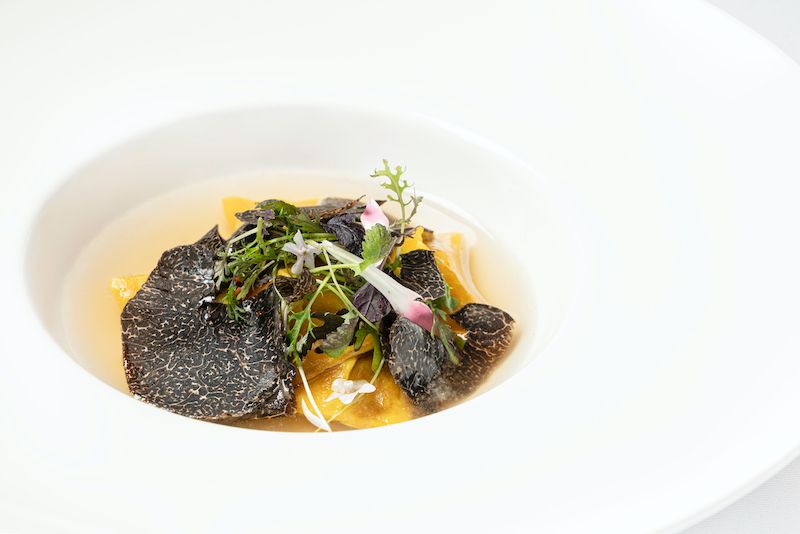 The full winter Périgord black truffle menu, available for dine-in lunch on Mondays-Saturdays at Castellana Hong Kong, is below:
CASTELLANA PERIGORD BLACK TRUFFL EMENU
4-Courses with Dessert HK$1,480 (includes 5g white truffle per dish)
With wine pairing HK$2,080
7-Courses HK$1,980 (includes 5g white truffle per dish)
With wine pairing HK$2,880
**
Tonno Rosso
Japanese tuna, fennel seeds, mustard, beetroot 'bottarga'
**
Uovo di Montagna
Mountain organic egg
**
Brodo 'Au Plin' come in Piemonte
Winter cabbage 'Au Plin' broth
Tagliarin al Tartufo Bianco d'Alba
Artisanal tagliolini noodles pasta, Bordier butter
**
Astice Blu Mare
Brittany blue lobster, smoked potato cream
Manzo "Rangers Valley"
"Rangers Valley" Australian wagyu beef M7, "Giarattana" wild white onion
**
Formaggio Autunnale
Classic Piedmont cheese – add HK$100
OR
Tartufo: "al gelato"
Dark chocolate "Amadei", Périgord black truffle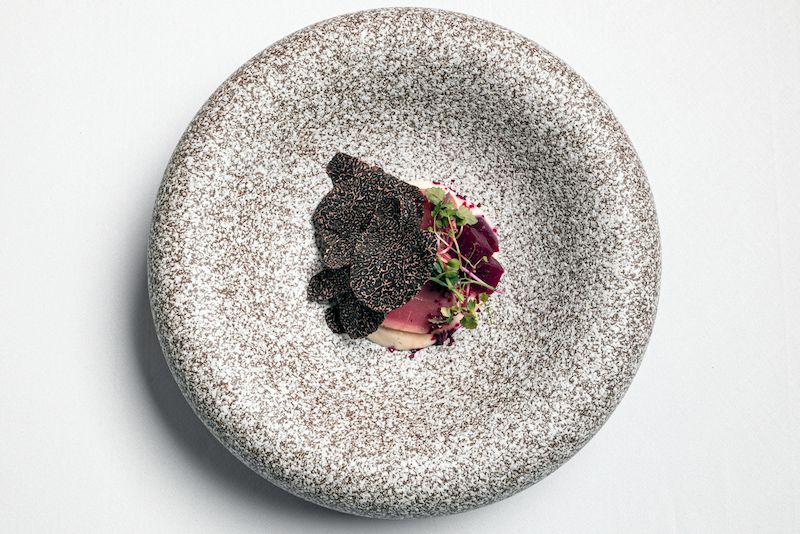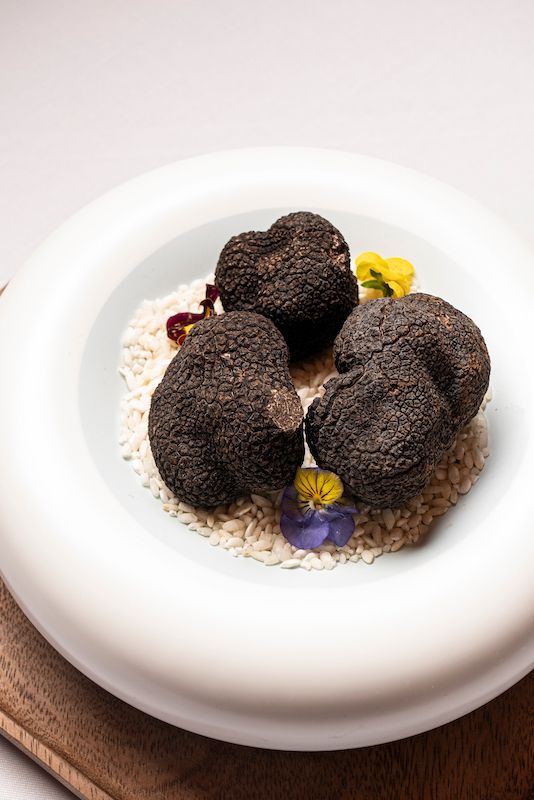 Innovative Piedmont Cuisine at Castellana Hong Kong
Arguably the most progressive culinary scene in Italy, Piedmont lies at the borders of France and Switzerland. Its climate provides superb conditions for both wine and truffles, making it a popular tourist destination during the harvesting period. Piedmont cuisine is truly unique from other regional Italian cuisine, as it focuses on creating a richer, full-bodied flavor, with classic Italian vegetables and meats cooked for longer and butter often replacing olive oil; all in a bid to let the ingredients develop slowly to give a deliciously rich character.
Piedmont's highly rated cuisine focuses on creating a fulfilling dining experience for all the senses. Located in the heart of Causeway Bay, Castellana's distinctive food is matched by quality wine, creamy cheeses, world-famous white truffles, and indulgent desserts - all in a bid to deliver the perfect, comprehensive meal.