by Reena Devi
Seeking a sense of hope as we reach the end of a historically challenging year? Look no further. These five visionary artworks by artists from Peru, China, the US and Germany speak volumes about the future we are creating, for better or worse, while giving us hope with their resilience, authenticity, and sometimes, ridiculous weirdness.
After the challenging year we have just seen unfold, the future, for all intents and purposes, does seem rather dismal and bleak—almost to the point of dystopian. And yet, even now as we stand on the cusp of wholly unknown realities, there is a sense of hope that is neither fragile nor ephemeral but rather concrete.
This hope stems from at least a few sources but it is definitely inspired by the diverse communities and individuals across the globe, especially those vulnerable and marginalised, stepping forward, speaking up, staking their space and claiming their power all throughout this year.
It is a thing of beauty to live during a time in history when we can witness for ourselves how archaic, established spheres of power and privilege tremble beneath the onslaught of human dignity and truth. Art that encapsulates this kind of moral courage and authenticity tells us a lot about ourselves and the future we are creating on a daily basis. The best part, since it's art, even with such lofty ambitions, the works can be purposeful or incendiary—or just downright weird and ridiculous. Here are five artworks that are exactly that and much more.
Hito Steyerl: 4 Nights at the Museum (2020)
Hito Steyerl
Online project Hito Steyerl: 4 Nights at the Museum (2020) by Düsseldorf's K21 Kunstsammlung Nordrhein-Westfalen and e-flux Video & Film, is a livestreamed version of German filmmaker, artist and writer Steyerl's exhibition titled—rather aptly—"I Will Survive" (26 September 2020 – 10 January 2021). The artist produced a "weird-ass visual podcast" framing of "late-night public access weirdness" which aired as an online museum public program during the pandemic related shutdown in November.
What makes the podcast rather off-beat is the way the interviews transform into something beyond any of the rudimentary Zoom sessions we have been subjecting ourselves to this year.
For example, as Steyerl and Hamburg-based actress and filmmaker Heja Netîrk discuss a Kurdish refugee's political imprisonment in Turkey and Netîrk remembers the plants which the prisoners grew, AR-generated plant foliage overlays her Zoom screen. Hyperallergic describes it best: "Suddenly, this intimate interview podcast cross-mixes into ambient VJ set."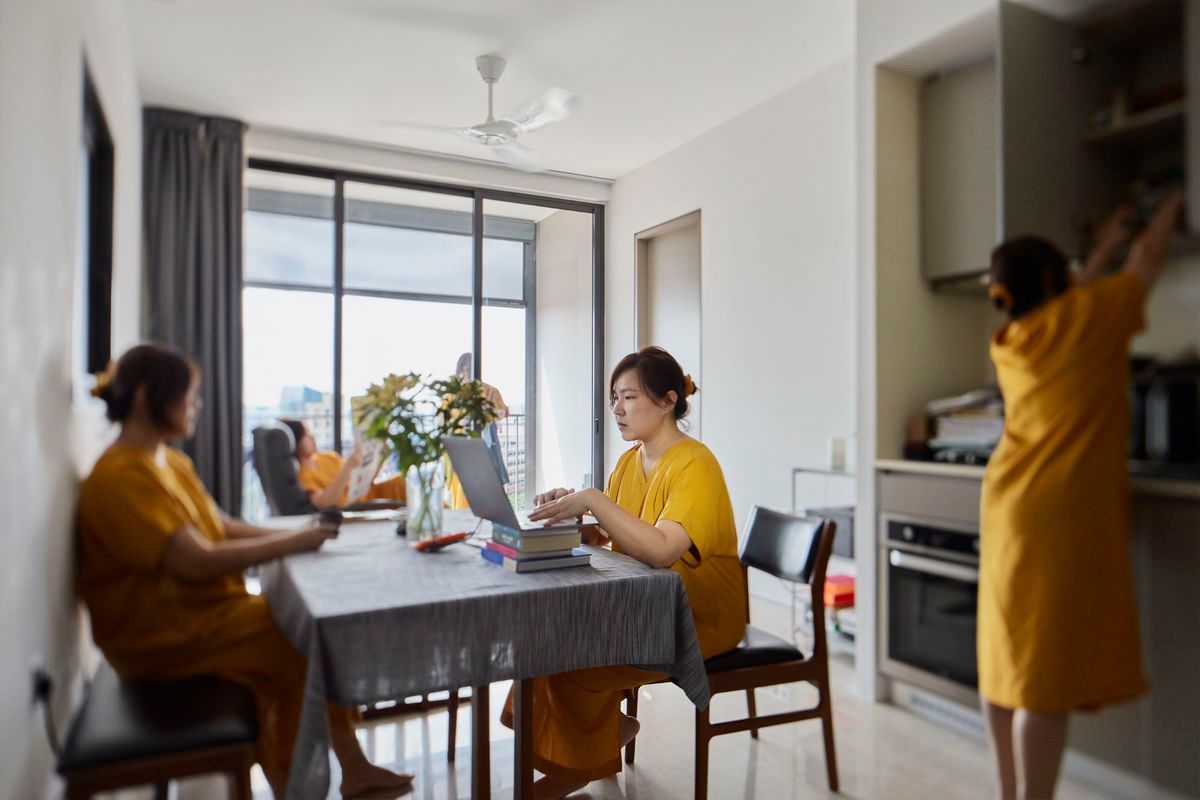 Isle of Instability (2020)
Cao Fei
One of the most influential Chinese multimedia artists, Cao Fei exhibited a new work at West Bund Art & Design in Shanghai last month. Isle of Instability (2020), commissioned by Audemars Piguet Contemporary for its space at the fair, is a multimedia work that explores the psychological effects of leading lives in isolation. Described as a time capsule comprising videos, photographs, drawings and sculptures, it was produced while the artist was living with her family in lockdown for 10 months in Singapore, away from her home in Beijing due to travel restrictions.
Known for an artistic practice which focuses on "the day-to-day realities of living in isolation under modernity", it makes sense for the artist's first new work during the pandemic to document this existence of alienation and uncertainty, even a safe and privileged space. This work resonates on many levels for most people who have lived through this past year and are still processing their quarantine experiences—and it certainly helps to witness an artistic expression of it. The work also manages to effectively grasp the visceral loss of being miles away from a physical or social space you consider home while isolating in a small island city.
In Plain Sight (2020)
Rafa Esparza
American multi-disciplinary artist Rafa Esparza's art has been particularly breakthrough this year. There was thanks for staying alive Fern.1994 (2020), a nostalgic '90s portrayal of his older brother using local dirt, horse dung, hay, Hoosic River water, chain-link fence and plywood in the acrylic on adobe panel, highlighting young lives lost to gang violence and issues of structural oppression. But the work with the most potency this year was the extensive, collaborative effort initiated by Esparza and LA-based performance artist Cassils.
Titled In Plain Sight (2020), this artistic intervention featured messages written in the sky above 80 ICE (US Immigration and Customs Enforcement) detention centres, immigration court houses, processing centres, and former internment camps across the US over the country's Independence Day weekend. Involving 80 artists, two fleets of skytyping planes, activists and local immigration organisations, phrases such as "NOT FORGOTTEN" and "NO MORE CAMPS" were followed with #XMAP, which, when connected to social media, directed viewers to an online interactive map with a view of the nearest ICE facilities.
While the words may have faded away after a while in the blue skies, they were unmistakably emblematic of narratives that have long been overshadowed in the US.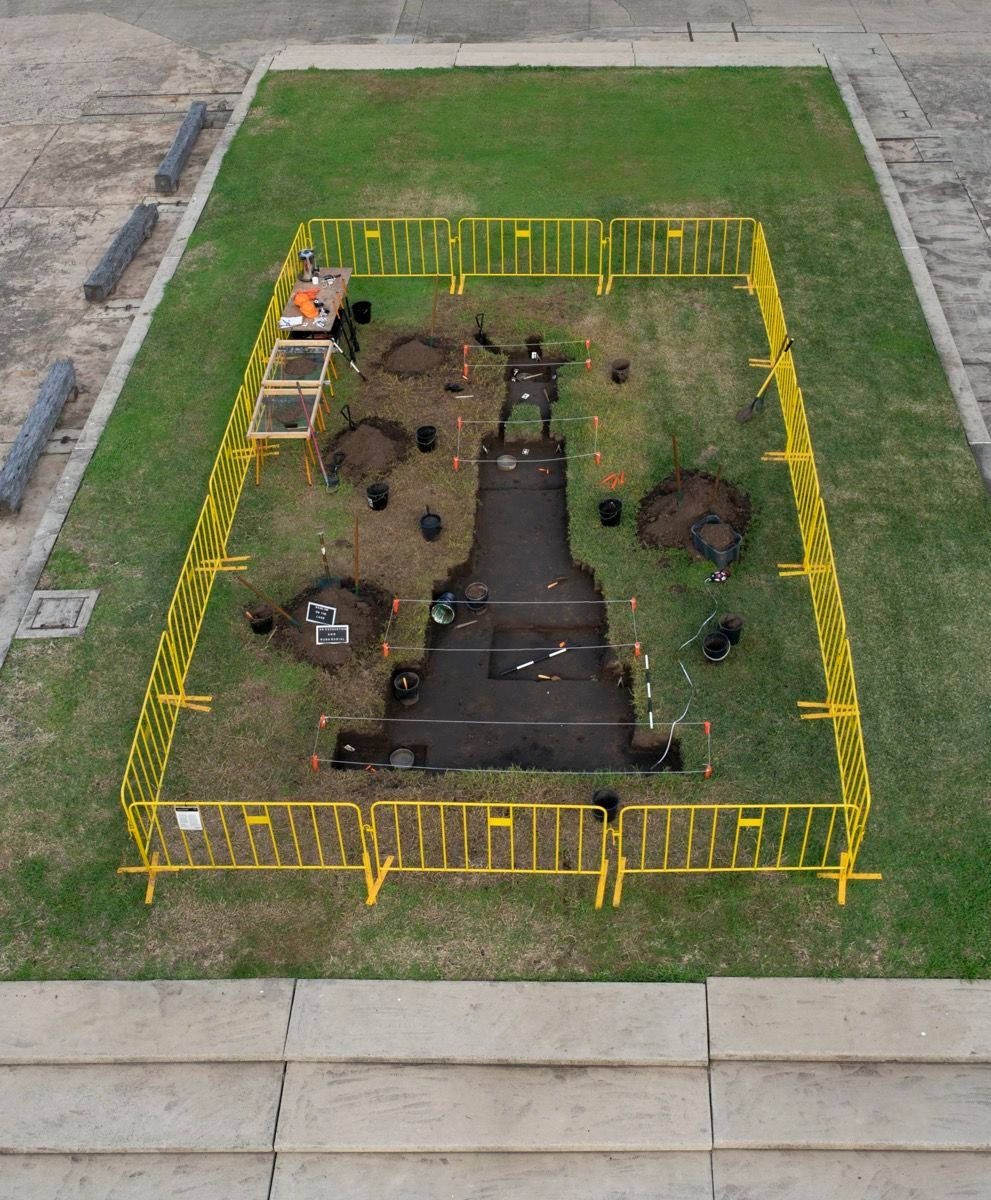 Shadow on the Land, an excavation and bush burial (2020)
Nicholas Galanin
No list of astounding, breathtaking art works for this year can be complete without mentioning Nicholas Galanin's public art installation at the 22nd Biennale of Sydney in Australia. The Tlingit/Unangax̂ artist, who was born in Sitka, in southeastern Alaska, and earned his BFA at London Guildhall University, may have produced the most seminal work of the year.
The site-specific artwork on Cocktaoo Island, Shadow on the Land, an excavation and bush burial (2020) comes across at first as a crime scene of sorts, with yellow barricades around a sizeable area of grass unearthed in the shape of a statue, specifically the statue of 18th century British Royal Navy captain James Cook, which stands at Hyde Park in central Sydney. The statue of Cook, a controversial national symbol in Australia with an equally contentious 250th anniversary this year, stands on "the Aboriginal lands of the Gadigal". It is inscribed with the giant slogan "Discovered this territory" and has been the site of many protests and counter-inscriptions, even a spray-painted "No pride in genocide".
Best described as a "powerfully disquieting gesture", Galanin's public artwork promises to stay on people's minds long after they have seen it, raising necessary and lasting questions about exigent issues regarding power, land and indigenous societies.
Cryptomnesia (2015– ) and The Museum of Ostracism (2018)
Sandra Gamarra
Peruvian artist Sandra Gamarra is best known for an artistic practice that takes a hard look at the authority of the museum for more than two decades, long before racism and inequality within Western-centric museum walls became far too obvious to ignore. Her prescience and in-depth examination of this subject is gaining traction with a solo show at Lima's 80m2 Livia Benavides in March and a presentation at the Gropius Bau, part of the 11th Berlin Biennale, this year. Her works at the Biennale are both visually entrancing and conceptually haunting, possessing a quiet and objective rage that speaks volumes.
The Museum of Ostracism (2018) are two-dimensional paintings of pre-Inca and Inca ceramics suspended in glass caskets, with the backs of the images inscribed with derogatory terms of indigenous communities. In the same gallery space, four new works from Gammara's ongoing series Cryptomnesia (or in some museums the sun never shines) (2015– ) feature paintings recreating the typical museums spaces filled with ancient non-Western artefacts amidst a gloomy aesthetic. At the same time, the corners of each painting are filled with images of "contemporary violence" such as "refugees taking to water, police arrests, human trafficking".