Available from March 1 to April 30, 2021, The Lounge & Bar will guide connoisseurs on an exploration of Japanese whiskies through a unique cocktail-pairing dinner experience comprises of a scrumptious three-course menu and tantalizing pairing concoctions made with selected whiskies from Nikka Whisky.
Available for four nights only on March 1 & 26 and April 1 & 30, 2021, Sky Huo, seasoned bartender as well as Spirits Alchemist of Nikka Whisky HK, will take the helm and create her signature cocktails for the guests at The Lounge & Bar.
Curated by Sky, the two pairing cocktails Nikka's Coffey Grain Whisky Highball and Japanese Negroni shine spotlights on Nikka Coffey Grain Whisky and Miyagikyo Single Malt respectively.
Nikka's Coffey Grain Whisky Highball is a refreshing highball exuding delightful flavors of apple and citrus, prepping guests for the gastronomy journey to come. Sky carefully selects this grain whisky which weaves in sweet notes of corn that match perfectly with the smoky notes of the starter Smoked Salmon Carpaccio with Creamed Horseradish, Pomegranate and Yuzu Dressing. Alternatively, guests may opt for a neat Nikka's Coffey Grain Whisky instead to have a fuller taste of its complex yet fascinating aroma profile with hints of toffee, popcorn, citrus and tropical fruits.
Japanese Negroni featuring Miyagikyo Single Malt draws inspiration from the classic Negroni. With the addition of plum umeshu and sake, this powerful cocktail is not only a modern interpretation of an all-time classic, but also showcases a symphony of matching flavors as the ginger and cinnamon notes of the single malt enhance the hints of plum, raisin and tobacco of the sake.
Our culinary team has specially prepared a main course Flat Iron Steak with Celeriac Puree, Porcini Mushroom & Kale Chips to be paired with Japanese Negroni. Caramel notes in the single malt go perfectly with the succulent red meat, while the smoky overtones of the whisky impress guests as much as that of the grilled steak itself. Aromas of porcini mushroom are elevated by the touch of sweetness from the plum umeshu.
There is nothing better than an enticing dessert Warm Apple Pie with Vanilla Ice Cream to wrap up the indulgent evening. For an elevated experience, enjoy an additional glass of Nikka's Coffey Grain Whisky at a supplement with the dessert, and let the rich vanilla and caramel flavors of the drams evoke.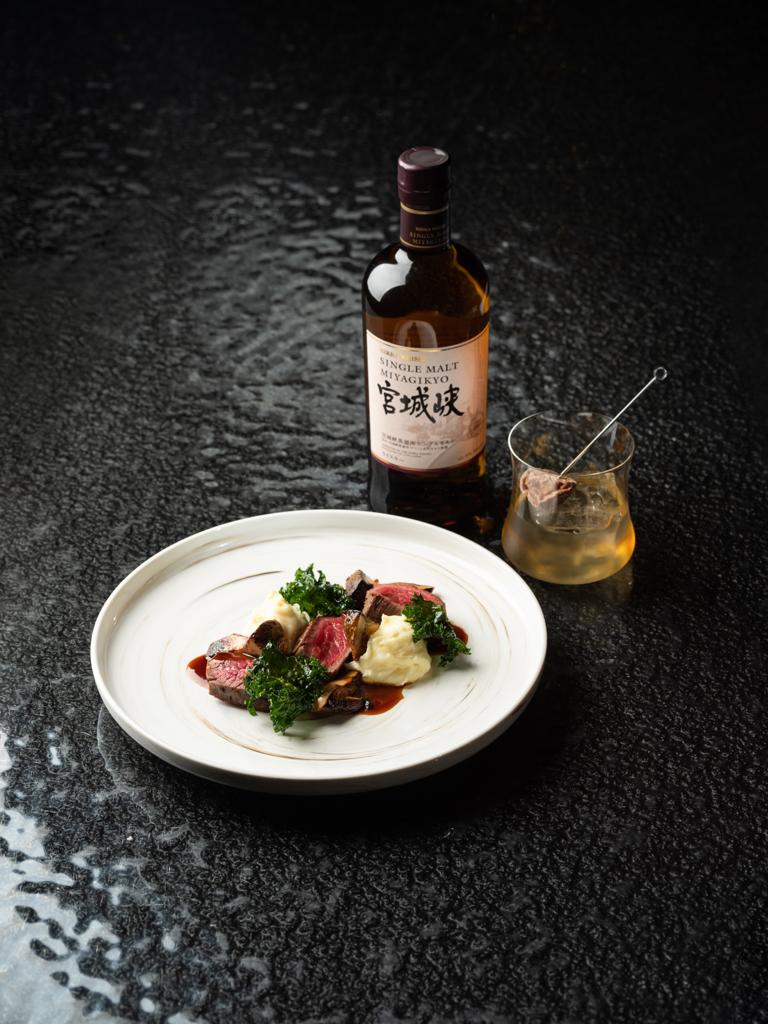 "Dine & Dram" Three-course Dinner Menu is priced at HK$688 per person, including two glasses of pairing cocktails. Additional glass of whisky is available at HK$120.
An Evening of Dine & Dram
- Date: March 1 – April 30, 2021
- Time: Monday to Friday (excluding public holidays)
6:00 pm – 9:00 pm
Saturday, Sunday and public holidays
6:30 pm – 9:00 pm
- Venue: The Lounge & Bar, Level 102, The Ritz-Carlton, Hong Kong
- Price: HK$688 per person for a three-course menu with Nikka Whisky cocktail pairing
(Additional glass of whisky is available at HK$120 each)
For reservation and enquiries of An Evening of Dine & Dram, please call +852 2263 2270 or email restaurantreservation.hk@ritzcarlton.com.
*All prices are subject to 10% service charge.