by Denise Tsui
On the occasion of the late Belgian painter Raoul De Keyser's first solo exhibition in Greater China, at David Zwirner Hong Kong, CoBo Social Managing Editor Denise Tsui reflects on the legacy of the artist and how he came to be one of the most influential painters to emerge of his generation.
"For me each work is a kind of essay."
          — Raoul De Keyser, 1992
The late Belgian painter Raoul De Keyser (1930–2012) is one of those rare gems in the art world, an artist who left an indelible mark influencing generations of contemporary painters after him. Artist Chris Ofili said of De Keyser, "His paintings exist in that place very few of us dare to go—the silent, the imperceptible."
Among Belgian artists, Harold Ancart described De Keyser's painting as having no vanity, such that "the work encompasses all sorts of things that happened in the history of painting." Luc Tuymans, who has not only exhibited with De Keyser, but whose paintings together have at times been the topics of scholarly discussion, said of the artist, "Raoul, for me, resonates as the painter for painters that Albert Marquet once was." At a time when the art world seems more in favour of new technologies, De Keyser's paintings are a gentle nudge to the evergreen relevance of painting as a medium and its irreplaceable position in the canon of art.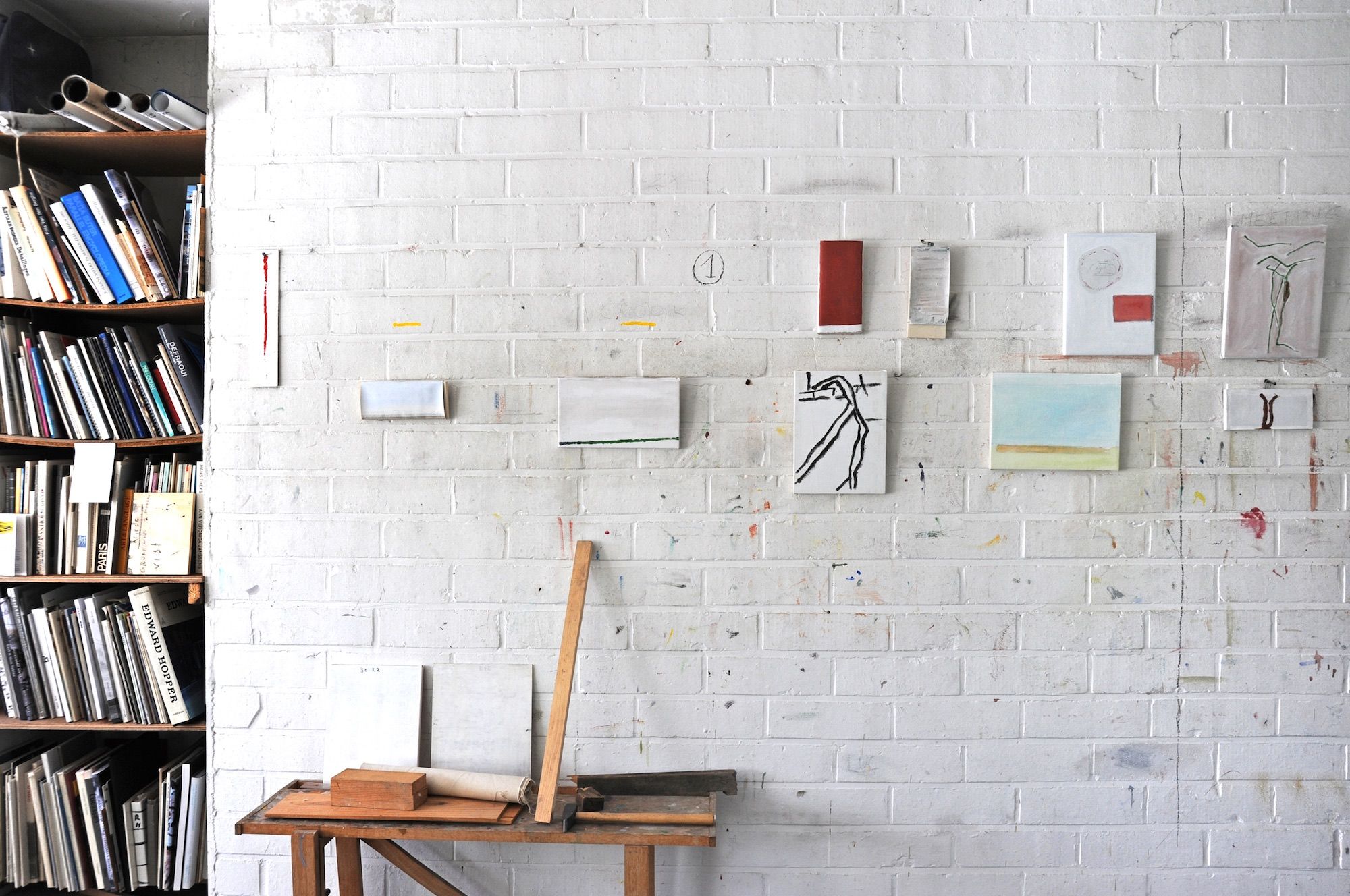 At David Zwirner Hong Kong, selected paintings spanning the last 25 years of De Keyser's immense five-decade oeuvre are spread chronologically across two floors. As one makes the journey through each of the four rooms, we are able to observe the breadth of the late artist's material experimentations with canvas and paint. We are immersed in De Keyser's surrounding world through works that cumulatively stitch a beautiful, abstracted portrait of his quaint hometown Deinze, in East Flanders, Belgium.
De Keyser was born in 1930 in Deinze, where he continued to live and work until his passing in 2012 at the age of 82. The son of a carpenter, De Keyser began to explore painting on his own during his formative teenage years. He went on to study briefly at the Academy of Fine Arts in Deinze between 1963 and 1964 under the painter Roger Raveel, and during this time, participated in New Vision, a Flemish art movement led by Raveel. While in pursuit of painting, De Keyser had a successful, three-decade career as a civil servant working for Ghent University, taking early retirement in 1990 at the age of 60. De Keyser also had a passion for literature and journalism—he befriended writers and poets, and he wrote about sports and arts for local newspapers. The influence of De Keyser's literary flair seeps into all his paintings.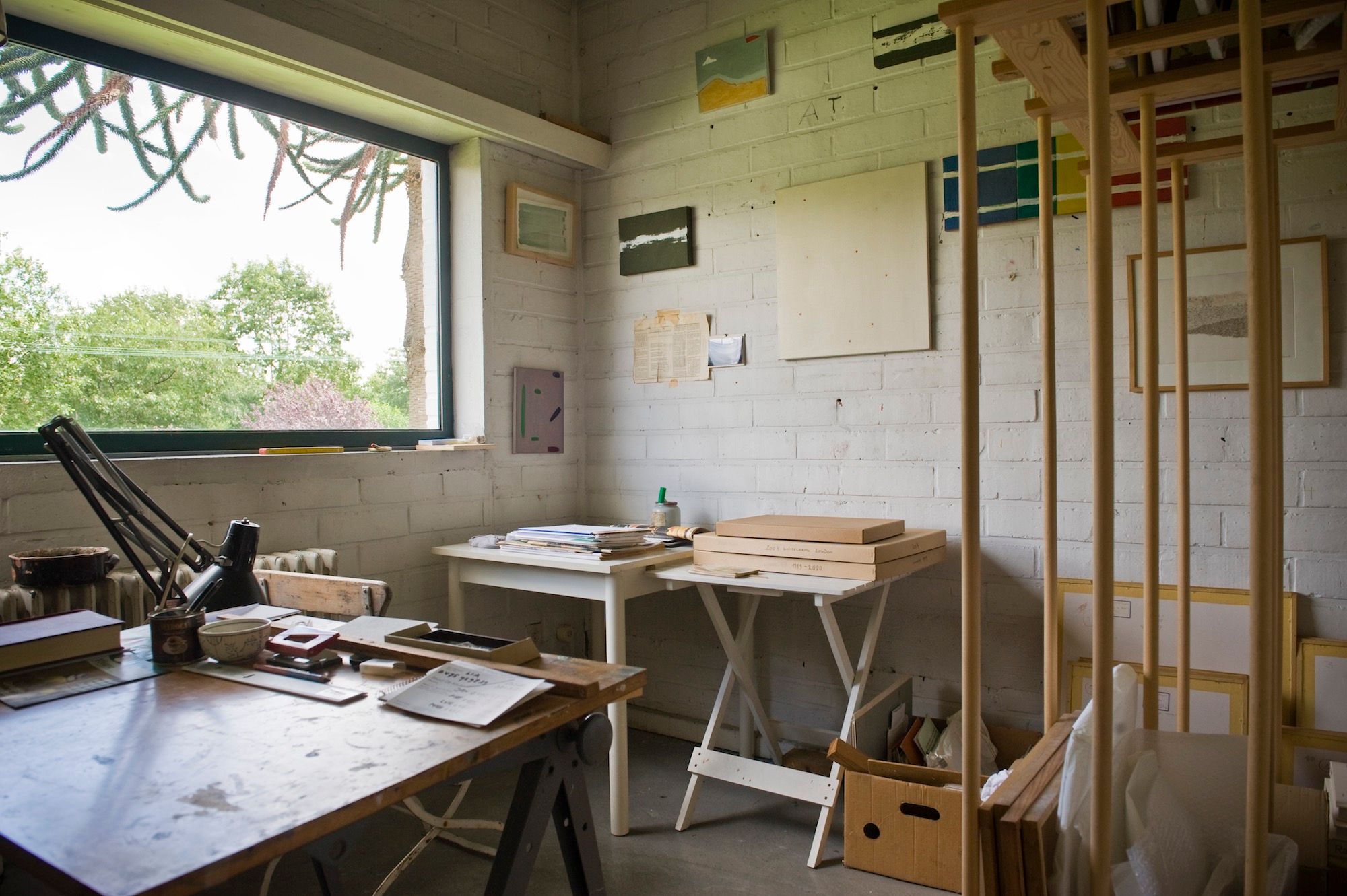 Straddling abstraction and figuration, De Keyser's paintings offer no immediate evidence of a narrative, yet close examination can unearth layers of storytelling. In a recent interview with Lucas Zwirner, Head of Content for David Zwirner, on the occasion of this exhibition, Tuymans eloquently explains this essence of De Keyser's paintings: "…every picture is nearly a retrospective. I mean, he is actually a painter who is, to my account, extremely genuine…" It is difficult to describe a De Keyser painting; it is painting that needs to be felt, to experience standing before its presence. In a 1992 interview, the artist said, "For me each work is a kind of essay."
Five paintings dating between 1985 and 1989 hang in the first room as we enter the gallery. Painted prior to De Keyser's international breakthrough in 1992, these paintings offer a heavier colour palette, which only reappears in the last decade or so of his work, and give hints to De Keyser's sources of inspirations. The surrounding landscape in Deinz is depicted in Study for Notch and (Study for) Notch (both 1988), while Hellepoort 8 (Gates of Hell 8) (1985) evidently suggests the portrayal of a blue sky amid possibly a sports field—a reoccurring subject in many of De Keyser's early paintings dating to the '60s and '70s.
By the end of the 1980s, De Keyser's paintings show a considerable shift in his conceptual experiments—Model for Cabinet (1989) is almost a colour experiment in a geometric composition of linear shapes. This gentle evocation of something familiar yet shielded in abstraction is signature to his works of the 1990s, perhaps the most important decade of his artistic career.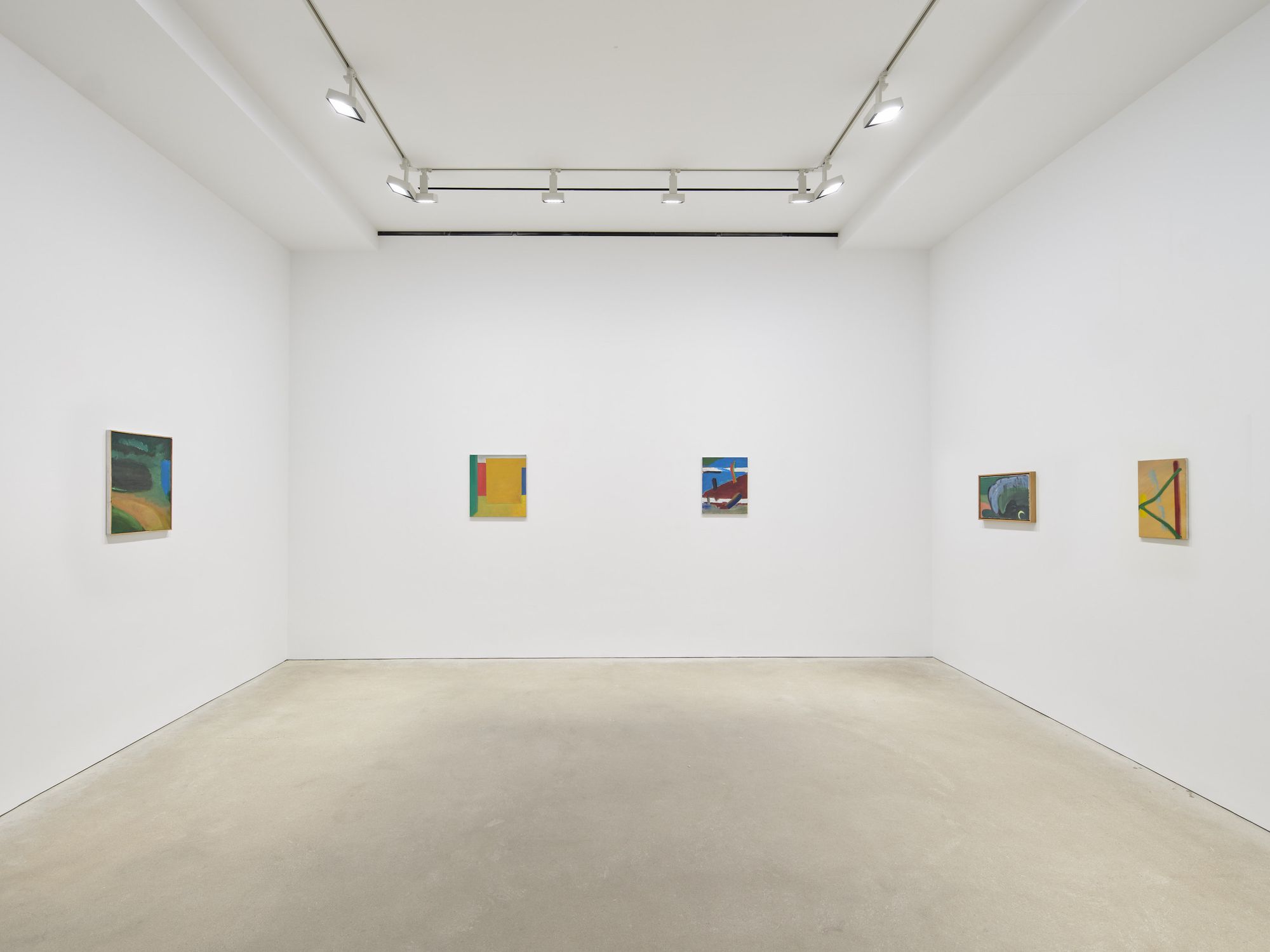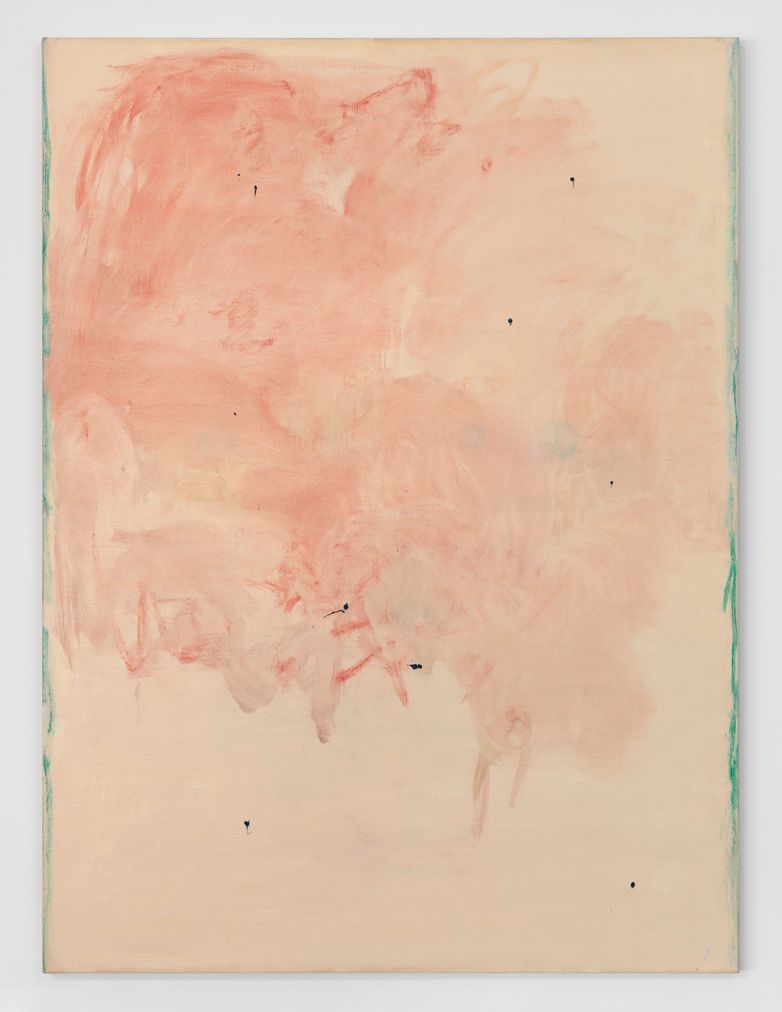 In the second room, five paintings created between 1991 and 2003 fill the walls, exuding an aura of poeticism that encourages quiet contemplation, and demonstrates a newfound sense of liberation and fluidity in painting for De Keyser. The canvases are larger, the colours softer; paint layers become more transparent, each unveiling the one before it, while his graphic idiom simplifies into pure mark making. The centrepiece of the room, Front (1992) is among the most important works of his oeuvre, one of five paintings the artist exhibited in documenta IX. A late bloomer on the global art circuit, for years De Keyser primarily exhibited in Belgium and the neighbouring Netherlands. International recognition came in 1992 when he participated in documenta IX, upon invitation by artistic director Jan Hoet. This suite of paintings comprises soft layers of flesh and peach colours, almost pastel in tone, upon which De Keyser has squeezed small dabs of paint directly from a tube, giving the canvas a three-dimensionality that can only be seen close-up.
Retour I (1999) belongs to a body of work that exemplifies how these formalistic experimentations of the early 1990s, and his breakthrough into the global circuit sparked further maturation in De Keyser's paintings. Among two of the most sizeable works included in the show, Retour I is almost pure abstraction with no clear indication of a figurative source. Atop a white canvas, De Keyser has traced and reworked in blue and red, rectangular looking forms possessing no clear hard edges. The application of paint resembles the transparency and stained marks of watercolour, with gestures found in drawing—both disciplines De Keyser explored in his studio practice.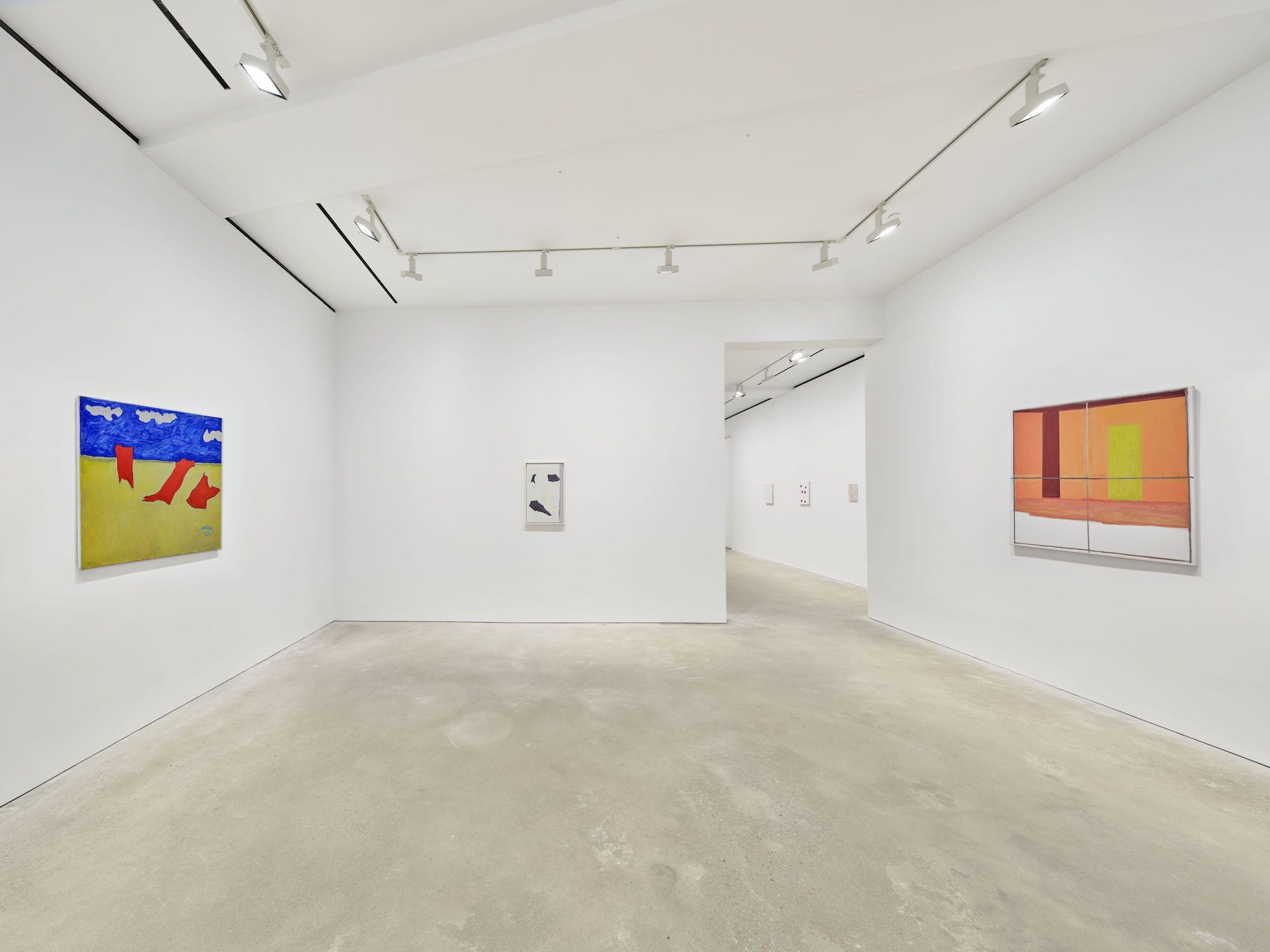 Downstairs at Zwirner, works created between 2000 and 2012, including a suite of small paintings that hung in the artist's studio at the time of his passing, show the return of earlier elements—from the more direct sense of figuration, to the stronger use of weighted colours. A shift in medium, expanding beyond acrylic and oil paint on canvas, can also be observed. Small but bold, the monochromatic Untitled (2006) utilises charcoal with oil on canvas, while among the works produced after 2010, the use of gesso, chalk, watercolour and mounting on small wood panels gives us a glimpse into yet another aspect of De Keyser's mastery in the discipline of painting.
It is in examining his oeuvre in its entirety, that the reason De Keyser is regarded as a painter for painters becomes clear. In the presence of his paintings, we experience what the power of painting truly can be. It makes the heart flutter, the mind conjures words the tongue cannot find, and energy emanating from the paintings fills the space with an aura of awe. For those like me who finds nothing more reinvigorating than sitting in front of my favourite painting (a secret to disclose another time), De Keyser reminds me of why I fell in love with painting, and despite the burgeoning shift in how we define and display art, painting itself is irreplaceable. This is perhaps the legacy De Keyser imparts for painters after him.
As Tuymans said of De Keyser being a painter's painter: "It's really about the essentials of painting which are hard to explain in words basically." He adds, "It's something that is born out of a necessity, and you can see that, so it is also not a pose. It is a real entity, and so [the paintings are] part of Raoul's life in a sense."
Raoul De Keyser
15 January – 6 March 2021
David Zwirner, Hong Kong