Thus spoke World Wine Hunter: Luca Gardini
They are the best wines to be put on sale during the course of 2013. Apart from the great wines of Italy, France and the rest of the world, our classification also considers the outsiders: those that are destined to become great in the future.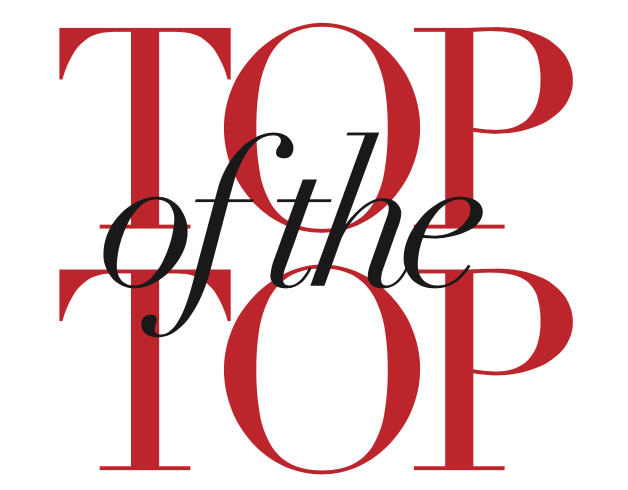 It is not merely a question of attributing scores on the basis of a different evaluation relating to aromatic complexity, equilibrium and persistence. Making classifications means interfacing that which expresses taste with a series of parameters relating to the knowledge of the wine, of its producer, the territory and the year. The selection of the top 100 red wines in the world, drawn up with reference to the vintages present on the market during the current year, also envisaged constant, meticulous and repeated tasting, which began in 2012 with the previews and extended into a task that has not actually terminated yet.
Not wishing to anticipate the vintages, and hence to avoid the risk of finding ourselves faced with glasses of wines that are still in the making, I preferred to eschew the first-fruits at all costs, in the name of that balance and impartiality that should be the rudder with which we steer through this sea of red wine.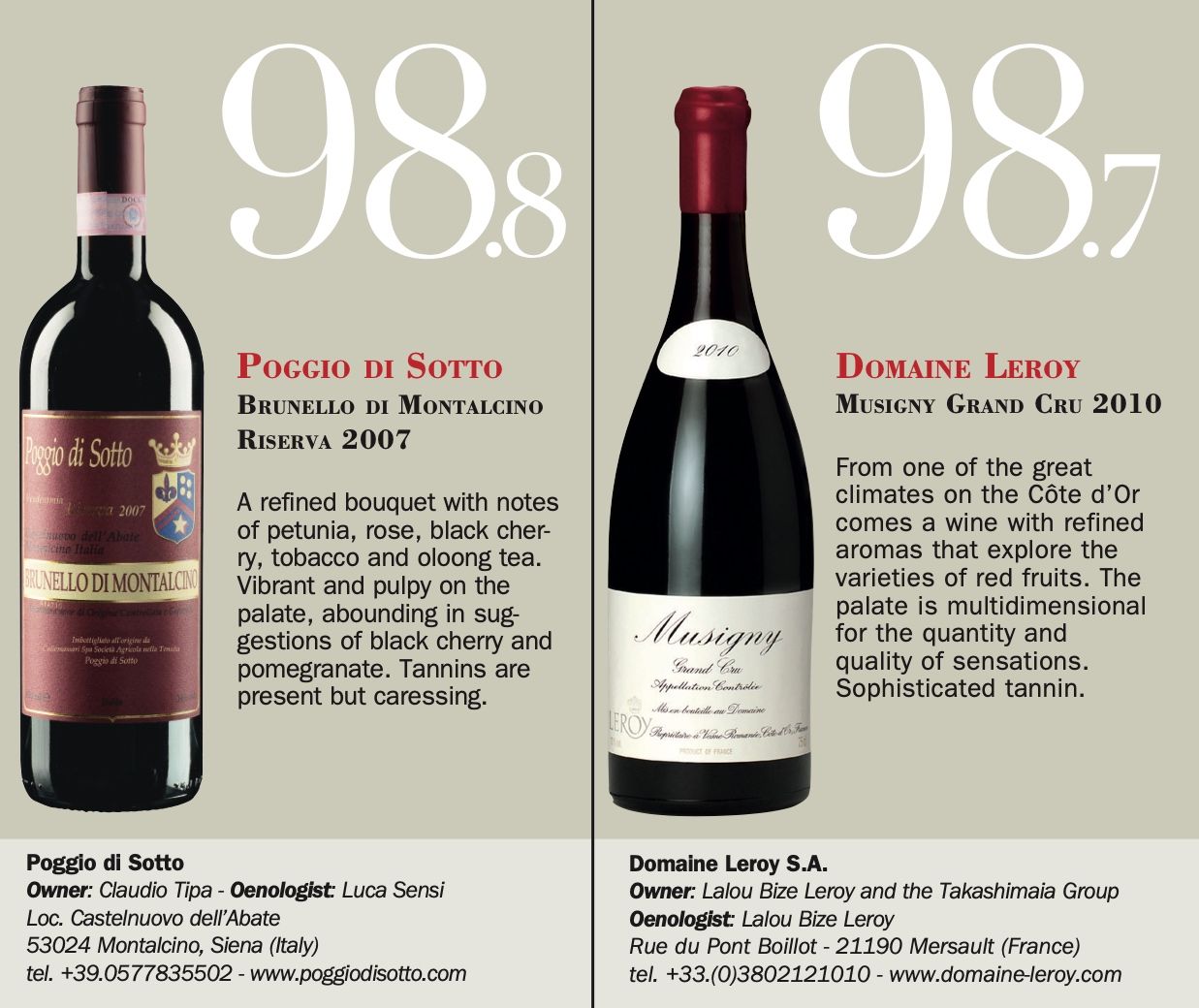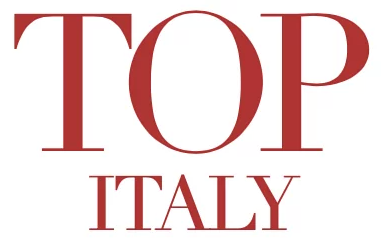 Italian wine is making life difficult for the French leadership. This is shown by the higher position on the podium occupied by the Brunello Riserva produced by the Poggio di Sotto winery, which not only surpassed the great aristocracy of Burgundy, but also the plethora – particularly fierce in an excellent year such as 2010 – of the best Bordeaux wines. The classification of the best Italian reds is really rather meagre, only quantitatively speaking, although it is representative of the rising quality of Italian wine. What makes Italians proud is the constant increase in overall quality. Behind these wines that represent the crème de la crème, we could in reality draw up every bit as reliable a ranking of different labels. Here there is the constant presence of new names (Tenuta Sette Ponti, Roagna and Palari), or at least of contemporary producers, thus not belonging to the old guard of wine producers, who must, however, be credited with having brought us to these heights.
A final newsworthy item: the rebirth of the great Tuscans. Labels which, perhaps, have ceased following oenological fashions – I refer to the great extractions – to begin making great wines in an absolute sense once again.
(The best Italians come from ever-more new producers and there is a constant increase in overall quality.)

THE OTHERS
【93.6】Castell'in Villa Chianti - Classico Riserva 2006
www.castellinvilla.com
【92】Tenute dell'Ornellaia - Masseto 2010
www.ornellaia.com
【92】Tenuta Petrolo - Galatrona 2010
www.petrolo.it
【91】Radikon - Merlot 1999
www.radikon.com
【91】Biondi Santi – Brunello di Montalcino Riserva 2007
www.biondisanti.it
【90.4】Tenuta Mara - Maramia 2012
www.tenutamara.it
【90.3】Tenute dell'Ornellaia - Ornellaia 2010 25 anniversario
www.ornellaia.com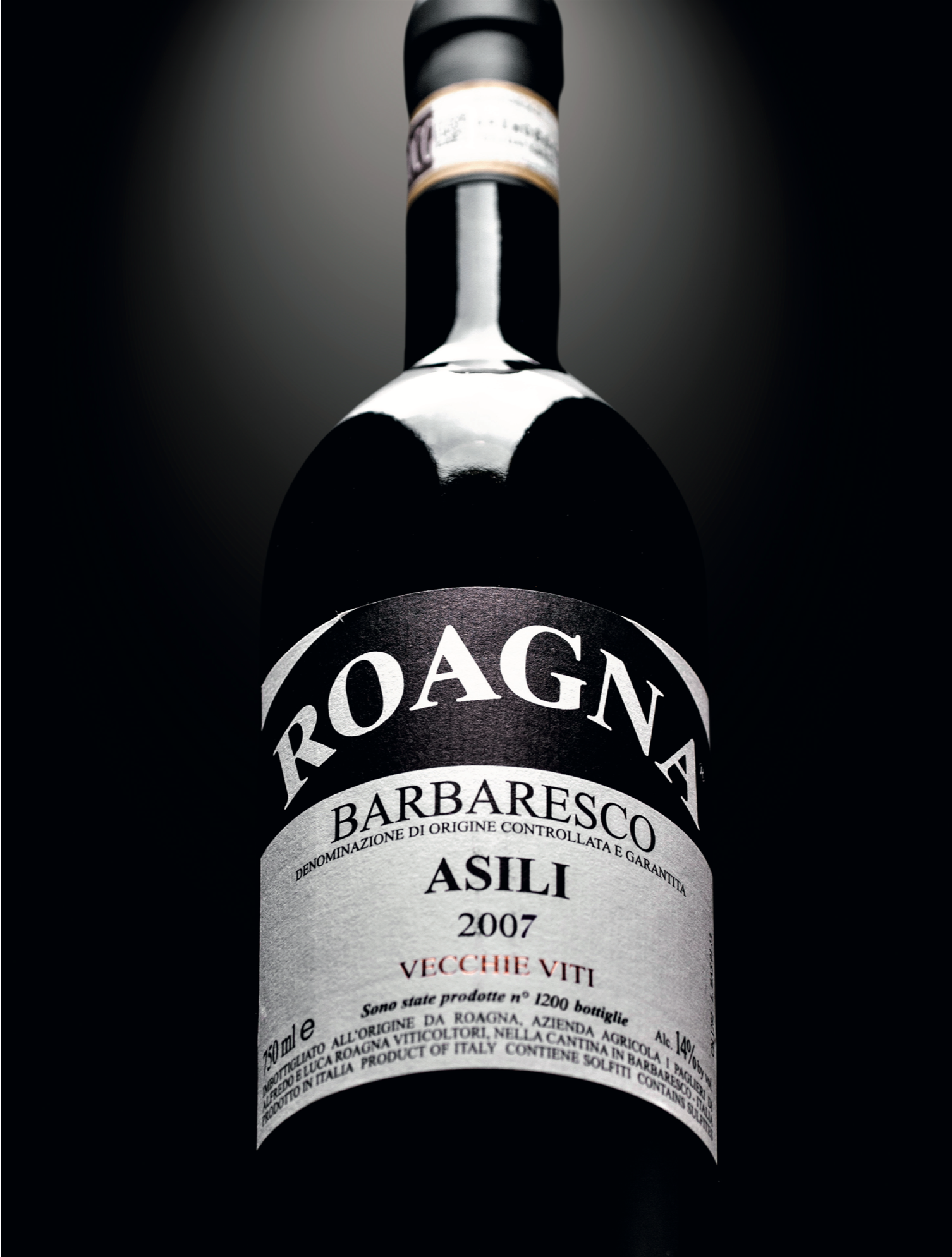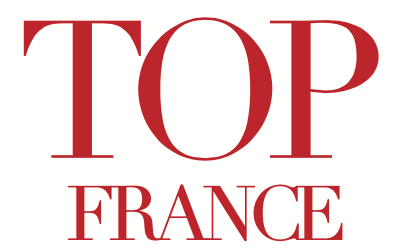 It's a ranking of the best 'tipples' of all in an absolute sense, whose distinguishing trait is, in some cases, modelled by excellent vintages. I will refer to Bordeaux. Every five years this territory brings forth genuine oenological divinities. And the great Burgundy, wines produced by some of the all-time stars of winemaking.
(Every five years, the all territory of Bordeaux provides us with genuine oenological divinities)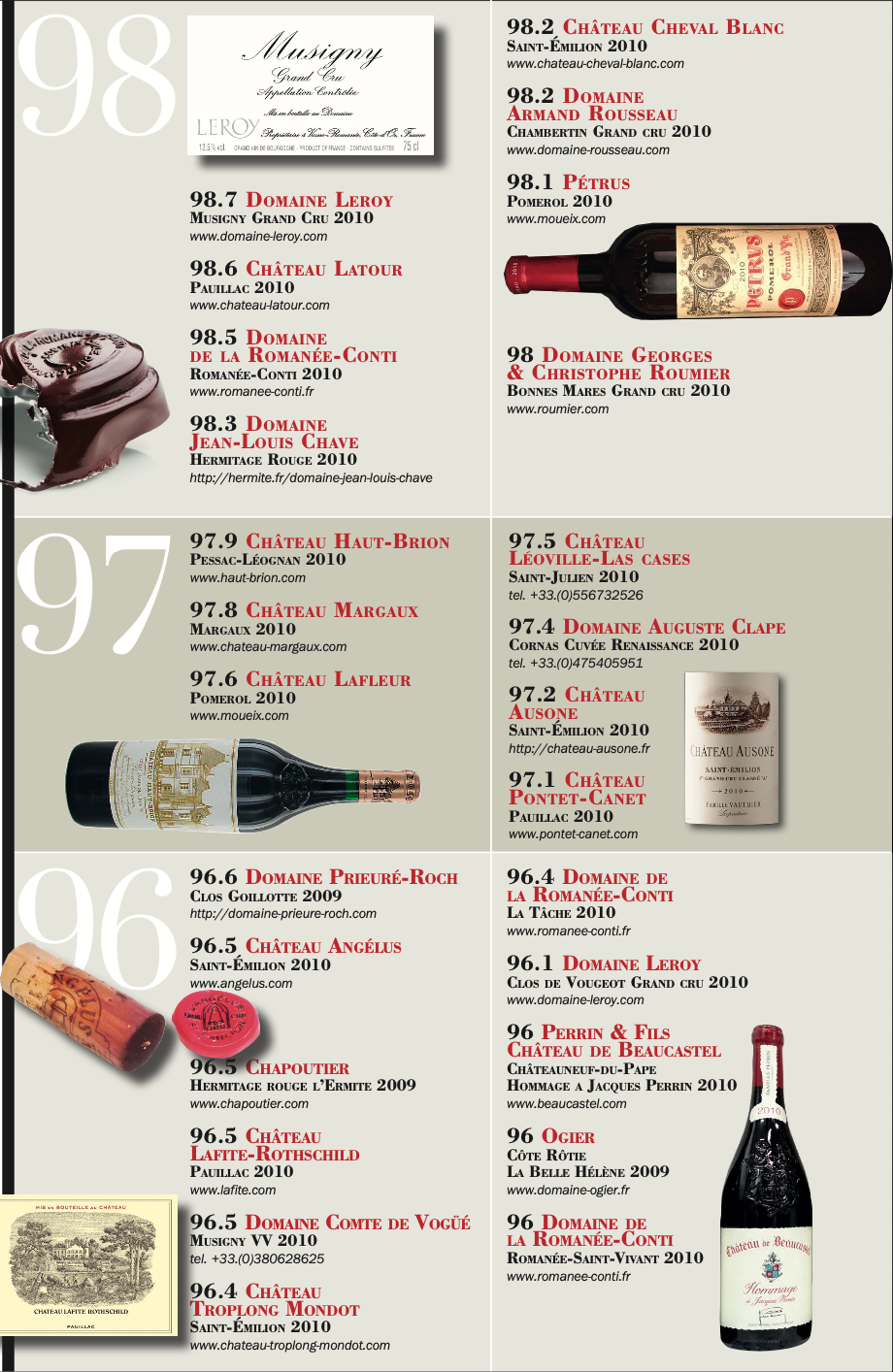 THE OTHERS
【95.8】E. Guigal | Crozes-Hermitage Rouge 2009 | www.guigal.com
【95.4】Chateau Ducru-Beaucaillou Saint Julien 2010 www.chateau-ducru-beaucaillou.com
【95.4】Château Lynch-Bages Pauillac 2010 | www.lynchbages.com
【95.4】Domaine Faiveley | Musigny 2010 | www.domaine-faiveley.com
【95.2】Ponsot | Clos de la Roche 2010 | www.domaine-ponsot.com
【95】Château Beauséjour-Duffau- Lagarrosse | Saint-Émilion 2010 www.beausejourhdl.fr
【95】Domaine Henri Bonneau Châteauneuf-du-Pape 2007 tel. +33.(0)490837308
【95】Ch. Malescot Saint-Exupéry Margaux 2010 | www.malescot.com
【95】Clos Rougeard | Le Bourg 2009 | tel. +33.(0)241529265
【95】Cos d'Estournel | Saint-Éstephe 2010 | www.estournel.com
【94.8】Domaine Trapet Chapelle-Chambertin 2010 www.domaine-trapet.fr
【94.4】Château Grand-Puy-Lacoste Pauillac 2010 www.chateau-grand-puy-lacoste.com
【94.3】Domaine Méo-Camuzet Richebourg Grand cru 2010 www.meo-camuzet.com
【94.1】Maison Louis Jadot | Bonnes-Mares 2010 | www.louisjadot.com
【94】Domaine Dujac | Echézeaux 2010 | www.dujac.com
【93.9】Roche de Bellene-Nicolas Potel | Grands Echézeaux 2010 | www.maisonrochedebellene.com
【93.6】Domaine Pierre Usseglio Châteauneuf-du-Pape Cuvée Mon Aieul 2010 www.domainepierreusseglio.fr
【93.1】Jean Grivot | Echézeaux 2010 | www.domainegrivot.fr
【92.5】Marcel Lapierre | Morgon 2011 | www.marcel-lapierre.com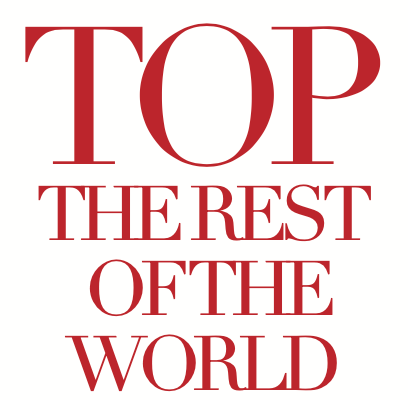 Paraphrasing the title of one of the James Bond movies filmed in 1999, it could be said that the world, even the oenological one, is not enough. New wineries are springing up practically everywhere, while those that have been in the breach for years are being consolidated as reference points. While a few years back Europe could afford to snub the realities of the so-called "new world", nowadays it has to keep them in mind as possible, and formidable, market rivals; especially in relation to new markets. Apart from confirming wineries such as Ridge, Mondavi, and Penfolds, there are interesting surprises associated with labels produced by Principal, Pahlmeyer and Rupert Wines.
In the first case, we must acknowledge the efforts of a company which, in a country that stakes its reputation on fortified wine, has decided to bring out a dry red that is modelled on the style that distinguishes Bordeaux wines, but with the use of native varieties. There is also a very good vintage of Merlot from Pahlmeyer, which is today managed by the new oenologist Kale Anderson. Finally, Spain has also achieved commendable results with its wines.
A surprise from a country whose flagship product is fortified wine: a red in Bordeaux style, but made from native grape varieties.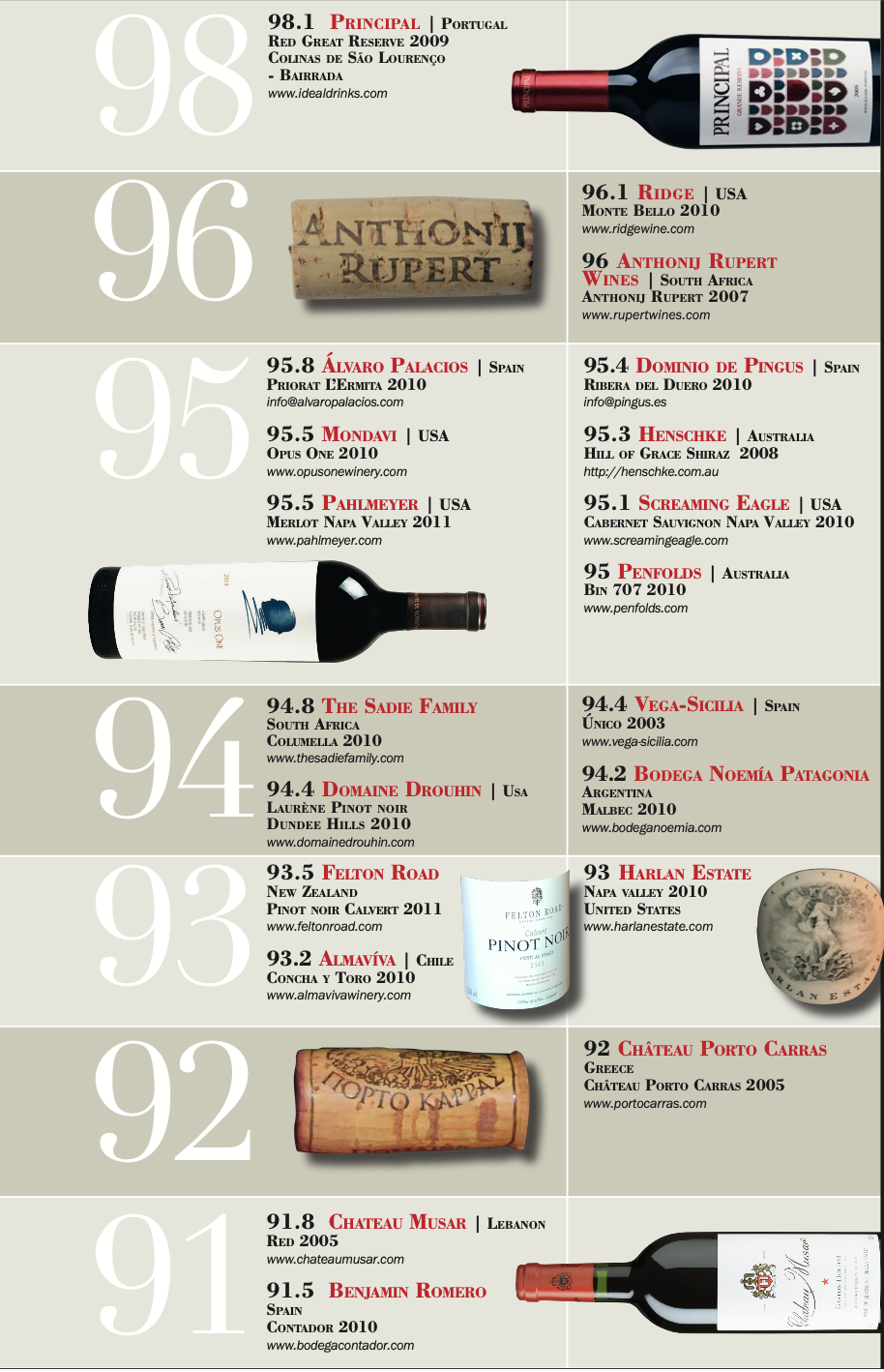 THE OTHERS
【90.8】Clarendon Hills | Australia Astralis Syrah 2010 | www.clarendonhills.com.au
【90.6】Seña | Chile | Aconcagua Valley 2008 | www.sena.cl
【90.6】Descendientes de José Palacios | Spain | Las Lamas Bierzo 2010 | tel. +34.987540821
【90.5】Catena Zapata | Argentina Malbec 2011 | www.catenawines.com
【90.4】Klein Constantia South Africa | Anwilka 2008 |www.kleinconstantia.com
【90.4】Monte de Luz | Uruguay Tannat Reserva 2007 | www.vignobles-lesgourgues.com