Karl-Friederich Scheufele, the owner of Chopard, wants to make Bergerac wines world famous. He is doing it with Château Monestier La Tour. Dedicated to absolute quality
by Paolo Baracchino photos by Alexandra Pauli
As of today, Bergerac will no longer be world-famous for the character of Rostand, that Cyrano who at the end of the 1800s gave rise to the celebrated theatrical comedy, but for wine, too. When I attended the opening of the new cellar in Chateau Monestier La Tour, I understood the wish to do something important for the wine of this part of France. Lord of the cellar is Karl-Friedrich Scheufele, better known as the owner of Chopard watchmakers, while fans of cars and motor racing came to see the ever-present Mille Miglia racing driver for Porsche (which he collects) in the person of monsieur Le Mans, alias Jacky Ickx, former Formula 1 racing driver and six-times-winner of the 24-Hour race.
Bergerac lies 120 kilometres to the east of Bordeaux, not far from Monbazillac where they produce sweet white wines that are, in general, worthy of respect because they are good quality and they cost considerably less than Sauternes: "I have a lot of faith in the wines of this district; I believe they have unexpressed potential and are underestimated and not well known," says Scheufele explaining why he has never invested in a chateau in Saint-Emilion or in Pomerol. "I want to valorise the wines of this region and create a landmark label of a denomination that will set the world alight." He fell in love with Chateau Monestier La Tour at first sight, with its landscape and its vineyards, covering 24.5 hectares on limestone and clay soil. Clay is ideal for cultivating Merlot and chalky soil is perfect for Cabernets, both Sauvignon and Franc. The soil conveys mineral and saline profundity on the wines, making them pleasant and long-lasting.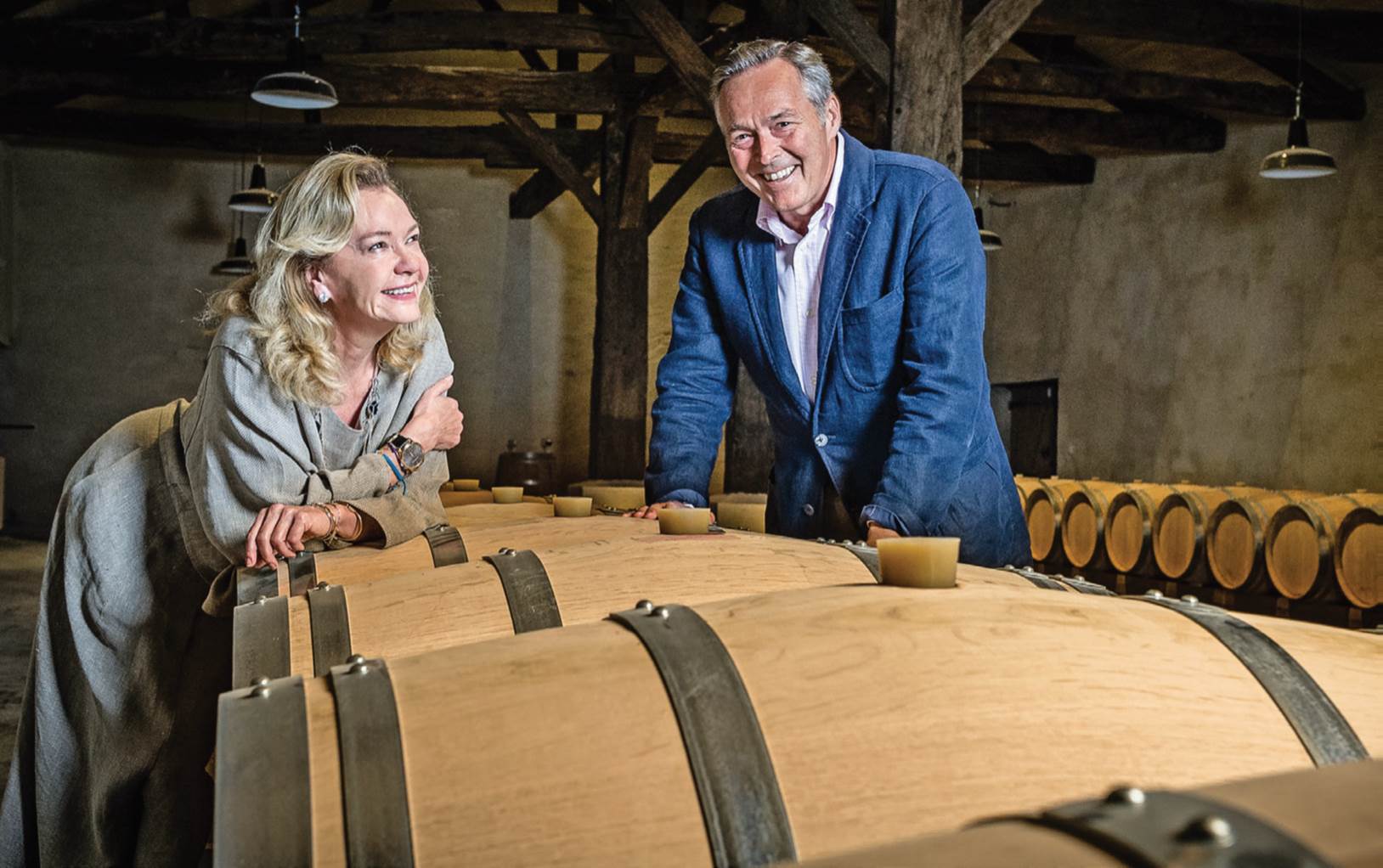 In January 2012 Scheufele and his family purchased Chateau Monestier La Tour from Philip de Haseth-Moller, a Dutch businessman: the property was severely damaged in a fire in 1994, and was refurbished in 1998, and the vineyards were redesigned. After the acquisition, the co-president of Chopard met the consultant Corinne Comme, who owned a small winery near the chateau, and exchanged various viewpoints with her on the running of the vineyards.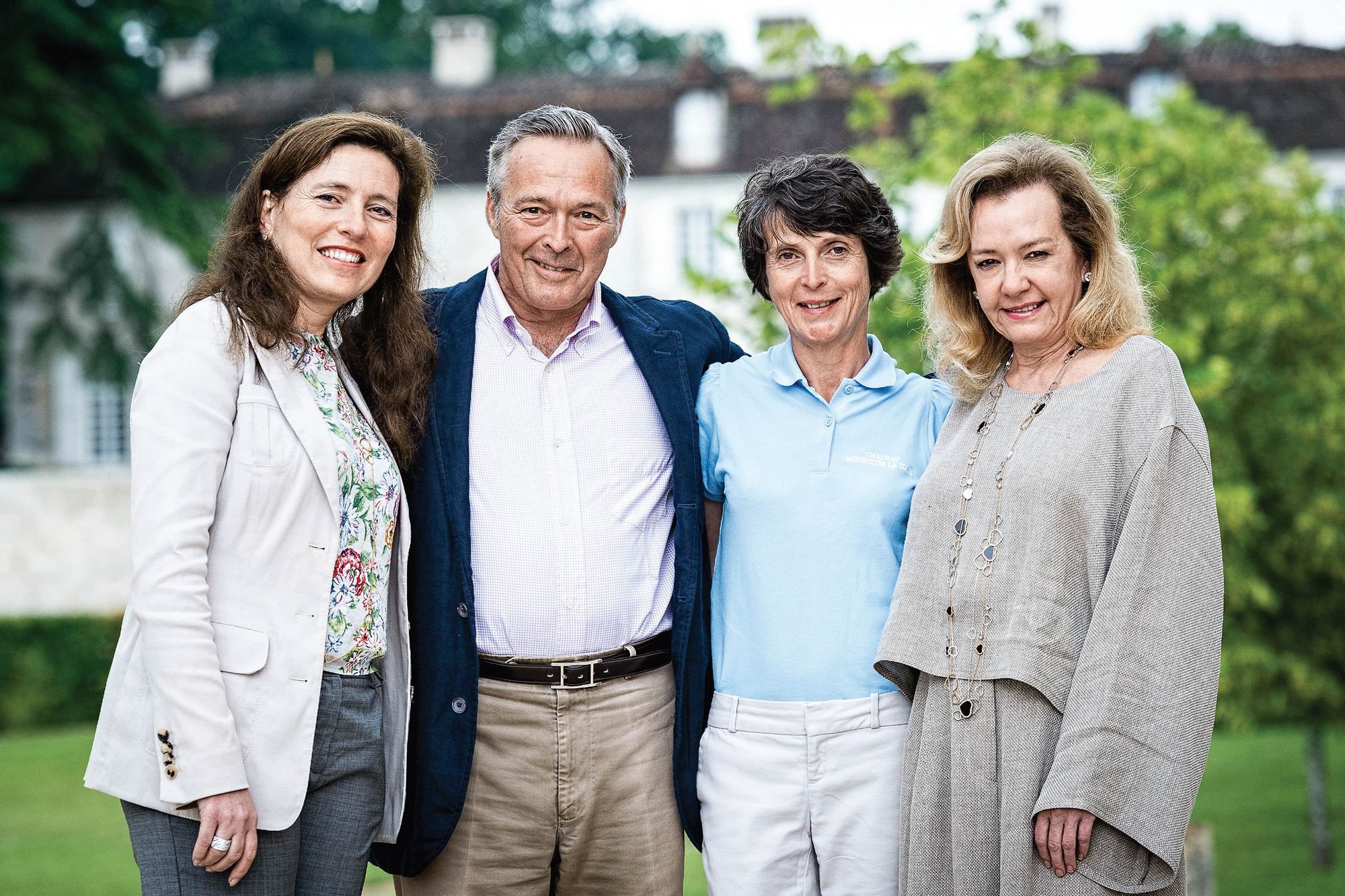 There was an immediate understanding between them, which led to a close working relationship aimed at developing a very specific project that both of them believed in staunchly. Afterwards, during a freezing winter, the castle's attics filled with water that leaked for days and days without the caretakers noticing, and the building was completely flooded to the extent that water flowed out along the walls of the upper storeys: it took six months to dry out the thick walls. The boiserie was badly damaged and half of the panels had to be replaced. It was a catastrophe! But Herr Scheufele did not despair and he rebuilt the chateau, using furnishings that reflect the style and period of the building, also renovating the outbuildings and commissioning a new cellar that was also in harmony with the style and the history of the chateau.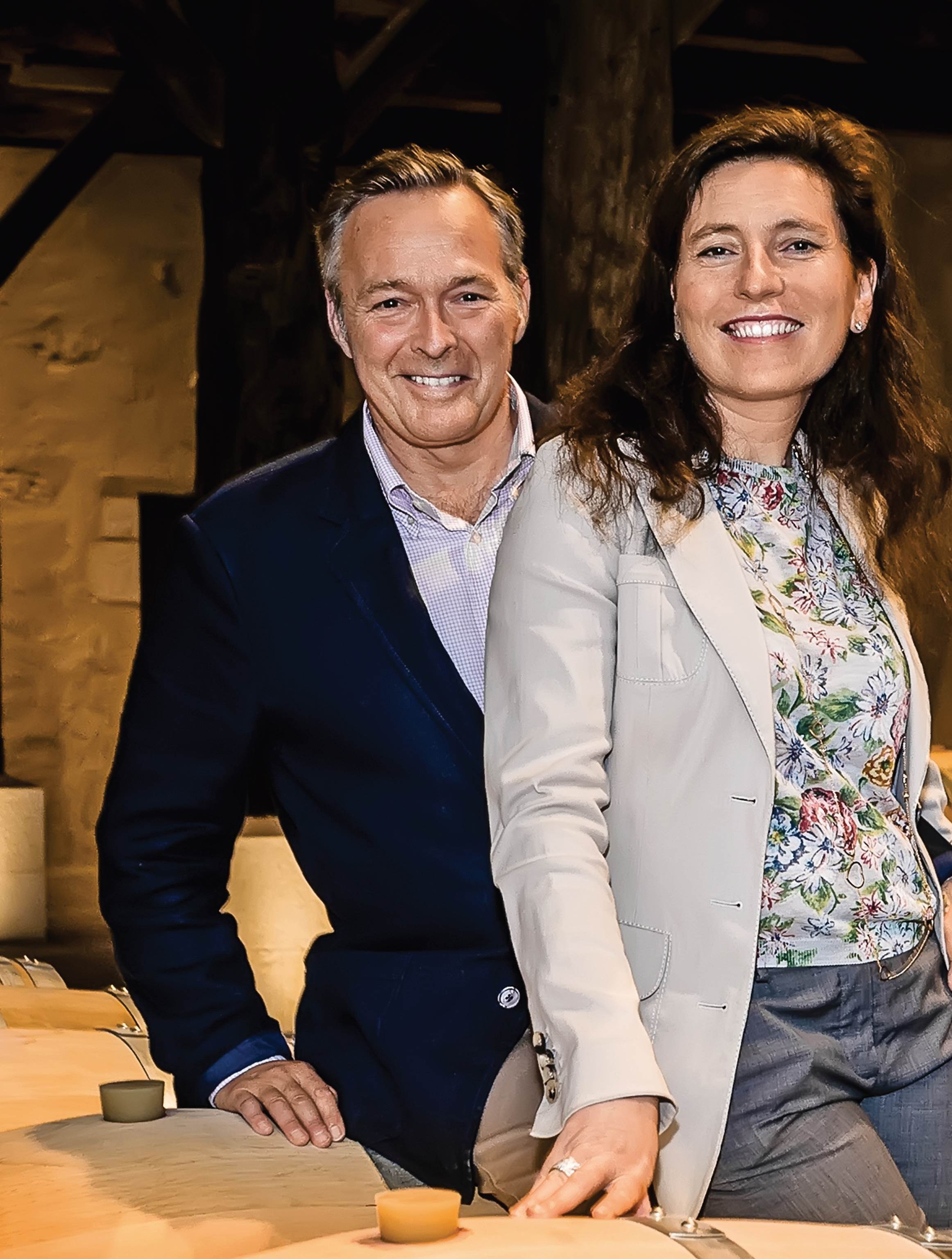 Scheufele has clear ideas on wine, too: "I love Pinot noir like my grandfather loved it, and Bordeaux like my father. I love the Merlot and Cabernet Franc varieties, which are icons of finesse and elegance. Cabernet Franc, if well made, bestows on Merlot that depth that completes a great wine. Ultimately, I love well-made wines, not contaminated by wood, classical, well-balanced, fine and elegant. In the glass I want fresh, not jammy, fruity sensations, floral notes and the traditional nuances of the variety and the soil. My models," continues Scheufele, "are those of the Pessac-Leognan denomination, hence Haut-Brion and Mission Haut-Brion, and from the Pomerol denomination, La Fleur and Clinet. I have always been passionate about wine, I own a company that trades in it, I am the Romanee-Conti distributor for French-speaking Switzerland, I have three wine shops in Switzerland, in Geneva, Gstaad and Glaud, and I have a wish, which for the moment remains a dream, of buying a chateau in the Pomerol denomination." Getting back to his wines, the first vintage of Chateau Monestier La Tour was in 2013, not good for red wine because the day before the harvest was due to begin, a terrible hail storm fell on the vines and practically destroyed them. But Scheufele did not give up: with white wine and sweet wine in 2013 and in 2014 also with reds he managed in any case to take the first step on an interesting and laborious path.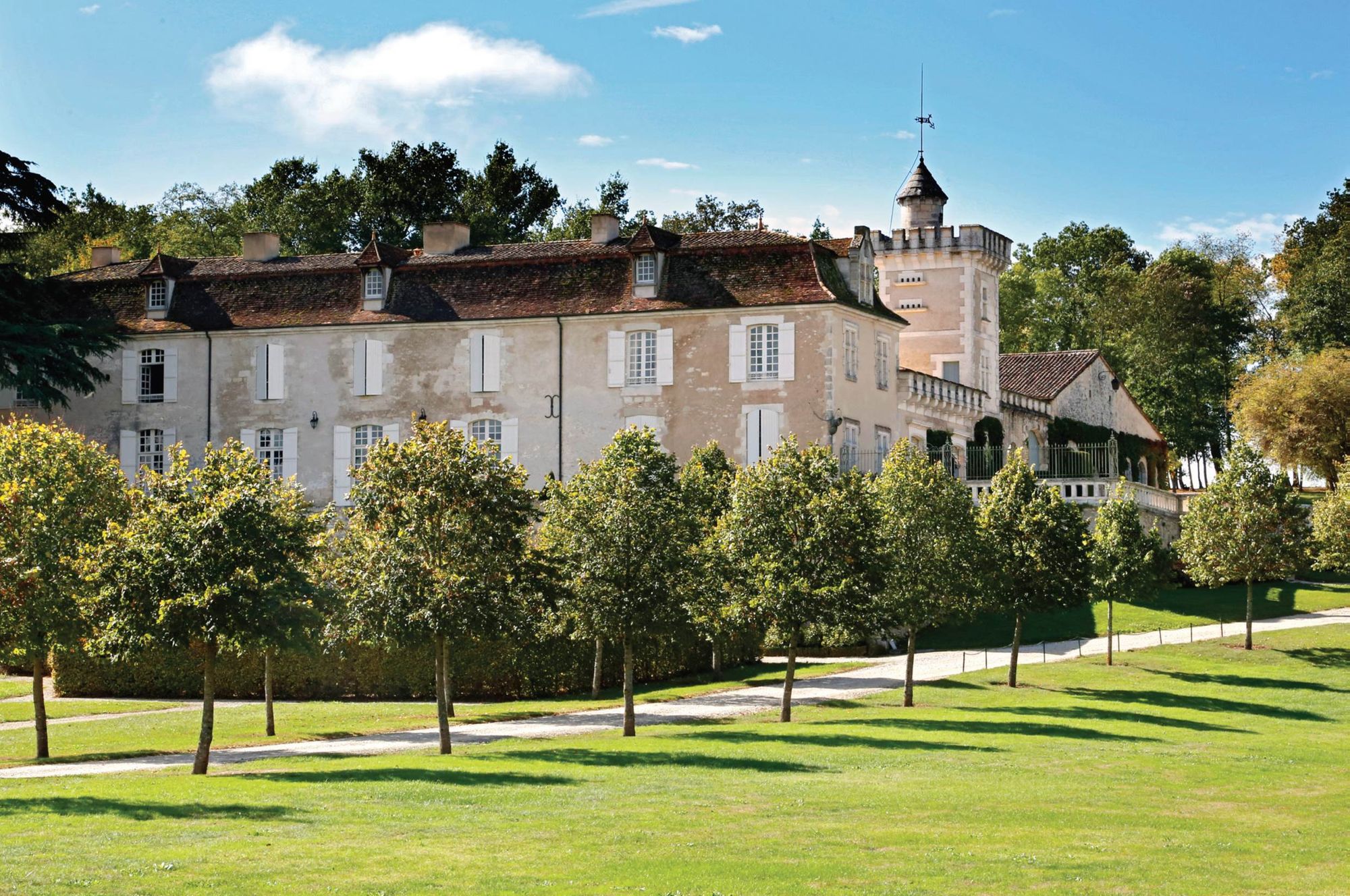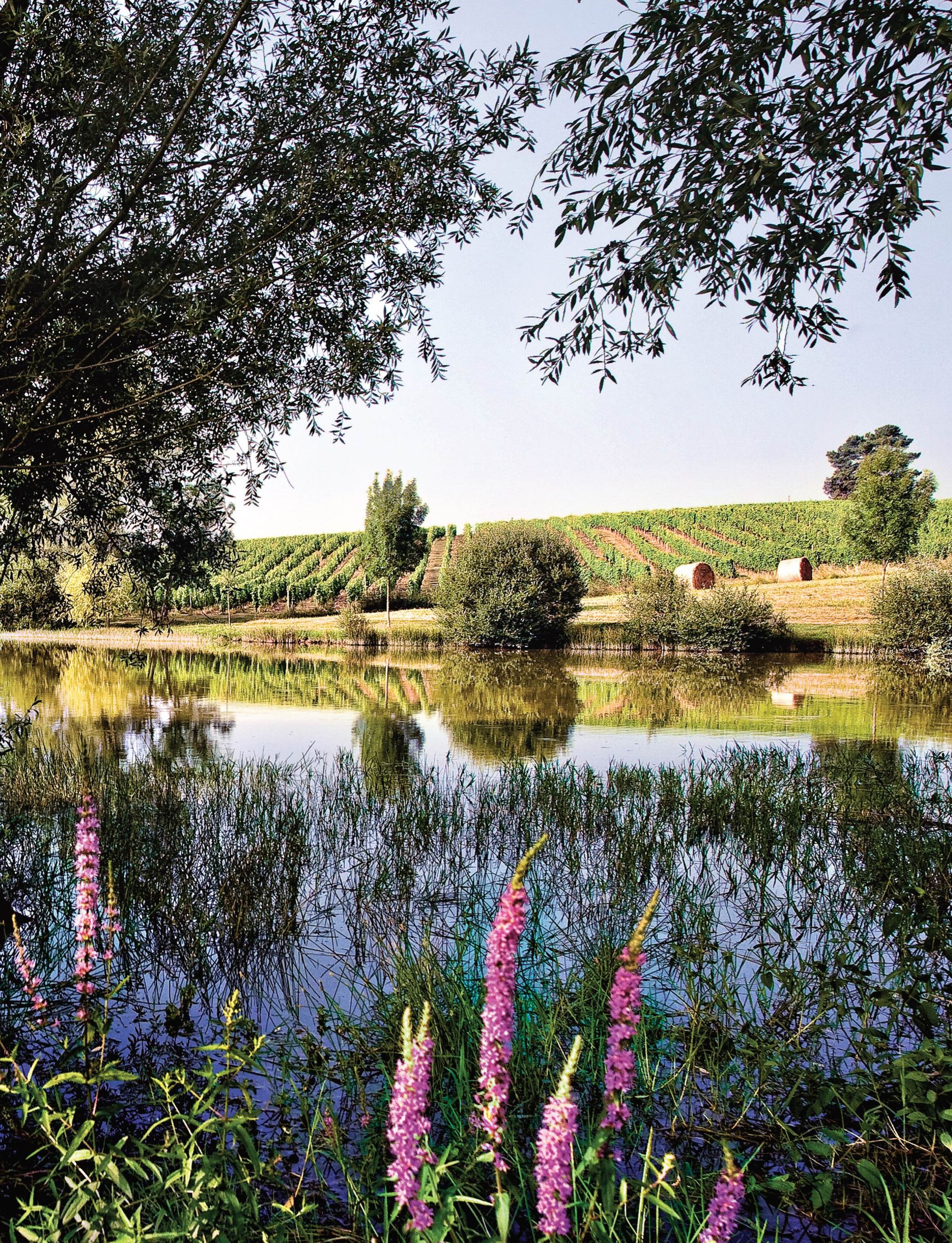 Corinne Comme accompanies me through the vineyards explaining that, of late, Cabernet Franc has been ripening at the same time as the Merlot: something that never happened before, as it is well known that Merlot is usually the first red grape to be harvested. The area sown with vines covers 24.5 hectares, of which 14.5 are red varieties (67% Merlot, 23% Cabernet Franc, 7% Cabernet Sauvignon and 3% Malbec) and 10 hectares under white varieties, both sweet and dry (56% Semillon, 38% Sauvignon Blanc and 6% Muscadelle); the density is 5,000 plants per hectare, the vines are single or double Guyot, and harvesting is done mechanically and by hand. The chateau manager also informed me that she is adopting biodynamic cultivation, like her husband who works at Chateau Pontet-Canet in Pauillac. The visit continues into the new cellars, the first housing 16 conical vats holding 98 hectolitres and six cylindrical vats containing 63 hl with manual temperature adjustment that allows a sort of direct contact with neither artifice nor intermediary: each plot is vinified separately and put into a special vat. Adjoining this is the new barrel room, where not all the wines are made: Cadran, for example, uses only steel.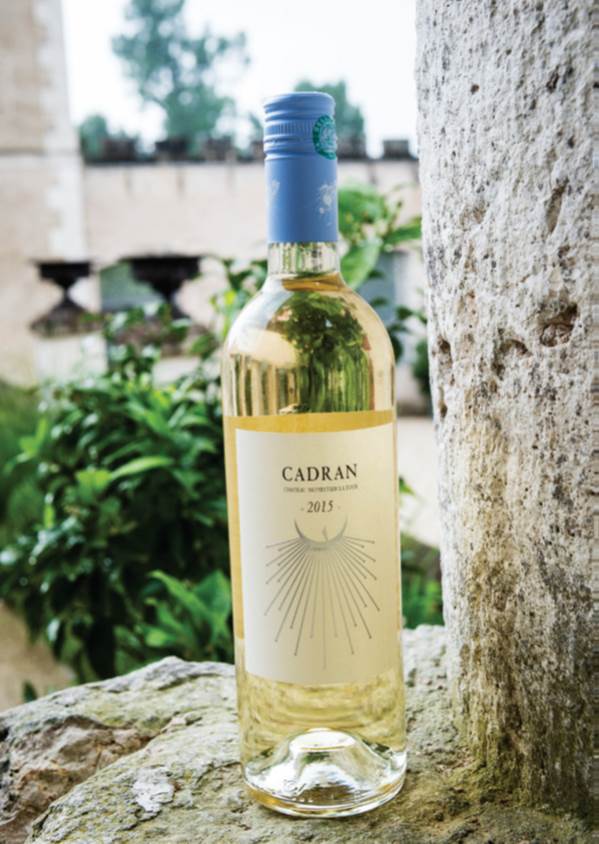 The French barriques of top quality oak are purchased in five or six different cooperages, they are medium-toasted and the wood has a medium grain. Production comprises the Chateau Monestier La Tour Bergerac red, and of course, Cadran (around 70,000 bottles a year); Chateau Monestier La Tour Bergerac white and Cadran (50,000 bottles); Chateau Monestier La Tour Cotes de Bergerac red (10,000 bottles), Chateau Monestier La Tour rose and Cadran (5,000 bottles); and Chateau Monestier La Tour Saussignac, a sweet wine that is not produced every year (1,300 bottles).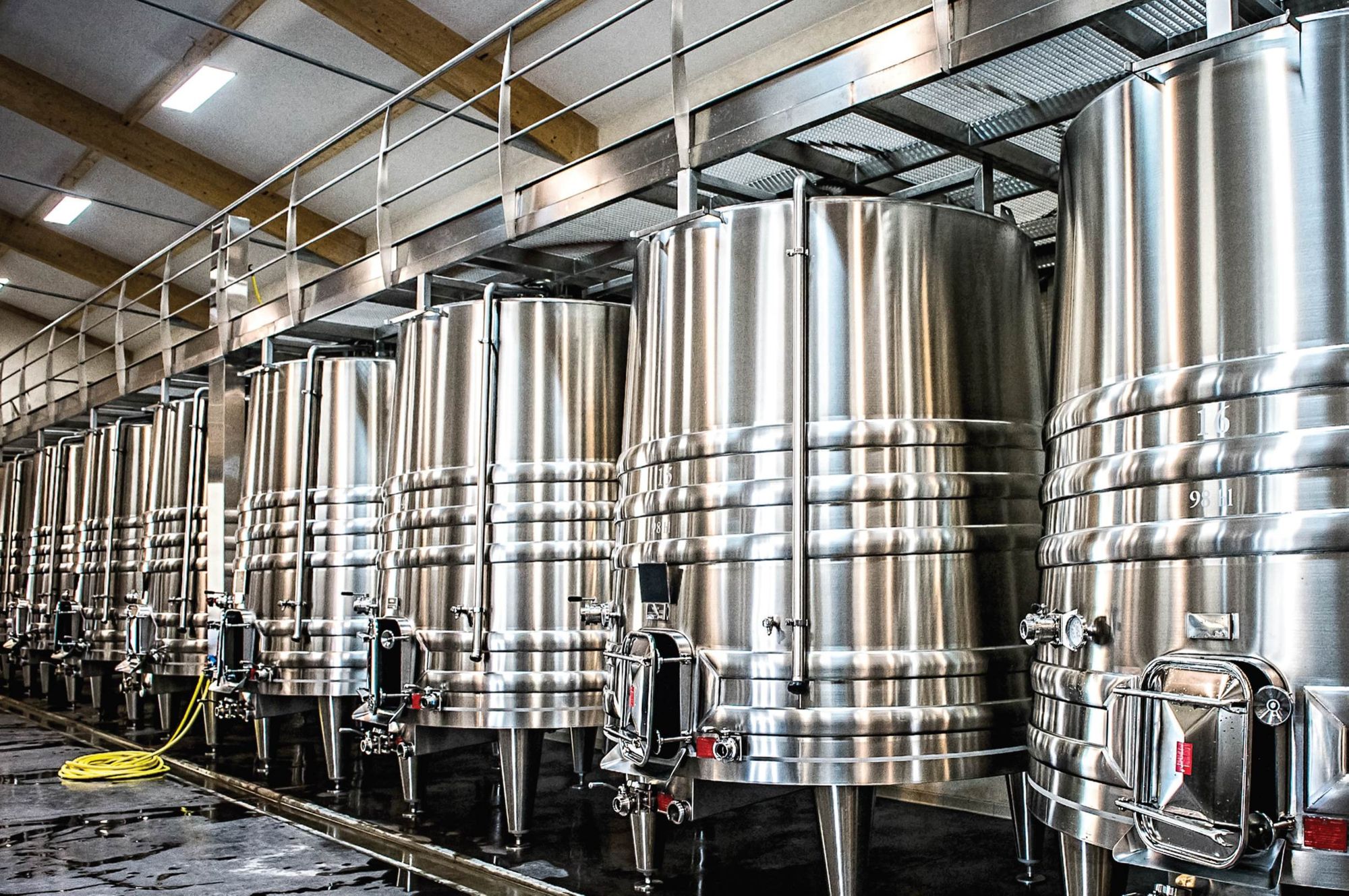 After this delightful tour I was led to an office on the level above the cellar with a glass wall giving a view of the steel vats, where the tasting was held (the results of which are on the previous page): I was very impressed with the 2014 Cadran red, with a varied and pleasantly fruity bouquet and a hint of saddle leather, the 2013 Cadran white for its olfactory variety, salinity and gustatory acidity, and the 2013 Saussignac, which has agreeable sweetness and excellent gustatory balance. I found the wines of the previous owner, however, less balanced in taste and with notes a bit too boise both in the nose and on the palate. I believe that the difficult challenge of co-president Scheufele has been won, and that the current results prove this. The journey is long, but satisfying. I am sure that we will hear a lot more about these labels and denominations.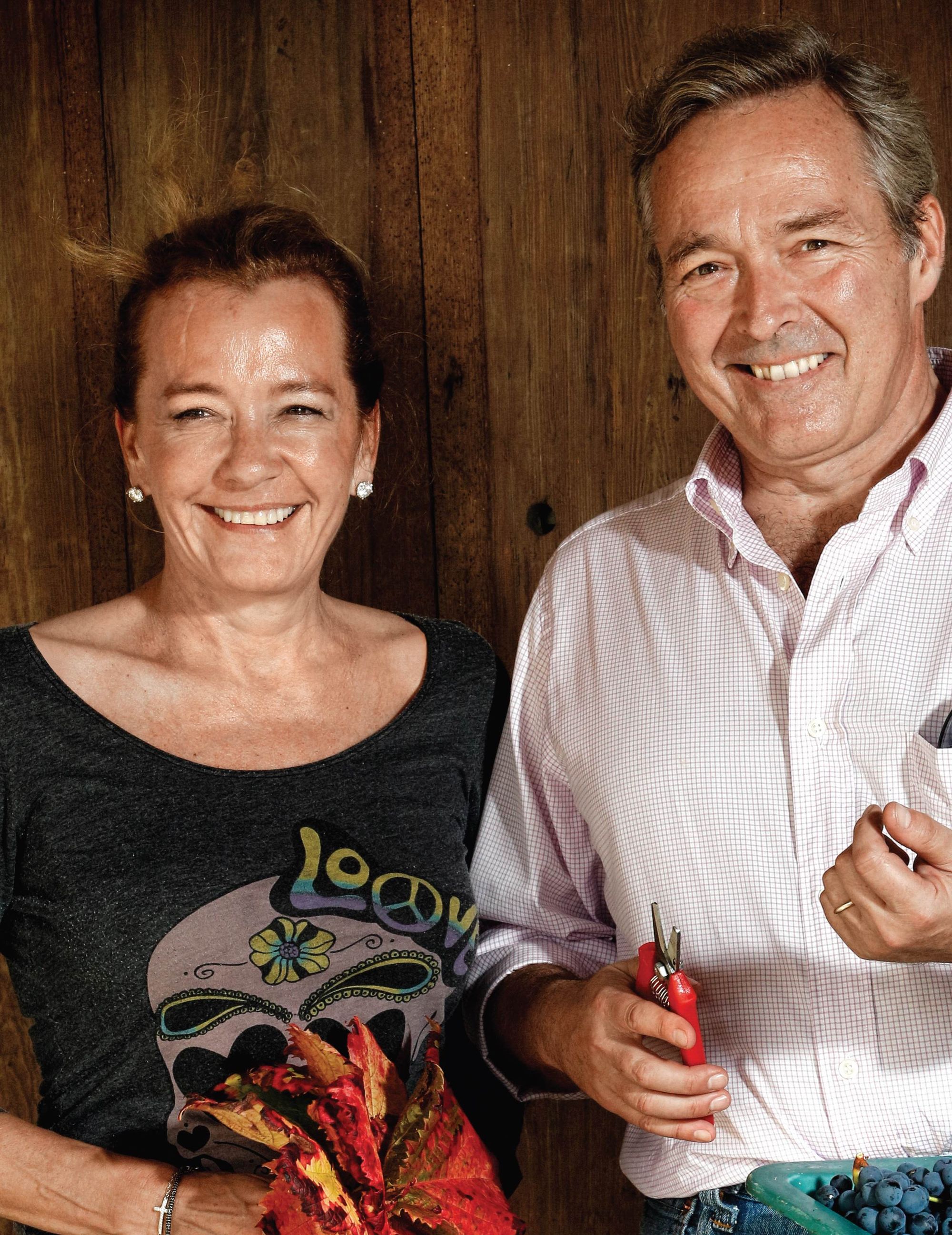 The glasses reveal the new direction
In the tasting on these pages, which takes into consideration ten vintages of the winery's most representative wines, clarification is necessary regarding the width of the tannin, which I feel in my upper gum: the wider it is, the higher the quality of the wine and hence it is a factor worthy of attention. The total width of the tannin is 6/6, meaning it occupies the entire width of the upper gum. Obviously if not as wide, it may score, for example, 5/6, and so forth.
90 CHÂTEAU MONESTIER LA TOUR
CADRAN WHITE 2013
40% Sauvignon, 45% Semillon and 15% Muscadelle, it is pale yellow with faint golden and grey reflections. A pleasant bouquet of rue leaves, tomatoes and peaches, as well as mint, graphite, hawthorn, white pepper, oil paints, lemon peel, blond leather, anchovy, and coccoina glue, concluding with sweet caresses that recall the external coating of sugared almonds. Mellowness and freshness compete amiably in a pleasing taste with good balance and echoes of lemon. A medium-bodied wine with savoury and citrusy notes. Great persistence, lemon in the finale and then salt. Rich and agreeable acidity, better than the 2014 and the 2015.
90 CHÂTEAU MONESTIER LA TOUR SAUSSIGNAC 2013
70% Sémillon and 30% Muscadelle, this sweet white wine has a fine livery in amber yellow and citron yellow. The olfactory range features intense woody notes and hints of mint, followed by honey, dried apricot, hazelnut, the hard outer shell of almonds, jute, and bitter-orange marmalade. On the palate it is sweet, savoury, with flavours that bring to mind partially dried apricot and bitter-orange marmalade. The wine is medium-bodied and well balanced, and it has that acidic backbone that dominating the alcohol mass. Most agreeable, there is no cloying sweetness, just intense aromatic persistence and a finale that showcases the bitter-orange marmalade.
90 CHÂTEAU MONESTIER LA TOUR 2014
Made from Merlot, Cabernet Franc and Malbec grapes cultivated on vines that are on average between 20 and 40 years of age, this wine was tasted directly from the barrique. The colour is a delightful, intense ruby-red. The bouquet is powerful, featuring aromas of saddle leather, followed by cigar box, Lebanese cedar, mint, eucalyptus, just a touch of boisé, black pepper, nutmeg, spray starch for ironing, cypress, galbulus (this is the fruit of the cypress tree), cherry, and vegetable hints, terminating with caressing sundried tomato. Tasting reveals a sufficiently medium- bodied wine and flavours of plum and cherry, initially fresh and then ripe, and even slightly candied. We are faced with a wine with good equilibrium, with a fine  backbone of acidity and tannins that manage to tame the alcohol mass. The tannins are mellow, quite broad (5/6 +) and silky. It has great persistence and offers a finale featuring cherry and jute. It is already agreeable in itself and reveals no trace of the influence of the wood; something which is, however, notable in the vintages of the previous owner.
88 CHÂTEAU MONESTIER LA TOUR SAUSSIGNAC 2007
Intense gold and citron-yellow colour with flashes of amber. A little slow to reveal its bouquet, this sweet white made from 60% Sémillon and 40% Muscadelle proffers clear aromas of caramel, milk toffee, honey, boisé, white pepper, and concludes with nuances of bitter orange marmalade. On the palate it has a rather cloying sweetness, which is partly mitigated by a bitter sensation. The wine is medium-bodied and fairly well balanced, though it would benefit from a hint more acidity and structure as in the finale there is a slight burning sensation in the upper gum. Good gustatory persistence and caramel in the finale. Upon first tasting it has an almost cloying sweetness, which is tempered in part by the bitterness of the caramel.
88 CHÂTEAU MONESTIER LA TOUR 2010
52% Merlot, 42% Cabernet Franc and 6% Malbec, it is intense ruby-red and purple. A bouquet of mint, boisé, saddle leather, liquorice, black peppee, nutmeg, mint-infused sugar sticks, eucalyptus, jute, laurel, sage, plum, dark morello cherry, and chalk, ending with graphite. A first sip dries and slightly burns the upper gums. Flavours of cherry and plum. Medium body. A well-balanced wine with harmonious acidity, alcohol and tannins. The tannins are sweet, fairly broad (5/6), initially silky and then gently astringent on the upper gums thanks to the tannin of the wood. Long gustatory persistence with a finale bringing plum and cassis, and a liquorice finalissimo.
88 CHÂTEAU MONESTIER LA TOUR CADRAN ROSSO 2014
60% Merlot, 30% Cabernet Franc and 10% Malbec, it has a pleasing complexity of aromas, with intense saddle leather (a recurring aroma), cigar box, Lebanese cedar, black pepper, nutmeg, cherry, plum, cassis, mint, eucalyptus, liquorice, oakum soaked in wine, jute, rosemary blossoms, blueberry, hints of starch from freshly-ironed fabric, and concludes with whispers of laurel. Very juicy on the palate, with cassis, cherry and plum. A savoury and mineral wine with a barely sufficient medium body. The tannins are sweet and broad (6/6 - -), at first silky, then tending to dry the upper gums a little. Its reasonably long gustatory persistence is fruity and then slightly bitter. A highly interesting bouquet, with plenty of finesse, though it lacks something in terms of structure and acidity.
88 CHÂTEAU MONESTIER LA TOUR CADRAN BIANCO 2015
60% Sémillon, 30% Sauvignon Blanc and 10% Muscadelle, a pale yellow colour with glinting grey flashes. Showcases the note of graphite followed by salt, lemon, hawthorn, yellow peach, coccoina glue, the outer coating of sugared almonds, white pepper and hazelnut. Clear savouriness with a pronounced note of lemon. A barely sufficient medium body. Long persistence, with flowery notes of violet, then salt, and lastly lemon. Slightly burns the upper gums. Could do with greater acidity.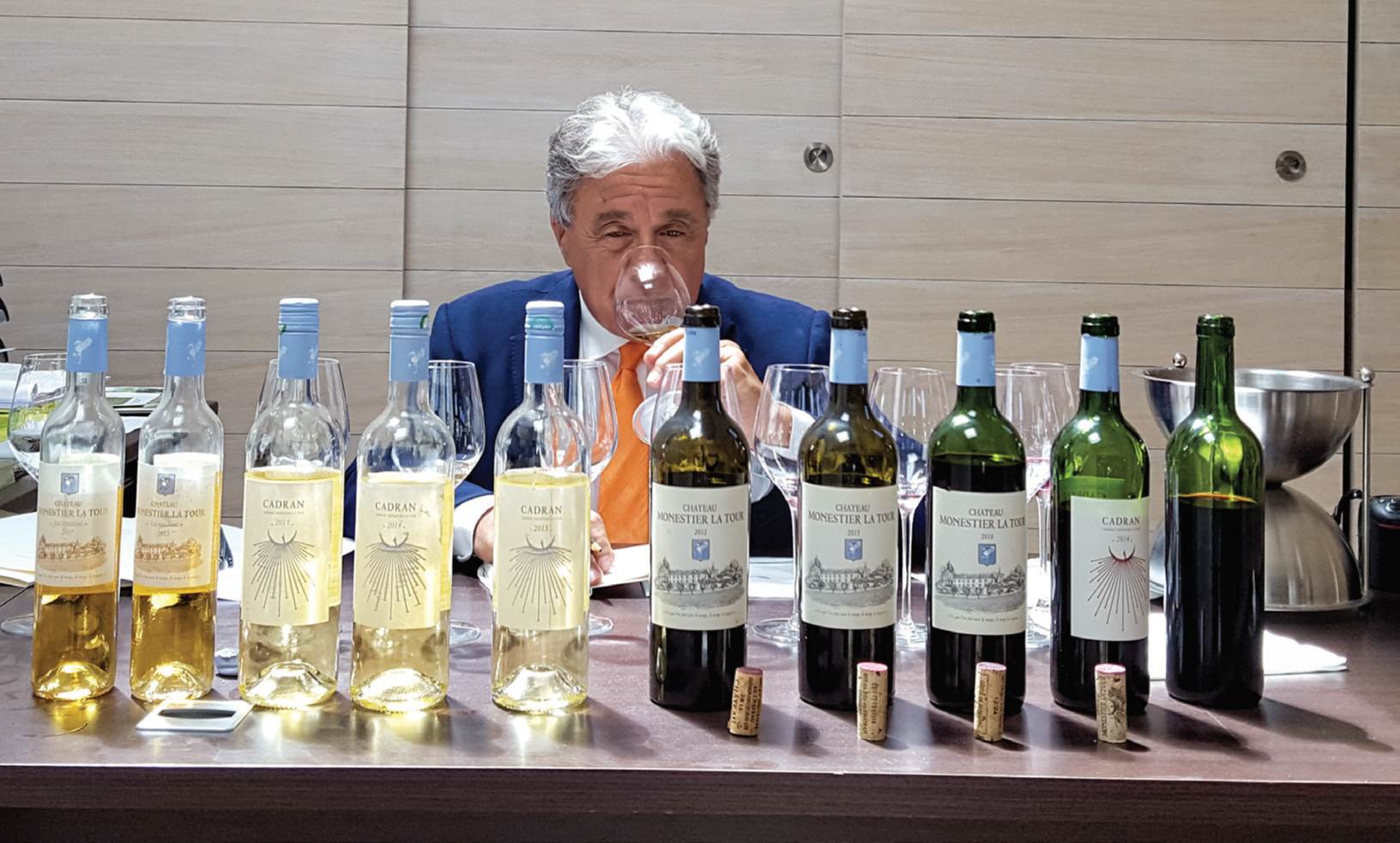 87 CHÂTEAU MONESTIER LA TOUR 2011
Intense ruby-red and purple, almost black, this wine is made from 60% Cabernet Franc, 30% Merlot and 10% Côt, which is a Malbec. Aromas of idrolitina powders, slightly candied cherry, ripe plum, mountain herbs, hints of oil paints, mint, eucalyptus, black pepper, nutmeg, toasted wood, Indian ink, straw, and an intense note of starch that recalls spray starch for ironing. A pleasant taste with sensations of plum and nicely-ripe morello cherry. The wine is balanced, medium-bodied, and has a sweet tannin, not very broad (4/6+), initially velvety then drying the upper gums a touch in the finale leaving a bitter sensation from the tannin of the wood. Long gustatory persistence with a boisé finale featuring dried hay.
87 CHÂTEAU MONESTIER LA TOUR 2012
60% Cabernet Franc, 35% Merlot and 5% Côt, which is a Malbec, it is red-purple-black. The bouquet reveals traces of liquorice, smoke (barely-glowing embers), cherry, plum, blueberry, spray starch for ironing, mint, eucalyptus, jute, dried hay, intense graphite, cassis, laurel, sage, chocolate (recalling After Eight mints), faint hints of wild strawberry, sundried tomato, plum, cherry and blueberry. The body is medium, but somewhat inferior to that of the 2011. The wine is well balanced, though not without its ups and downs, at times the acidic vein prevails over the alcohol, at others, vice versa. Sensations of black pepper on the tongue. The tannin is sweet, fairly broad (5/6 --), initially velvety then drying the upper gums and burning them a little. Long and intense aromatic persistence with a finale of jute and boisé. A wine that shows grand potential.
86 CHÂTEAU MONESTIER LA TOUR CADRAN BIANCO SECCO 2014
45% Sauvignon, 45% Sémillon and 10% Muscadelle, it has a fairly intense straw-yellow colour with gold and grey flashes. A sip exalts its savoriness and graphite vein, followed by yellow flowers, mint, broken cyclamen stems (for the acidity) and a touch of white pepper. The taste is a tad sweet but there is good acidity and salinity. It has a barely sufficient medium body. Reasonably long gustatory persistence with a finale of salt and yellow flowers. Could do with more structure and gustatory persistence.