by Vanessa Hung
Tasting Champagne is a wonderful communal experience. Olivier Krug, the 6th generation of Krug Champagne, talked to us about his vision of connecting Krug lovers all over the world through a multi-faceted application.
Each bottle of champagne has a celebrated story meant to be shared. Olivier Krug, the sixth generation of the founding family of Krug Champagne, firmly believes that. Sitting across the coffee table at Mandarin Oriental with soothing Jazz playing in the background, Krug took great delight in sharing his visions to connect worldwide Krug lovers after the Krug 2002 launching event.
Named as An Ode to Nature, Krug 2002 is described by our Deputy Wine Editor, JC Viens, as "delicate yet expressive as if a mesmerizing ballerina who is dancing on one's tongue with a lingering sensation." With such a profusion of pure fruit, Krug 2002 captivates so many Krug lovers who long to share their unique tasting experiences-and Krug is clearly aware of that. Krug ID App is therefore created for Krug enthusiasts to access and share their thoughts and opinions with the global fan base.
[Bonding and sharing] This multi-faceted platform was launched in 2014 and ever since, it had been receiving great critical acclaim for its abundance of information and intriguing personal stories. Users who have the app can scan the identification code or type the Krug ID on the back label to read through Krug stories posted by the brand and other app users. After a Krug ID is scanned, consumer can read all about Krug such as elaboration and details involved in making that type of champagne.
We attempted scanning Krug Grande Cuvée and were left amazed with its in-depth and well thought out database such as the date receiving cork, oldest and youngest wine and the quantity of different blends. Every bottle has an enlightening introduction by Chef De Cave Eric Lebel as if speaking directly to the audience. For instance, for this Grande Cuvée, Lebel writes, "This magnum is an extraordinary blend of 134 wines from 12 different years. Every glass of this bottle of Krug Grande Cuvée is the fruit of more than 22 fruit of more than 22 years of patience and crafting." Voluptuous food pairing tips are given as well, "Delicate black truffle is enough to evoke the fresh scents of autumn fruit in Krug Grande Cuvée," to present users a gourmandizing experience.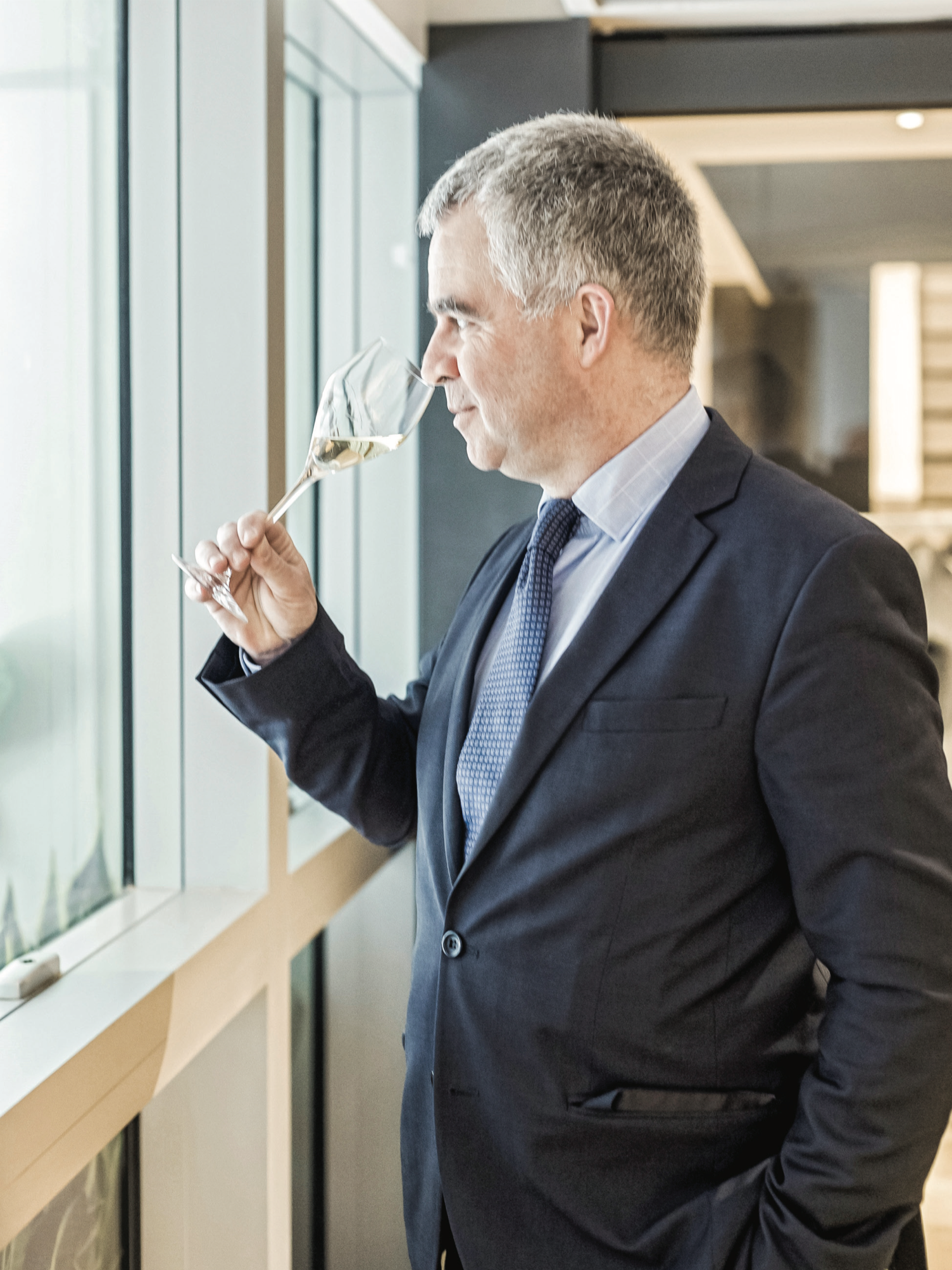 Most importantly, Krug lovers can share their unique anecdotes with others through a community network; for instance, where they were when consuming their Krug, along with their feedbacks and lingering thoughts, and a picture of their Krug. Virtual distance no longer matters because Krug enthusiasts from all over the globe are now offered a chance to engage with one another. "Some people would call themselves 'Krugists' to differentiate themselves from other lovers of bubbly.

But we want to bond with more Krug lovers and want people to see us as a friendly brand that listens and shares." Krug said with a hint of excitement. Indeed, Krug Champagne has long been deemed as a high-end celebratory drink for certain occasions. Krug is bound to change that, hoping to get rid of the label of connoisseur's champagne, "I deeply value the relationships and inter-actions with Krug lovers as well as their feedbacks, which is in close accordance with Krug Champagne's philosophy."

[Sipping and Listening] Interestingly enough, the Krug ID app is also a music-pairing device.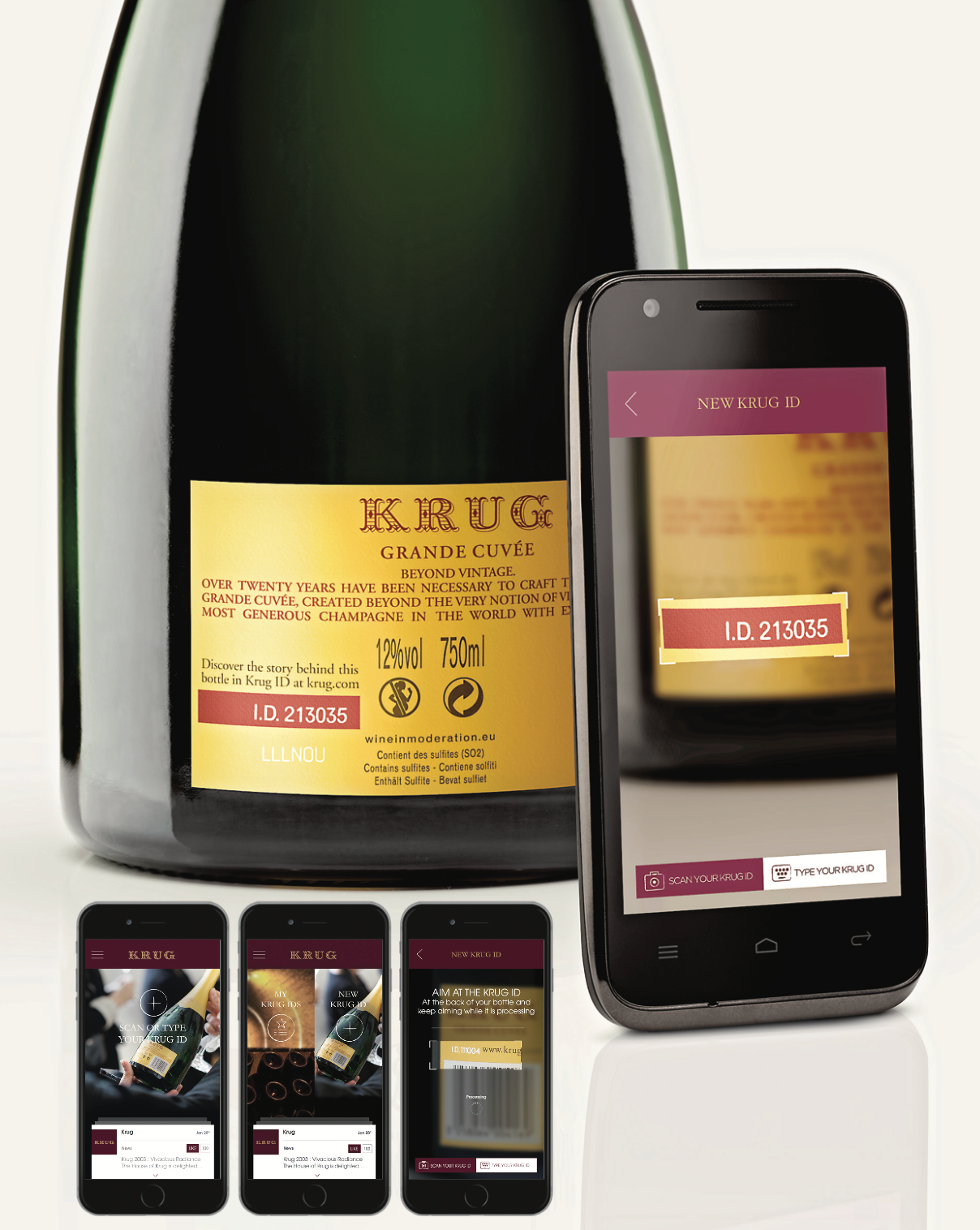 "Music enhances the emotions of champagne and wine as well because they talk to your senses and taste bud." Krug, a music lover, integrates creative touch points in the app. Every Krug is paired with different musicians to create delightful sensory experience. Again, after scanning the bottle, the app will lead users to the music that mates each of the cuvee by musicians such as Jazz vocalist Gregory Porter, classical pianist Beethoven, avant-garde musician Herbie Hancock or soul singer Aretha Franklin.  For the same Cuvée we scanned, the app suggests "Liquid Spirit" by Gregory Porter, "In pairing Liquid Spirit to the experience of tasting Krug Grande Cuvée, it heightened the emotion of both the music and the experience of drinking Champagne."
Krug sees the music pairing as an experimental and inspiring idea, "We want to find out how music is capable of influencing one's tasting experience. Music pairing with champange is still in a developing stage, but I believe that we are heading to a promising direction." He hopes that they can help Krug enthusiasts to select music that affect perceptions of bubbles, tastes, temperatures and other sensory arenas of tasting champagne. The exclusive playist designed by each revered musician has its own uniqueness to enhance the pleasure and augment the taste of Krug. It is fair to say that Krug renders itself the spearhead of this kind of sensory app, transforming the eating and drinking experiences of many epicureans.
With the Jazz still playing, Krug said, "After all, Krug Champagne is about sharing and creating a communal experience for all."