by Vanessa Hung
An International NBA Star, A Vintner, An Entrepreneur And An Irrepressible Force
TAKING A BOLD LEAP INTO WINE WORLD
Courage is essential to venture into a completely unknown world. It turns out that this eight-time NBA All-Star basketball player has been showcasing his courage all along from joining the Houston Rockets to opening his new winery in Napa Valley. "When I came to the United States in 2001 to play basketball professionally, I never expected to fall in love with the beauty and delights that California has to offer." Yao Ming said. Some things are just meant to be. One single encounter diverted him to a new path. Having tasted the very first sip of Napa Valley premium wine with one of his teammates, Yao Ming immediately fell in love, propelling him to a life-changing decision.
Established Yao Family Wines in 2009, Yao is now producing his own wine in Napa Valley, one of the most prominent wine growing regions in the United States.The company believes that "good things are simple"thereby specializing to produce three product ranges. They are the quintessential Napa Valley Cabernet Sauvignon with limited production of Cabernet Yao Ming Family Reserve, Yao Ming Napa Valley Cabernet Sauvignon, Napa Crest Red Wine and Gold Peak Red Wine from Lodi. As for Napa Valley Cabernet Sauvignon, Robert Parker gives a 94 points and writes, "The Cabernet Sauvignon exhibits attractive aromas of blueberry and blackberry liqueur, liquorice and graphite and provides a ripe tannin and full-bodied mouthfeel." For Napa Crest, the soft hint of vanilla and roasted cocoa, rich plum and raspberry makes it tremendously fruit-flavoured and approachable, whereas for Lodi, with a hint of vanilla spice on the nose, an alluring and exotic fruit flavours are delivered fully to the palette. Each wine has its own unique characters and has been waiting for the perfect moment to shine in the wine world. The company believes that quality triumphs over quantity. "We are a small and new winery. We produce 6000 to 8000 cases every year. So now we focus on producing the premium Napa Valley wines and Cabernet, which are what Yao Ming likes the most." Director of Yao Family Wines, Karol Wu said.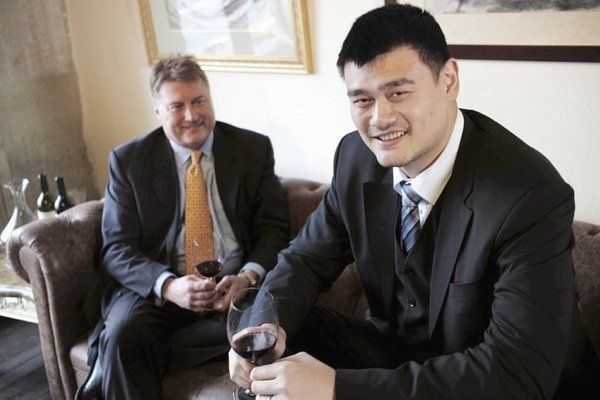 NEITHER PLAYING BASKETBALL NOR MAKING GOOD WINES IS A ONE-MAN SHOW.
Yao Ming has a lot in common with the winemaking team made up of Tom Hinde, Director of Winemaking and Larry Breadley, head viticulturist, where all of them excel in their own fields, and value the importance of teamwork and producing good quality wines hand in hand. "A basketball game is not a one-man show. Making a good wine is also the same, no one can do it alone." Yao Ming reckoned. Yao Family Wine vineyards are situated from north to south in Napa Valley, where the climate and soils endow the grapes with distinct characteristics that can complement the complexity of the finishing blends. They seek to source grapes from prestigious vineyards as Wollack Vineyard and Silverado Hill Vineyard that are known for excellent fruit to blend for texture and flavour. The ultimate goal of Yao Family Wines is to be considered as one of the premium producers in Napa Valley. As a small producer, they are by no means seeking to produce in bulk per year; instead, they are on a mission to produce premium good quality Napa Valley wines and share them with likeminded consumers.
Having received great accolades in the U.S., Yao Ming Family Wines are available in a lot of steakhouses and renowned restaurants in the States. Napa Crest is particularly doing well in the Mainland China because of its soft tannin and easy-drinking nature. While in Hong Kong, the brand is still relatively new to many consumers, awaiting an opportunity to win the hearts of local audience. Currently, they are available in membership clubs like the American Club, Clear Water Bay Golf Club and Aberdeen Marina Club. Gaining acceptance is not always an easy task, especially for new wines attempting to break into the already diversified market, "You have to let the wine speaks for itself. Most people have already heard of Yao Family Wine, but they'll have the perception that the wine is well known just because of its name. When we host wine tasting events, that is the moment where people will truly know about the quality and grasp the value of our wines. Distributor of Yao Family Wine, Dream Xia stated. Wine consumers are curious and Xia is confident that the entry-level and affordable wines have all it takes to break into the market. In no time, Yao Family Wines will become a reference to the Napa Valley with its artfully crafted wines and sincere dedication and passion of the winemaking team.